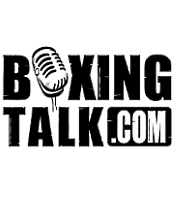 Former junior middleweight world champion Raul Marquez was in attendance at Madison Square Garden doing his job for HBO Latino when Miguel Cotto took on Muahmmad Abdullaev and Joel Casamayor faced Kid Diamond. Boxing talk was able to spen a few minutes talking with Raul and he shared with us his thoughts on the fights, Miguel Cotto and his commentating job. He also talks about the upcoming Golden Boy Promotions show in Fort Worth, Texas on June 16 featuring Jhonny Gonzalez, Abner Mares and Demitrius Hopkins. Don't miss what he had to say.
Jose Aguirre: You worked the Miguel Cotto-Muhammad Abdullaev fight at Madison Square Garden for HBO Latino, what did you think about the main event?
Raul Marquez:"I thought, honestly that (Miguel) Cotto was winning the fight. He did what he had to do. He didn't look as impressive as many expected. He didn't make a statement in there. I'm not trying to compare him to Tito Trinidad but it was already the fifth, sixth round and he saw that he was going to beat the guy. I thought it was going to go the whole twelve rounds like that. But at that point if it would have been Tito he would have been trying to knock the guy out with that killer instinct. I'm not taking anything away from him. He's really improved, he's looking better and he's ready for bigger and better challenges."
JA: He seemed to have done well when he was in the middle of the ring and got caught with most of the shots while on the ropes..
RM:"Exactly. I kept saying that. I said he was doing everything good but I don't know why he's staying so much on the ropes. That's where he got caught a couple of times. Not bad but he was staying on the ropes alot. He should have stood in the center of the ring. He has excellent boxing skills. And it seemed like the other guy had to hit him one or two times in order for Cotto to wake up and really let go. That's what it seemed like to me."
JA: What chance do you beleive Miguel Cotto has for the other junior welterweight champions?
RM:"It remains to be seen. That's what everyone wants to see. You're looking at Arturo Gatti, (Floyd) Mayweather, you're looking at Ricky Hatton, Vivian Harris. he's defenitely up there with all the top guys. You're really not going to know until you put him in there. That's a very hard question. When you step in there with someone like a Floyd Mayweather or a Gatti you rise to the occasion. I'm hoping that when they do put him in that kind of match we get to see the best of Miguel Cotto. That's yet to be seen."
JA: Being in the arena that night and witnessing the people in attendance and the attention that he recieved, do you think he's well  on his way to replacing Tito Trinidad as the Puerto Rican sensation?
RM:"I don't think there will ever be another Trinidad. Just like there will never be another Chavez, Oscar DeLaHoya. I do think that he's on his way to big things. He has a big crowd in the Puerto Rican fans. Just like the Mexican fans. We support our people and our fighters. He's defenitely getting up there."
JA: The undercard of that fight was Casamayor-Kid Diamond. What are your thoughts on that fight?
RM:"I don't see how it was a draw. I didn't see the fight a draw. I thought Kid Diamond won the fight. I had it 115-112. I believe Harold Lederman had it like I did. I think he dominated alot of the close rounds in the fight. He was attacking, landing the more power punches. I thought he won the fight."
JA: Golden Boy Promotions has a show on June 16 in Fort Worth, Texas. What's the hype on this card?
RM:"As you know Jhonny Gonzalez has been fighting alot on HBO Latino. He's proven alot. I remember the first fight we covered where he fought another guy names Johnny Gonzalez. Actually he was being used as a stepping stone. He was just coming in as an opponent and GBP stucked with him and signed him. He has improved and looking very good. You have the Olympian Abner Mares who I think has alot of talent. He's still learning and has alot to learn in the pro game. I see alot of talent and good things in the future for him. Same thing with Demitrius Hopkins. Two talented young hungry fighters that are the  future of boxing."
JA: What do you think about GBP and what they plan on doing for boxing?
RM:"I think that Oscar DeLaHoya who was my olympic team mate has done alot of good things for boxing. He's done something that no other fighter has done. He's one of the good people in boxing. I think he's doing a good job as a promoter. It's good to be promoted by Golden Boy. He knows the business in and out and he really looks out for his fighters. He's got a good thing going."
JA: So how has the commentating gig been working for you Raul
?
RM:"Excellent. I love it. I'm with HBO Latino. I was in the Olympics at Barcelona in 92. I went to the Olympics at Athens, Greece as a commentator. I  cover the games for Telemundo. The year before that I did a show for NBC and I enjoy it. i enjoying doing boxing. Boxing is my life. It's a great sport and
I like covering it."
JA: Raul is there anything you want to say to your fans and people all around the world on Boxingtalk.com?
RM:"To all the latino and hispanic fans, when I go to Puerto Rico people watch us over there on HBO Latino and to all latinos when you watch the fights watch me and my partner Mario Solis."
Send questions and comments to: onfireboxing@verizon.net