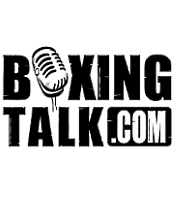 Jose Aguirre: You have a fight coming up tomorrow so how are you feeling about this fight?
  "I'm good. I'm just trying to stay busy. Get back in the ring and take care of what's on the plate for Friday. Hopefully get closer to a title shot later on this year."
JA: What did you learn from your loss to Miguel Cotto?
RB:"It wasn't much for me to learn from that fight. I believe my preparation wasn't as good as it should have been. As far as training was concerned. The game
plan we went into the fight with wasn't the proper one."
JA: What was it about your training? Do you feel you could have been stronger, better conditioned or faster?
B:"Fundamentally. The fundamentals for that fight weren't there."
JA: So is this not something that you can change during a fight?
RB:"I'm still a learning. Everything I pay a trainer to do. I pay him to instill in me what he wants me to do in the ring."
JA: What do you know about your opponent Robert Ortega and what do you expect from him come fight time?
RB:He's southpaw. I really don't know too much about him. Look at his record but I can't really go by his record. I prepared as if I was fighting Miguel Cotto again but being fundamentally sound this time. I prepared liek I'm fighting someone in the top level.
JA: How important is it for you to get back in the ring and get the feel of things again?
RB:"Very important because before the Cotto fight I had not fought at 140lbs since 2003. i would have liked to have a tune up fight before the Cotto fight but I
wasn't able to so I took the fight. Right now I'm just trying to stay busy at 140lbs and stay active."
JA: You have fought as high as 162lbs. How hard or easy has it been for you to be at 140lbs?
RB:"The weight is no problem for me. I make 140lbs very easy. I don't have to starve myself to make 140lbs. Real hard training."
JA: What can we expect from you once you start with your fights once again?
RB:"I still have the power. I just want to incorporate alot more head movement and alot more jabs to set up my power shots. I'm still able to knock these guys out. It's just basic fundamentals you have to go through in the ring. Can't go in there trying to knock somebody's head off because everybody knows I have  power and they're looking for the right hand so I just have to start being a little bit more patient and doing a little more work in the ring."
JA: Did you see Cotto's last fight against DeMarcus Corley and if so what did you think about it?
RB:"I was kind of disappointed in Cotto because he was being very, very, very, very reckless in that fight. He was trying to be a bully and he got caught."
JA: If you had the chance to fight him again what would you do different?
RB:"I would stay using my jab and I'd go to his body alot more. Instead of moving so much I'll stand there with him and we'll work. I'm pretty sure I do
still hit harder than him."
JA: Is there anything you want to say to your fans and the peopl all around the world on Boxingtalk.com?
RB:"To all my fans that are still on my side, ayy I'm working hard and I want to start bringing smiles to their faces again knocking these guys out."
Send questions and comments to: onfireboxing@verizon.net