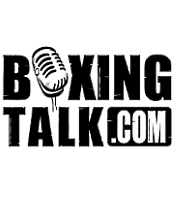 Jose Aguirre: You have a fight coming up soon. How's training coming along for the fight?
Montell Griffin:"Everything is going perfect. I've been training since October."
JA: You'll be going up against Sam Reese. What do you know of him?
MG: "Right now I don't really know too much about him. I am not even worried about him. All i worry about is Montell Griffin. If I'm right I am not worried about anyone else."
JA: How do you feel at this point? Do you feel like you're right?
MG: "I'm there right now. I'm im tip top shape. I was supposed to fight in December and the fight got canceled but I've been training straight through. I never took an time off."
JA: In your last fight against Rico Hoye, many people felt that you won that fight. Give me your thoughts on the fight?
MG: "I won the fight. It wasn't even close. The man hit me with one clean punch in twelve rounds. It was a joke. His promoter basically came out and said that he set the fight up for him to win. I don't have respect for either one of them. I beat him easily."
JA: What do you think about the judges and is there anything you want to say to those judges?
MG: "The Michigan Commission should be abolished. They shouldn't even let fights go on in Michigan from all the terrible decisions that been going on there. It's a joke."
JA: How disheartening is it that now Rico is supposed to fight for a vacated title?
MG: "It's terrible but it's life. Nothing I could do about it. I don't let it bother me. All I'm doing is continuing to train hard and hopefully I get to fight the winner."
JA: What do you do now to continue you rise to the top?
MG: "The IBF seen the fight and told me I won the fight. The couldn't force the rematch because they weren't a commission so they kept me at my same position. When Rico Hoye and Clinton Woods fight I will be the highest rated light heavyweight in the IBF. if everything works out they're going to have to fight me or give up the title. I'm not even worried about it. Everything is going to turn out in my favor."
JA: What are your plans in terms of stayin busy?
MG: "I want to fight every month until I get this title shot. I don't know if I have to fight for the mandatory again or just be next in line so I just want to stay busy. I'm not leaving the gym. I'm going to make the best  of this year. I'm going to stay in the gym and stay ready. If one of them guys get hurt and they call me I'll be ready."
JA: Does overtraining concern you at all staying in the gym year round?
MG: "I wish I wasn't so stupid four, five years ago. It was the best thing I ever did in my life. Moved to Vegas, I stay in the gym year round. I keep my weight down. I haven't been over one hundred eighty five pounds in a year and a half and I feel good."
JA: Is there anything you want to say in closing?
MG: "They have not seen the last of Montell Griffin. I'm better than I've ever been. I'm just going to continue to prove it.  don't have to talk with my mouth I want to talk in the ring. i will be world champion in 2005."
Send questions and comments to: onfireboxing@verizon.net