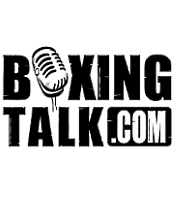 Lou DiBella and DiBella Entertainment enjoyed a great weekend of wins capped off by Jermain Taylor's shutout performance over William Joppy. Paul Malignaggi captured the WBC international title via technical decision, fight stopped on a cut, over Sandro Casamonica. Sergei Liakhovich had an impressive win over
Dominic Guinn on Friday Night Fights, in a bout that puts him in the heavyweight picture. Koba Gogoladze gets off the canvas to win a split decision and Andre Berto scores a first round knockout in his pro debut. See what Lou DiBella had to say about his stable of fighters and their future as well as what's in store for DiBella Entertainment for 2005.
Jose Aguirre: How you doing Lou? Man, you had a hell of a weekend.
Lou DiBella:"It's nice to have a good weekend.
JA: Great weekend. Jermain Taylor capped off your weekend with a win over William Joppy. What are your thoughts on Jermain?
LD:"I think the learning curve is over for Jermain. I think right now we're going to look at all of our alternatives. We're going to enjoy the holidays but have some conversations with Golden Boy about Hopkins and with Don about the possibility of Trinidad. At least come up with a game plan and if we can't get Bernard or Tito in this next fight at least secure a major 2005 mega fight with one of the big sixty pounders. Obviously the two sixty pounders that I think would be most available would be Bernard and Tito."
JA: Are you confident enough with this win over Joppy that he is prepared for a Trinidad or Hopkins?
LD:"Yeah, I'm confident that he's prepared. I also think that you have to assess the market place and your time and take an opportunity when it presents itself. I think Jermain will get better in the future but I also think that you have a great champion who is about to turn fourty and you have Tito who again is a great, great champion but not a young kid himself. We believe that Jermain Taylor can win those fights. I certainly believe I don't see him getting knocked out by either guy and I certainly believe he's going to be incredibly competetive with either guy. Now I may believe he's going to win but I'm sure he's going to be competetive with either guy. He's been brought along carefully
but he's been given every style a fighter can see. He' seen lefties and righties.
"He's seen alot of different stuff and I think Joppy was the perfect
guy in terms of level of experience to fight and I think it was even a learning experience watching Joppy try to survive. I think if the opportunity presented itself in a fair manner right now we would not turn away from an opportunity."
JA: If you cannot get Bernard Hopkins or Trinidad in the ring, where would Jermain Taylor go from there?
LD:"The biggest name he can get. The biggest, most significant fight he can get. Obviously we would love a Vargas or someone of that oak. We would love to get a Mosley but those may not be available. We're going to look and see what the biggest name and opportunity available to Jermain would be."
JA: How about Felix Sturm?
LD:"We would love that fight. I've spoken to Peter Kohl about that fight and Peter Kohl doesn't think that the fight makes sense right now. We would take that fight right now. From Kohl's perspective he wants to see if Sturm can grab a title first and I think that's one of the reason's why Sturm may not wind up fighting Trinidad. I think Peter Kohl believes Sturm is a terrific young prospect and he wants to take his time with him. If Peter Kohl is interested in
making that fight right now we would be interested in making that fight right now."
JA: But the main objective is getting Trinidad or Hopkins?
LD:"That's the main objective, yeah. Anywhere from March on Jermain would be available. If Jermain has to fight someone else first to lead up to the big fight obviously that's something he's willing to do. There aren't many people at a hundred sixty pounds that concern us. The fights we really want. The two big name. If we thought there was a chance Oscar would fight him, fine but
Oscar is moving down in weight not up. Oscar's talking about being a welterweight so forget about De La Hoya. That leaves the two biggest fights which are Tito Trinidad and Bernard Hopkins."
JA: Now you have an undefeated WBC international junior welterweight champion in Paul Malignaggi. Give us your assessment of the fight?
LD:"I'll get you a tape of the fight so you can see it yourself but he fought brilliantly considering he only had one good hand. He hurt both his hands in the fight. He's chronicially had problems with his hands and he hurt them both in the fight. We're sending him to see a specialist and a surgeon before the holidays. I think there is an excellent chance that Paulie's going to be on the
shelf for at least a few months and possibly for five months.
"We're going to see what the story is and figure out if it requires surgery and if it does then we're going to try and get the surgery as soon as possible. But he outboxed Casamonica and was clearly ahead when the fight ended and got the belt. I think he showed alot of guts fighting with no good hands. Both his hands right now
are very swollen. One of them he can barely move. We spoke to the doctor today and he's going to be getting a CAT scan and going in for a checkup in a few days or so."
JA: Hoping everything goes well with his hands in the future, where does Malignaggi go from here?
LD:"His next move would have probably been a Shobox against an Oscar Diaz or Speedy Gonzalez kind of guy. He's going to have that surgery but I think that probably still would be the next kind of move. Obviously it might be a few months down the road but that's the guy we'll be looking at. I think he's two or three fights away from a Leija or a Bojado or a significant fight. I don't
think he's three or four fights away from that but obviously this hand situation may put things back a few months."
JA: Another one of your fighters, Koba Gogoladze, got off the canvas to win a split decision over Roque Cassiani....
LD:"Yeah, he walked into a punch and had to get up off the canvas but then came back and won the fight. He's still undefeated and can fight thirty or thirty five pounds. I'm waiting to see what kind of opportunity we can get Koba. He's an exciting guy and he makes good fight and he's still undefeated. He was a
great amateur so I think he factors in at thirty and thirty five. We also had a geart pro debut on my show in Little Rock with Andre Berto who really looked sensational against a pretty able opponent.
"He was a little over anxious wanting to get the guy out of there but he managed to do it and look sensational in doing it. I think with that first knockout under his belt he's really going to be someone to watch in the future. He's a terrific prospect."
JA: Speaking of Andre Berto, what is his promotional situation with DiBella Entertainment?
LD:"We've basically done a deal and we're going to be announcing Andre's situation shortly. I'm working with a partner on Andre Berto and we're working out the details of that deal and we're going to announce something soon."
JA: On ESPN2 Friday Night Fights Sergei Liakhovich defeats Dominic Guinn. Give us your thoughts on that.
LD:"Sergei had a rough year. First of all when we did the young heavyweight show that Mesi and all those guys fought on, at that point in time HBO didn't feel that Sergei was made for prime time yet. But we always knew, his manager and lawyer Jim Thomas, his trainer, myself. We believed that he was one of the
better young heavyweight. That's why I signed him. He didn't get on that show but he won a couple of fights. Then we were looking at a fight with Calvin Brock that would have been on NBC and Sergei hurt his hand and it required surgery.
"Basicially he was out most of the fall and when he came back he felt good and hi hand felt good and he said he didn't want a meaningless fight. he wanted the biggest opportunity available. We we're able to get him the fight with Dominic and he rose to the occasion. I think right now he's a contender in this crazy heavyweight division and in this division he's a guy that could win a world title."
JA: Any possibility any of the guys mentioned tonight would fight on Broadway Boxing in NYC or Connecticut ?
LD:"The only way I could see Sergei Laikhovich appearing is possibly if he needs to keep busy while waiting out a big fight but I expect him to get a bigger opportunity in the heavyweight division. Paulie will fight occasionally on Broadway Boxing but he's a few fights again and I think he's ready. He's been on Shobox already and he'll come back again, hopefully on Shobox when his
hands are ok.
"Then I see him getting an HBO or Showtime opportunity in 2005. I'm hoping to get Jermain back as quickly as possible. As early as March bit no later than April or early May. Again, i think Jermain is ready for anything. It's a good end of the year for DiBella fighters and it's going to be an exciting 2005."
JA: What can we expect from DiBella Ent. in 2005?
LD:"I had a meeting today for example with Dino Duva and I've spoken to Russell Peltz about Kofi Jantuah fighting Kassim Ouma on the Gatti undercard. I believe that fight is going to happen. We're in the process of finishing the deal. What an exciting way to start 2005 because you can't make a much better fight that
Ouma-Jantuah and I give my guy a pretty good shot to win that fight.
"That will be an exciting start to the year. Actually I get started sooner than that on Jan 3. Jose Navarro is fighting for the WBC hundred fifteen pound title. It's going to be an exciting month of January for my company and it's been a good  end to 2004. Also Nate Campbell is going to be fighting Robbie Peden for the thirty pound title of the IBF. I believe Nate is going to win that fight. There is alot happening for my fighters and hopefully it would be the beginning of a good year."
JA: Will 2005 include some kind of collabaration with Chris Gotti of The Inc. and maybe Damon Dash of Rocafella Records?
LD:"Chris is already managing fighters that I'm looking to sign so there is a very good possibility that I'll be working with Chris. And you know, OnFire, you're aware of the fact that I talk to Dame and I respect his abilities as a business man and as a marketing guy. I think that he could bring a dimension to marketing and promoting fighters. Particially african american and latino
fighters in urban areas.
"African american fighters have not been adequately marketed and haven't had the same opportunities for exposure as latino fighters have had recently and I think something has to been done to introduce african American fighters to fight fans. And to build young African American fight
fans. I think thereis some interesting stuff that Damon and I put together and we're talking about it."
JA: Is there anything you want to say in closing?
LD:"Just continue reading Boxingtalk. Take care." 
Send questions and comments to: onfireboxing@Verizon.net