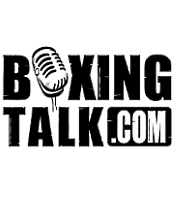 Lightweight Jorge Teron (2-0, 2 KO's) is trained by Hector Roca who also trained Arturo Gatti, Michael Olajide and Hilary Swank for her movie role in Million Dollar Baby. Former amateur champion now making his way in the professional ranks Teron made his professional debut at the Theatre of Madison
Square Garden. In only his second fight he was showcased on ESPN"s Friday Night Fights held in Canastota, NY  while the Hall of Fame weekend was under way.  Boxingtalk was able to speak with Jorge shortly after his fight where he shares his thoughts about the fight and fighting in front of all the greats
at the Hall of Fame.
Jose Aguirre: You just had your second fight, a performance that was shown on ESPN's Friday Night Fight. Give me your feelings about that.
Jorge Teron:"I was lucky enough that Shannon got a quick knockout. I got the chance to be shown on national televison and I did a good job. I'm happy that I got a couple of rounds in and that I showed my skills and I'm hapy about that."
JA
:"Early on he was able to tie you up a few times, being that you had the height and reach advantage why was he able to do that early in the fight?
JT:"I'm a little bit stubborn when it comes to offense. I don't fight on the inside when I should. There is no way that guy should have been able to grab me. I shouldn't have been close enough for him to grab me. We'll keep working on it and hopefully in a couple of fights nobody will be able to grab me."
JA: Also in the first round he hit you with and surprised you I'm sure with a right hand. At any point in the fight did he hurt you?
JT:"Was I hurt? No I wasn't hurt at any point of the fight. He caught me with a couple of good shots in the first round but I think I did a good job of staying calm. I knew it was going to be a matter of time. I actually felt more comfortable when i boxed from the outside so that was good because I wasn't so much on the inside."
JA: Were you surprised at the number of shots he was able to take before the referee actually stopped the fight?
JT:"Yes, yes. He was a durable guy. I hit him with a couple of clean, flush shots and I was waiting for him to go down but he didn't go down. My job is to keep
punching and that's what I did."
JA: In the second round it was obvious you went to the body a little more. Why weren't you more consistent to the body?
JT:"That's something that Hector (Roca) was getting on me about in the corner. He was telling me that the guy was tired and that I should go to the body. That's something that I started to do but I shyed away from it. I should have went to the body more. The straight right hand was working beautifully."
JA: You landed a couple of left hooks early in the fight before you started to pick it up. Will that be your bread and butter punch as you progress into the professional game?
JT:"I don't think so. Yeah today I did land a couple of real good hooks but I think my best punch is my right hand. By watching the fight tonight you wouldn't be able to tell that. I guess I have a good arsenal of punches but I think my best punch is the right hand."
JA: Did you go in there thinking you would stop this guy or were you comfortable getting a decision?
JT:"Not at all. I never go in there to stop a guy. We train to fight four rounds. if we stop a guy before that it's great. If we don't we're train to fight four rounds."
JA: What are your feelings about being able to have your second fight on ESPN's Friday Night Fights in Canastota, NY while the Int'l Boxing Hall of Fame  weekend was happening?
JT:"That was one of the best parts. When they told me I would be fighting on ESPN2 I got really excited. Then when they told me it was on Boxing Hall of Fame weekend that's even better. I get to show my skills in front of all the greats. All the inductees, (Marvin) Hagler is here. (Diego) Corrales is here who I look up to.  All these guys are here so it's real exciting."
JA: You're about six feet tall and you have a long reach. You're a lightweight. What do you believe your assets will be able to do for you this sport?
JT:"Being at the Hall of Fame eventually I want to have an Hall of Fame career. I want to be world champion. I want to one day take care of my family."
JA
: Early on in the fight you used alot of feints which is usually something you see from fighters with more experience and more professional fights. Is that something you bring with you from the amateurs?
JT:"That's something that I learned from the amateurs. That's something my  trainer Hector really stressed. Don't just run in there. Use your feints and use your angles."
JA:  In that second round you held your hands low, did you feel like he couln't hurt you and that's why you did that?
JT:"Yeah I actually felt a little more comfortable like that because with my hands low I was forced to move my head so my defense stepped up a notch. I felt a couple of good punches from him in the first round and I didn't think he could hurt me."
JA: Is there anything you want to say to your fans and the people all around the world on Boxingtalk and those who may have watched your performance?
JT:"Yeah I'm real excited that I got to fight on national television. I'm going to be getting better in every fight and hopefully all the people on Boxingtalk will be able to follow me all the way."
Send questions and comments to: onfireboxing@Verizon.net