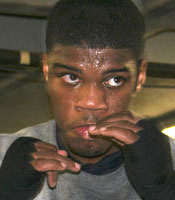 Chin:
1. the lower portion of the face lying below the lower lip and including the prominence of the lower jaw
         2.The surface beneath or between the branches of the lower jaw
Checker:
1. one that checks
               2. an employee who checks out purchases is a self-service store
Jaidon Codrington falls under these two words as they are described in the Webster Dictionary. He checks chins. While some may check out purhcases, Jaidon checks out opponents. He is the one put in place to check a chin and see if it stands up to the crash dummy test. So far he's been doing well on the job and finding many defaults. Six have stepped up and they have all been checked. Now he goes back to work on Friday, Janaury 28th at the Hammerstein Ballroom when he steps into the ring against Joe Rayburn. Boxingtalk was able to talk with the undefeated light heavyweight and get his thoughts on thing.
Jose Aguirre: Jaidon how's everything going with you?
Jaidon Codrington: "Everything is good. Working hard. Training hard. Getting ready for this first eight rounder."
JA: You have a fight on 28th of this month. How's training going for this fight?
JC: "Training is going real well. We're just fine tuning and getting sharper. All hard work is done and out of the way. I'm in shape and I'm ready. Getting some last preparations, fixing my defense to adjust to this particular guy I'm fighting."
JA: What do you know about your opponent and what can you tell us about him?
JC: "He comes to fight. He's an exciting fighter. He's going to be in my face all the time. He's real tough and takes an excellent punch. He's going to be right there for me the whole fight. He likes to start early. He likes to go there and fight in the first round. I expect him to come out like a rocket in the first round. It's going to be an exciting fight."
JA: What do you plan on doing to neutralize what he tries to do to you?
JC: "I plan to give him alot of head fakes. Flinches. Make him miss and make him pay. I plan to box him alot. Use my jabd and at times I plan to fight him."
JA: You'll be back at the Hammerstein Ballroom. Do you plan on making that your house?
JC: "Definitely. That's the house of the Chin Checkers. We get alot of love at the Hammerstein Ballroom. Alot of fans and alot of support. Chin Checkers plan to make that our house and maybe the Garden in the future."
JA: What can we expect from Jaidon as well as the Chin Checkers in 2005?
JC: "Big things. Like I told you I'll tell everybody esle the same. This is the year of the Chin Checkers. We're going to be the biggest prospects in the nation. Not just the east coast or the south. Or the west coast. But the nation. We want to be competing with prospects like gold medalist and such. We plan to step it up a level and hopefully by the end of the year we'll be headlining Broadway Boxing. Maybe bigger and better things by the time the year is over."
JA: How anxious are you to check another chin?
JC: "Oh man it's all I dream about.  I can taste it. I can feel it in the hands."
JA: Is there anything you want to say in closing?
JC: "Yeah, when you watch the Chin Checkers, don't blink."
CLICK HERE FOR MORE OF THIS EXCLUSIVE
Send questions and comments to: onfireboxing@verizon.net