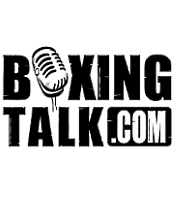 Jose Aguirre: You worked Jorge Teron's corner on ESPN's Friday Night Fights and people got to see him in action. What did you think of his performance that night? "
His performance in the second and third rounds was alot better than the first round. We have to work hard on the mistakes he did in the first round."
JA: In the first round his opponent was able to hold him and tie him up, is that something that you stressed to him when he came back to the corner?
HR:"Yep. I told him the when he reached his guard he wanted to jump in there. That's the way the guy can hold him because he didn't keep his distance. We have to work so that he knows which is his distance to fight."
JA: In the second and third rounds he started to go to the body more, is that something that you wanted him to do more of?
HR:"Yeah but I don't want the right hand straight. When the guy is tall since he's tall he drops with the straight right hand he's open. I want him to turn the punches under to the body. Sometimes he gets the bad habi to look for one shot. A couple of times his opponent saw the right hand and made him miss so we
have to work on it in competition."
JA: Hector tell us about Edgar Santana and his performance last week?
HR:"The guy he beat had a little experience last night so he found out you can't knock everybody out. He had to box for it and he boxed good."
JA: Tell us how Edgar is as a worker in the gym?
HR:"Edgar is a hard worker in the gym. Every time he comes in the gym he seems like a street guy but he's a gentleman. He works hard and tried to improve his boxing career."
JA: I know alot of fighters love the knockout, do you think going the distance was a good thing for him?
HR:"Yeah, as you know he's a young fighter coming up. And he has to work in some rounds because soon he has to be able to fight ten rounds. And if he never at least done eight rounds he may not be ready for ten."
JA: So what's next for Edgar Santana?
HR:"The 28th of August him and Dmitriy should both be fighting at the garden.  (Not against each other).
JA: You also worked the corner of Dmitriy Salita who headlined Broadway Boxing versus Louis Brown. How did training go for the fight?
HR:"Well we're in the gym Jorge (Teron), Dmitriy (Salita) and Edgar (Santana). I have them working together and Dmitiry got the chance to improve his boxing a little bit and use more of his jab against Santana."
JA: Salita went in the boxed and stopped his opponent in eight. What did you think of his performance?
HR:"I loved his performance because remember two fight ago when he came to me he was flat. Not he starting to get more slick and use more boxing."
JA: He mentioned to Boxingtalk that he was happy to be back with you. He started getting knockout again after getting back with you. How do you feel having Dmitriy back with you?
HR:"He makes ten fights without me and knocks nobody out and as soon as he comes back with me we have two kncokouts straight."
JA: Is there anything you want to say in closing?
HR:"Keep your eyes on Team Roca in the upcoming year because we're going to have a couple of more champions."
Send questions and comments to: onfireboxing@verizon.net