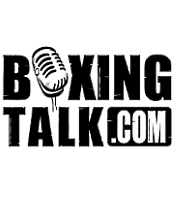 Undefeated featherweight Gary Starks Jr (11-0, 6 KO's) of Staten Island, NY is set to do battle on April 28th at Manhattan Center's Hammerstein Ballroom. He will be returning to the place where he stopped Ublado Olivencia in his last fight via fifth round TKO. Starks will be stepping into the ring ready to do battle and show why he is a force to be reckoned with.  Boxingtalk caught up with Gary Starks Jr after his return from Worchester, MA where his friend and stable mate Lou Collazo captured welterweight gold by defeating hometown favorite Jose A. Rivera. Gary spoke to us about his crew (Chin Checkers, Crack), his training, going back to the Hammerstein and his boy Collazo winning the welterweight title. See what else he had to say. 
Jose Aguirre: You have a fight coming up on April 28th at the Hammerstein Ballroom. Give us your thoughts about being able to return to the Hammerstein?
Gary Starks Jr: "It's good fighting with the whole family out, Jaidon, Curtis and everybody from the gym. Crack. It's good to sell out another show because we put them in the seats. Just cool to come back. Just waiting to get this opponent."
JA: How's training going with the fact that you don't know what kind of fighter or style you'll be facing?
GSJ: "Training is as training goes. Similiar to all other times. Don't know who I'll be facing but I'm training hard. Getting ready for anyone and have different sparring partners. These dude are keeping me in shape and sharp so whoever they put in front of me has to go."
JA: In your last fight on January 28th at the Hammerstein Ballroom you had a fifth round TKO over Ubaldo Olivencia. Did you get the chance to watch that fight and if so what did you learn from it?
GSJ: "Yeah I watched it. I watched it a couple of times. Just picking up on the bad things I did to try and correct then because from every fight you learn a little bit from it. That fight was a short notice fight but I still had to put things in the right perspective and put on a show for everybody that came out. I learned alot from a fighter that I already fought and I learned even more. Learned to be more composed and have fun out there and give people a good show."
JA: What can the fans expect from you come April 28th?
GSJ: "The fans can expect another good showing, another victory. We're all trying to accomplish the same thing that my man Louie just did. We have the whole family trying to winthese belts so expect a good showing."
JA: Does Lou Collazo winning the regular WBA title give you some kind of encouragement to the fact that you can accomplish the same feat?
GSJ: "Yep, defenitely. We grew up the same. grinding together, Sleeping in the saem bed in camp. Even when not in camp just to get out of the troubled enviroment we would sleep in the same bed, running early in the morning, grinding. For him to do it now I have to do it. The pressure is on me so I have to catch up to him."
JA: Give us your thoughts on the junior featherweight / featherweight divisions?
GSJ: "My weight is 122lbs and I'm going to be coming up pretty soon. I'm not one of them dudes that says I'm going to f___ up the top fighters in the weight divisions. Killers like Marquez and all them. Hopefully whe I get up there those guys are retired. (Laughs). Right now I'm at Jr featherweight until next year when I gain a little weight and come up to crash. I give every fighter their props and you have to be humble about this business. When I'm getting to the top and there is anyone I have to fight they got to go. I don't speak nothing bad about anybody but when I have to fight a dude I just don't like that person. So when it comes that time I have to fight I am not going to really like him."
JA: What can we expect from you in 2005?
GSJ: "You can expect hopefully alot more fights this year. Still an undefeated record. Every fight I'm getting a little better, a little sharper so people have to get ready for Kid."
JA: Give us your thoughts on Lou Collazo's performance as he went into the champs hometown and took his title.
GSJ: "I'm proud of my dude. We went in there to the other dudes backyard. We had all our Yankee stuff on. I know I had on my Yankee stuff on. He did it for the whole New York. He did it for his family and his friends and everybody that believed in him. Everybody that pushed him. he did his boxing thing yesterday. Hit and not get hit. Made the fans pissed off. He boxed and stuck to his gameplan and represented for the whole New York, the whole gym Starrett City, Coney Island. We got all the belts now. Now it's Lou's job to keep that belt and get all the other belts. It don't stop here, we all got t work harder now."
JA: Is there anything you want to say to the boxing public and people all around the world on Boxingtalk.com?
GSJ: "Yeah I want to tell everybody that I've been the underdog for a minute and I'm coming up. I'm grinding real hard and training real hard and expect a killer coming up. I'm not a Chin Checker but I'm going to be a body snatcher this year. 2005 we're going to do our damn thing this year."
Send questions and comments to: onfireboxing@verizon.net