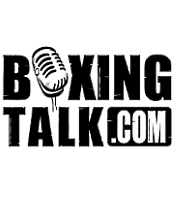 Undefeated Super Bantamweight Gary "Kid" Stark Jr (11-0, 6 KO's) of Staten Island will do battle against Juan Carlos Santiago tomorrow night at the Manhattan Center. Boxingtalk was able to speak with Gary days before his fight. See what he had to say.
Jose Aguirre: You're days away from your fight, how prepared are you?
Gary Stark:"I'm very prepared. I'm on weight. Everything is good. I'm focused. I had a very good training camp. I sparred alot of good rounds. Tip top condition.
I've been waiting a long time.I haven't fought since January so you can say it's a long camp."
JA: You were supposed to fight in the last show but that fight never went through. How does the lay off affect you?
GS:"It really didn't affect me because I'm kind of used to it. You can never get used to not fighting but I'm getting used to it. It's not like I'm out there hanging out. I'm a gym rat so I'm constantly sitting in the gym. I try not to get myself that ring rusty."
JA: What do you know about your opponent and what are you expecting come fight time?
GS:"Honestly i don't know anything about him. i don't even know his record right now. I just know they say he's a tough kid."
JA: What are you prepared to do in the ring that night?
GS:"The first round I'll see everything. I'll see if he's lefty or righty. If he throws a good jab or anything. As soon as the first round happens I'm going to try and analyze everything and see what's going on with it."
JA: Is there anything you want to say to your fans and people all around on Boxingtalk?
GS:"I just want to say thanks for coming and supporting their boy. I really appreciate everybody  coming out. I know it's a long tim comine. I have alot of people from far places. Out of state. Tristate. I didn't fight last time so I'm going to show them that their boy is back. I'm going to put on a good show."
Send questions and comments to: onfireboxing@Verizon.net