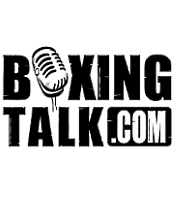 Jose Aguirre: Share your thoughts about your figt on Oct 1st with James Toney
. Dominick Guinn:"Pretty much just glad that James Toney is giving me the opportunity to get this belt and get back on the map. Like I said I was lackluster in my last few fights. The people that I was around was knocking my motivation. Just telling me things that was not motivating me. I'm finally away from them and I'm feeling good and I'm just happy to be back in the ring. I'm going to go in there and show the people that I am the next heir apparent to the havyweight title."
JA: Is it safe to say that you have finally got a hold of yourself and realize what this division...
DG:(cutting in)"You know what? I have known that the division was wide open. Like I said I made a few mistakes and didn't do what I was supposed to do in the last few fights. Now is the time to capitalize and get back and do the things I have to do to become a champ."
JA: Looking forward now how are you preparing to do those things that you need to do?
DG:"One, it's easy because like I said I'm away from the people that were knocking my motivation. I won't mention any names but I'm pretty sure you're familiar with my management and my promotion. I'm away from both of them so I'm happy as hell. I'm excited I have that leg weight off of me and I'm ready to go in there and take care of business and box like Dominick Guinn used to box."
JA: How's training going for James Toney?
DG:"It's going well. Everyday is a hard working day. I have three hours in the gym in the morning then another two in the evening and a long fourty five minute run and that's what I do day in and day out. I'm going to come prepared and ready to fight as well as put on a show."
JA:  Are you preparing for the best James Toney possible?
DG:"Yes. I'm preparing for the slick, crafty veteran. That comes in there with alot of head movement and hitting you and countering off alot of shots. Rolling punches and coming back with punches. I'm preparing for the James Toney that captured the WBA belt and beat (Evander) Holyfield and the rest of them guys. He's a nice credible champion."
JA: What do you hope this fight does for your career?
DG:"I hope it lands me in another good fight. I'm not hoping because I know it will because once again  they will see that Dominick Guinn is back on the map and they don't want to face the Dominick Guinn that stepped into the ring against Michael Grant and Duncan Dokiwari. The Guinn that people want to see and will see."
JA: Credible sources have made Boxingtalk aware that you have added Joe Goossen into your team. When did this come about and how has it been working?
DG:"It's lovely. We've been talking about it for a few months now First I had to get out the situation I was in. Once I did that I was able to move around. I'm out here now and I love the things that Joe is teaching me and showing me. And I could say we're going to be ready to fight Oct 1st"
JA: Is there anything you want to say in closing?
DG:"Just keep watching and I'll be back. I told you to bare with me and I told you I would be a champion and I'm just going to show you better than I can tell you. I'm not going to talk too much. I really don't like doing interviews but I'm doing it to let people know I'm on my way."
Send questions and comments to: onfireboxing@verizon.net