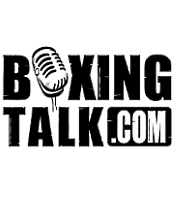 On April 23rd Main Events and ESPN2 will present their first joint PPV event. On this night on the undercard of Antonio Margarito-Kermit Cintron main event, welterweight contender David Estrada (18-1, 9 KO's) takes on Shane Mosley (39-4, 35 KO's) who is coming down from junior middleweight. Estrada is in rated #12 by Boxingtalk and #2 by the IBF.  He gained that spot by stopping previously undefeated Chris Smith on ShoBox. Boxingtalk was able to speak with Estrada, a respectful and humble person, and get his thoughts on things to come. He shared his views on his last fight against Smith, what he expects from Shane and what we could expect from him. He also talks about having the great Angelo Dundee in his corner and much more. You don't want to miss what else Estrada had to say.
Jose Aguirre: In your last fight we saw you on ShoBox stopping Chris Smith in the 11th round. Did you get a chance to see that fight and if so tell us what you saw in that fight.
David Estrada:"I was just putting the pressure on him from round one. I dropped him in the seventh and I didn't think he was going to get back up but he did. Then the ref stopped it in the eleventh. Every fighter would rather get the knockout but nobody wants to see anybody get hurt or damaged so they stopped it when they had to."
JA: Did Smith do anything during the fight that surprised you?
DE:"Nothing at all, except getting up after I dropped him. I didn't know he had that much hard. He got up and he fought. I gave him respect for that."
JA: Mentally, how well were you prepared for the Chris Smith fight?
DE:"Mentally I was perfect. Everything was straight."
JA: Now you're set to face Shane Mosley, a former three time champion, what do you expect from Mosley?
DE:"I'm expecting him to come out and go to war with me until the fight is over with."
JA: What are you planning to do to neutralize what he brings into the ring?
DE:"Just go in there and apply pressure until the fight is over with. That's the thing I like t do is put pressure. I like to go to war. If they want to sit there and trade punches for ten rounds standing in the middle of the ring we could do that. That's right up my alley."
JA: What is your opinion to the fact that Mosley is coming down from 154lbs to 147lbs to face you. Do you think that will have a negative effect on him?
DE:"Nah, I don't think it will have a negative effect on him. I think he moved up to 154lbs and he just in too deep. Them boys were just too big for him at
154lbs."
JA: What do you think of Shane Mosley as a fighter?
DE:"I think he's a good fight..matter of fact I think he's a great fighter."
JA: How are you preparing for a former world champion like Shane Mosley?
DE:"The same way I prepare for anybody else that I fight. Nothing special. I just train hard and do what I have to do."
JA: Share with us your feelings on being a part of a card on the first ESPN2 PPV event?
DE:"I think it's cool. If it hits big I will go down in history. Who was on the card. Who I was on the card with. Who are the champs and who became champs
after that. It's a good thing."
JA: With your win over Chris Smith came a number two position with the IBF. What do you plan to do to keep that position?
DE:"Well first off all I'm going to beat Shane Mosley. After that hopefully I won't be in that position long. Hopefully I'll get a title fight or fight number one in
order to move to number one. I don't want to be number two I want to be the champ."
JA: What do you think of the top guys in your division as well as the undisputed champion Zab Judah?
DE:"Zab's a good fighter and I would love to fight him."
JA: How do you see a fight with yourself and Shane Mosley playing out?
DE:"He's says he's going to play with me for the first few rounds and then knock me out. That's what he says. I'm going to go in there and put the pressure on him for about four or five rounds and he will know I am not going nowhere. Then we're just going to have to go to war."
JA: If and when you win this fight what do you plan to do?
DE:"After that I plan to take a vacation. Then get back in the gym and start training hard looking for that title fight or a fight with any of the top ranked guys. Not just in the IBF but anybody. A good fight. A good money fight."
JA: How does it feel to have the great living legend Angelo Dundee, who has worked with Muhammad Ali, Sugar Ray Leonard as well as George Foreman in his title win over Michael Moorer, in your corner?
DE:"It feels real good to have him in my corner. Everything that he says he means well. Everything he tells me to do, works. He hasn't told me anything wrong yet. he's never told me anything that didn't work."
JA: As a trainer has he done things in training that have surprised you?
DE:"Yeah, he showed me certain things that you would look at and say to yourself that can't work. Then you try it and you're surprised. Just little tricks of the
trade that I would never think of myself. Then when he tells it to me I say damn that works."
JA: How important is it to have someone of that caliber in your corner at this stage of your career right now?
DE:"I think it's very important because I feel like I could never learn everything that he has to teach because he has been around boxing for many years."
JA: Is there anything that you want to say to the boxing public, people all around the world and on Boxingtalk.com?
DE:"I just want to tell everybody that I'm still at 147lbs, I'm ranked number two and I'm going to the top."