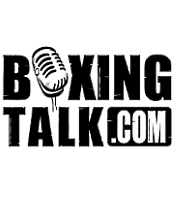 Jose Aguirre: Tell us about your fourth round stoppage over John Battle this past week.
Darnell Wilson: "I felt I had a good performance because I stuck to the plan of my coach. I took my time. Didn't rush anything. I went to the body real good. I had a good, steady up and down attack and when I made the opening I just let it go."
JA: Was there anything your opponent did that surprised you in any way?
DW: "Not really. He had a decent right hand that he came right out and try to hit me with. He had fairly good defense, actually. There is nothing he shocked me with at all. I'm not used to fighting guys that big but I spar guys much bigger. He was a decent fighter, he wasn't that lousy as a fighter."
JA: You had him down three times in the fight. What was going through your mind when you first knocked him down?
DW: "In the very end of the third round I hit him with a big left hook and put him down. Some referees may have stopped it because he was in big trouble. He barely made it up at the count of nine. As he was getting up the bell sounded and that's why he gave him that extra chance. Then I jumped right on him and kept putting him down with right hands. He had alot of guts, he kept getting up. The third knockdown he saw my running towards him and he blocked the punch and kind of went down. He was in big trouble."
JA: Where do you hope that you go from here?
DW: "Like I said when I spoke to you before I just want to fight the best guys. I've been trying to do it and I'm still trying to do it. That one guys that I had a draw with, George Jones, he just don't want t do it again. In his hometown or everywhere. This guy doesn't want to be in danger anymore. I had a fight with James Lubwama which was a draw. We might be doing that May 5th, possibly. We're waiting on him to agree. It isn't about me, it's a done deal on my side. The thing is when I fought at crusierweight over the weekend I was about 190lbs I was real fast and very strong. My opponent thought, because he fought some of the best guys, he said I had devastating power. He said he couldn't believe my hand speed and my power."
JA: How busy do you plan on staying in 2005?
DW: "Aw man, fight right back May 5th then maybe June 10th back in Detroit. Maybe if a bigger fight comes along I'll do that. Every month if I could. I wish. I'd love it."
JA: What do you think about the division in which you campaign in?
DW: "My coach is encouraging me to stay at cruiserweight because it seems like I take too much out of myself to make the light heavyweight limit. I believe with the proper time I can make the weight and still be strong. As far as the cruiserweights I think that fight last night (Braithwaite-Mormeck) did alot for the division. It's still kind of wide open to me. Nobody really scares me away at all I'll tell you that but I was impressed with Jean Marc Mormeck though."
JA: Is there anything you want to say to the boxing public and people all around the world on Boxingtalk.com?
DW: "You cannot NOT look out for me because I bring an exciting style. At any moment any second of the fight I can hit you with one punch either hand and the fight is over. You hit me in the chin I am not going nowhere. I have a rock solid chin. As soon as the world title opportunity comes I'm taking their title whether it be in the United States or anywhere in Europe, it doesn't matter. I'm going to defenitely unify immediately because when there is a world champion there should only be one world champion, not three or four. By the way I see that Daniel Judah is working with James Toney. What's up with that? I'll do that anyway because he cannot roll with me like that. I know it. I already tried to fight him before. I heard about his fight with (Julian) Letterlough. He should have lostthat fight, I heard it from people that were there.If Letterlough did that he don't want no parts of this."
JA: So if Daniel Judah steps up to the plate you're willing to fight him?
DW: "That isn't about anything. I give him credit, he fought some good guys but he got a gift over there. I'm willing, I would love to do that. Any other guys. (Derrick) Harding, (David) Telesco. I spoke with Harding and he's trying to work out something with Roy Jones but like I said before he's the one that has the heart to fight whoever is out there. If there is anybody you can think of in the division who wants to get it on I'm there. Like Montell (Griffin) is fighting Julio Gonzalez. If one of them pulls out I'm there."
Send questions and comments to: onfireboxing@verizon.net