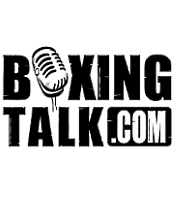 It took 41 seconds for Charles Vanderveer to make his pro debut at the Manhattan Center on February 24. Now he gets the chance to return to the scene of the crime a second time. Turns out his victim took another route so he had to lay in wait. Then down the long dark alley there came another victim who somehow turned around and also took another route. Now it's seems like there won't be a victim coming down the alley. But there is always hope. That has been the latest on "Get Cracked" as his opponents have been falling out. As he waits for the word Boxingtalk was able to get a few words with the Super Featherweight from Brooklyn.
"I was supposed to fight on the 9th but three different people have dropped out."
JA: So at this point you don't know if you'll be fighting?
CV:"I don't know yet. They're trying to find me somebody now. I know I'm fighting on the 24th in Atlantic City but they are trying to get me somebody for the  9th."
JA: How disappointing is it to have an opponent, then to not have an opponent to once again having an opponent to ending up not knowing f you're going to fight at all?
CV:"Real disappointing. I train hard to do what I do and when they drop out it's like where your heart at. Come on now. You have to step up to the plate. We're all making money here."
JA: You were supposed to go back to the Manhattan Center, the scene of your last assault?
CV:"You know fourty one seconds in the first round for a pro debut is very terrifying. I don't really stress it because if I'm fighting somebody like myself  I
wouldn't want to fight me either."
JA: How has the progression been from amateurs to the pros?
CV:"The training has been crazy. I've been focused with the professionals. Training wise I really been stepping up. The amateurs I took it as a joke. If I would have taken the amateurs as serious as I'm taking the pros I would have been much, much, more damaging in the amateurs. I lready did damage in the amateurs but you know I'm stepping out."
JA: If you do fight what can we expect from Charles Vanderveer?
CV:"You can expect a knockout. That's what you can expect everytime. That's how I plan to deliver. Knockouts."
Send questions and comments to: onfireboxing@Verizon.net