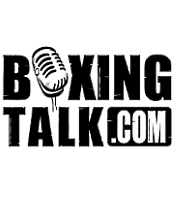 After reading what his his November 11 opponent Shaun George had to say, cruiserweight Chad Van Sickle (19-1-2, 11KO's) reached out to Boxingtalk to issue his response. Chad, who has an interim fight on October 1 says that Shaun has motivated him. "George has gotten me very motivated and I actually feel sorry for Jeff Yeoman and the fact that he has to fight me at this time", says Van Sickle. You won't want to miss the harsh words that Chad has for Shaun George.
 Jose Aguirre: Hey Chad. How are things?
Chad Van Sickle:"Great, just sat down to play a game of poker and watching the Douglas fight."
JA: So tell us about yourself Chad?
CV:"I'm from Grove City, Ohio. Actually I just got back. I have been living in Tacoma for the last two years."
JA: When did you start boxing and how did you get into it?
CV:"I was a pretty wild kid and got into alot of street fights. I was a freshman in high school and I was mouthing off to an older guy. He boxed so I told him I could box and we went to the gym and I destroyed him. That's how it started."
JA: Are you telling me it came naturally
?
CV:Yeah. I'm going to tell you the truth about me. I can't dribble a basketball. I'm the most uncoordinated guy you have  ever met but man, when I put the gloves on it's a like a natural ability. I'm the most athletic guy you'll ever meet."
JA: You have a fight coming up on Nov 1, with Jeff Yeoman. Tell us about that?
CV:"I have a guy who is coming down from heavyweight and he's been popping off on the mouth and just send him in. I have something for him."
JA: For those of us who have never seen you perform can you tell us what type of fighter you are?
CV:"I've always been a banger with a jab and when I went to Seattle they tried to change me over to be a boxer. I'm not a  quick boxer. I think you have to be born with the slick style. I'm a banger."
JA: How is training going for this fight and is it straight through for both fights?
CV:"You know, it's the first time I ever did back to back like that and I have sparring partners for this fight and after this fight is over I have another set coming in to get ready for (Shaun) George. I fight Saturday and I come back Monday."
JA: Are you not worried that this fight may interfere with your fight with Shaun George?
CV:"Man I'm going to knock this guy out within three rounds. I'm just putting it out there. George has gotten me very motivated and I actually feel sorry for Jeff Yeoman and the fact that he has to fight me at this time."
JA: After that fight you have a date to dance with Shaun George. A guy trained by the legendary Lou Duva and Tommy Brooks. Share your feelings about fighting him.
CV:"Are you trying to ask if it scares me or if it makes me nervous? None the least. As a matter of fact he's marrying Lou Duva's neice. The guy has been babied his whole career. Not it's time for him to step up to the plate. I'm not worried the least bit about that."
JA: What do you know about George?
CV:"I know that Willie Herring rocked him a few times and Willie Herring has two knockouts. I know he's a flashy boxer. That's about all I know. We have video tapes of all those fights now. We just got them and I actually believe they have a couple of his sparring sessions from last week."
JA: What do you expect from him come fight time?
CV:"I'm  expecting a competitive fight. They say he's a tough guy. He says he's been knocking out people in the gym and I expect him personally to know that those are just words."
JA: What are you prepared to do come fight time?
CV:"I'm prepared for anything. I should have been a soilder because I'm always prepared for war."
JA: Is there anything you want to leave us with?
CV:"Come out and enjoy the fight. It's going to be a big year for Chad Vansickle. Big year. I hope with my next win and the win over George that it would set me up for a world title and if not close. It put it out there that he was going to end my career so the feeling is defenitely mutual there. I'm not ready good at the trash talking but I'm really fired up for this one. He defenitely opened up a can of worms with me. By The way tell George good luck and congratulation on the wedding."
Send questions and comments to: onfireboxing@Verizon.net