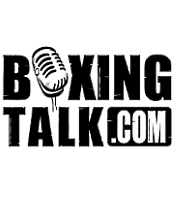 Uncle/trainer of Curtis "Showtime" Stevens
Boxingtalk caught up with the uncle/trainer of Curtis "Showtime" Stevens, Mr Havoc Andre Rozier who has been training his nephew since the young age of five. Andre shares his thoughts on Curtis and his start in the sport of amateur boxing. He also spoke about what he thought of Stevens progress into the professional ranks as well as the difference in training for the pros. He talks about how he works his young fighter in the gym and what we can expect from "Showtime" come February 24th at the Hammerstein Ballroom in New York City. Read on to see what else Andre had to say.
Jose Aguirre: How long have you been training Curtis Stevens?
Andre Rozier: "Since he was five years old."
JA: Tell us about his progress in the amateurs?
AR: "In the beginning I knew there was something special about Curtis. When he was like four years old and I used to be in the mirror shadowboxing and getting loose he used step behind me and try to do what I was doing. He would put his little hands up and throwing punches. I'm like look at my nephew, isn't that something. At the time I wasn't thinking about training him. I started training him when my sister started a new job and I was babysitting. I couldn't sit at the house with him so I would take him to the gym with me. Then I started working and putting it all together with him and he started progressing. And when he turned eight years old, the age when you can start fighting in the amateurs I took him down to the Junior Olympics where he had his first bout and he was just like a whirl wind. It started back then. Then the second fight he knocked his little opponent out. Then he started clipping all the little kids. He just kept getting better and better. When he was ten years old we boxed in our first Silver Gloves National and he had met Andre Ward in the finals. He was ten and Andre Ward was eleven.It was a close bout but you could tell Andre had been moving around a little bit more. Curtis didn't really know how to catch up with him. He was chasing him (Ward) the whole fight. He lost a 3-2 decision and that was his first little lose. I told him don't worry about it. He ran out the ring crying. I told him calm down Curtis you'll get your chance again with him. I said he was on the move and you have to learn how to stop these people from running for you."
JA: Did he eventually get to fight him again while in the amateurs?
AR: "Yeah they boxed again. This was a point where Curtis was not really focused in the under-19. I always knew that Curtis could beat Andre Ward because early on Curtis showed me tenacity and power in a combination that was really rare to see. He's a really skillful athlete. Most people don't get to see that because he's always knocking someone the hell out. Given the chance he will show you that he's a really good boxer. Once again he rarely gets that chance because he likes to fight. He likes to sit down in the threnches and start banging."
JA: How has the transition been from the amateurs to the pro ranks training-wise?
AR: "Basically it's been the same. We're just working on things he could do now in the pros that he couldn't do in the amateurs. Like in the amateurs body shots don't seem to count. Most people don't work on them but I always do because most of the guys I deal with can punch. They can take advantage of the ability to slow their opponents down. Now you can get a better body shot because you're not going to get warned about hitting someone in the side. Like in the amateurs the strike area is basically in front of your body. You can't hit a guy with a good liver shot because they'll give you a warning. And there is no warning for being too low now. In the amateurs if you go below the waist you're too low. You can't bob and weave as much. Those are things that we can exploit to the fullest at this point and that's what we're doing. He'd go into a bob and weave roll and he'd be warned for it by the referee so it almost got him out of the habit of doing it. He has to get low. With that they're telling him that he really can't bob and weave. Now we're getting back to getting low. Making these guys miss and banging the hell out of them when you get there."
JA: So how has his training been going for his fight on February 24th?
AR: "He's been working real hard. See, I sneak rounds in on him. You have to work with these guys with phycology  becauese they always try to get over. They work hard but you always want them to work just a little bit harder. Lets get a couple of more rounds in there. Then he responds that he jumped six rounds of rope and I say but you're going six rounds in the fight so give me two more just so that we have something in the bank. His words are uncle you're cheating me. I say I'm not cheating you. If anything I'm giving you what you need. He's been turning it up. I expect this guy that he's boxing to really see the results of his hard work."
JA: He was slated to face a fighter who was 10-2 who has since pulled out. Is that becoming a problem not being able to find people to fight him?
AR: "It's always been a problem. When Curtis is on, he's on. Right now he's on like it's ok. I knew  Eric Graham wasn't going to come to fight. I told the people at Lou DiBella Entertainment that this guy has a history of pulling out of fights that he figures he can't win. I said mark my work this guy is not going to come to fight and we got the call a couple of days ago that he pulled out. Now we have a guy that's 3-5 with three ko's. I don't expect him to go one round with Curtis."
JA: Is there anything you want to say to the boxing public and people around the world on Boxingtalk.com?
AR: "I'd like to say first and foremost I want to thank Boxingtalk.com for their straight forward commentary and their to the point issues. You guys don't b.s. We're trying our very best to rise to the highest pinnacle in  this sport. My job as a trainer is to make sure my guy and the "ChinCheckers" reach that point and I'm doing everything in my power to do so. And one last thing big up from Havoc Boxing gear. We love the boxing nation and we're trying to be number one in the game."
JA: Thanks for your time."
AR: "Anytime."
CLICK HERE FOR MORE OF THIS EXCLUSIVE
Send questions and comments to: onfireboxing@verizon.net