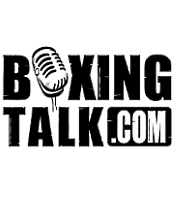 Undefeated junior middleweight and former 2004 Olympian Andre Berto is returning to the scene of his last crime. An all out assault on Edgar Galvan at the Hammerstein Ballroom in New York City ended things in the first round. On a Broadway Boxing card promoted by Dash/DiBella Promotions in association with Mohegan Sun, Thursday, February 24th will have Berto once again doing his thing. Boxingtalk reached out to Andre and spoke about how his training has been going and he feel overall. He shares his thoughts about being able to work with undisputed junior middleweight champion Winky Wright and what he wants out of this sport. See what else Andre Berto had to say.
Jose Aguirre: How's training going for your fight on February 24th?
Andre Berto: "Everything is going good. Training is good. I'm getting prepared like always. Hopefully it's a good performance."
JA: What do you know about your opponent and what are you expecting from him?
AB: "I heard he has a lot of experience with twenty fights. He's a southpaw. It isn't really all too much of nothing. I train with the best southpaw out in Winky Wright down here so I think I'll be well prepared."
JA: How excited are you to be back in New York putting on a show?
AB: "Man, I love New York. I have a good time in New York. The last show was pretty good. We gace alot of people in New York alot of excitement. Hopefully we can do it again."
JA: What can we expect from you on the 24th when you step inside that ring?
AB: "Just another exciting performance. Alot of explosion. Alot of speed and confidence as well as alot of hunger. Basically just hopefully be a rising star in boxing."
JA: What are your plans for the future in the sport?
AB: "As of right now I'm just going to be taking it one step at a time. 2004 was basically my coming out year so I'm just going to continue staying focused and staying hungry. Just put on some real good performances this whole year so that I stand out from the rest. The rest wil just fall into place."
JA: Share with us the experience of being able to train with undisputed junior middleweight champion Winky Wright.
AB: "Winky Wright is my man. It feels good because I'm getting the best sparring out there with the undisputed champion. It's been a priviledge and at the same time I'm learning so much. I feel great. I feel blessed."
JA: What type of things have you learned and does he give you advice, maybe little tips here and there?
AB: "Yeah he always gives me advice. All the time. I look up to him and my boy Jeff Lacy. All of us are basically from the same area so they look out for me and give me alot of advice. I'm just trying to move into their footsteps and hopefully be a champion."
JA:  How are you able to take what they give you and put it to use for yourself?
AB: "I just sit back and listen. Sit back and listen and watch. I observe alot. I basically try to pick up what I could pick up and use my skills in the ring and outside the ring."
JA: How often do you want to fight this year?
AB: "Basically I want to take my time with it but I want to make sure to stay real busy. I want to tsy busy with it. I want to learn as much as I can  this first upcoming year.  After 2005 I'll be able to relax a little bit and learn alot more about the business. Feel alot more comfortable in there fighting as a professional. I'll take a little bit more time in 2006."
JA: Has there been any word about when we'll be able to see you in a Team Roc campaign magazine advertisement?
AB: "Actually my other promoter Damon Dash has talked about doing a Rocawear campaign in May. We have alot of other stuff in store for you."
JA: Is there anything you want to say to the boxing fans all around the world and on Boxingtalk?
AB: "Man, like they know I'm here. I'm here and I'm going to try and shine as much as I can. Make sure and watch. Keep your ears open, your eyes open. There is a young hungry beats coming out of Central Florida. Stay behind me  and lets just keep going."
CLICK HERE FORMORE OF THIS EXCLUSIVE
Send questions and comments to: onfireboxing@verizon.net