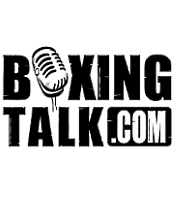 Boxingtalk was able to speak with Willie Savannah, manager of WBA lightweight champion Juan Diaz. Savannah and Boxingtalk discussed the cut that Diaz sustained during sparring and what kind of setback this is to the undefeated champion's career. He speaks about the disappointment of the Diaz camp as well as when we could expect him back in the ring. See what he had to say.
Jose Aguirre: What can you tell us about the cut that Juan Diaz sustained?
Willie Savannah:"Well he was getting ready to spar five rounds today and right at the end of the first round, I didn't get to actually see the punch myself but Ronnie Shields my trainer said "He's got a bad cut, he's got a bad cut" that's when I looked up there. Ronnie said it was from a punch. Probably a left hand."
JA: So how bad is the cut?
WS:"Thankfully it wasn't real deep. It was about an inch wide. They applied two stitches, one on each end and then in the middle they use this stuff called super glue. Juan wanted to fight and the doctor told him he could fix it where he could go out there and fight but the first punch might open it up and then you'll lose."
JA: How long does this put him out?
WS:"It wasn't that real serious thing that you see on tv all the time. He told him that he could start back in two weeks. He could start training in two weeks."
JA: How disappointed is the Diaz camp?
WS:"Man he was devastated. In twenty seven fights, actually he's had a total of one hundred thirty seven fights in his life and this is the first one that we've ever had to pull out of. One hundred and ten amateurs fights and twenty seven pro fights and he never had to pull out of one. Alot of times as a pro he's fought with a cold, sore hands. We never pulled out of a fight before. In all this time with Ronnie Shields we never pulled out of a fight so if we pull out of a fight it has to be something. I want to make sure he didn't go into the fight where the cut opens up again. We were compelled to let Main Events know because we have no idea whether the commission is Las Vegas would have passed him anyway because it's on his left eyelid."
JA: So when can we expect him back?
WS:"He's ready. He's in tip top shape. The day he got the cut and before he went to the doctor he got out of  the ring and then he went about five or six rounds on the hand pads. He did all the other stuff that he would usually do. Then we went to the doctor after that hoping that we would be ok and the doctor said that he could do it but that he didn't advise it. There is no champion in the world that younger than Juan. And we felt awful because of this special event where ESPN are doing their first pay-per-view and I know they were counting on Juan to draw alot of hispanics. And we felt like crap. We don't feel good about this at all.
JA: I'm sure there will be alot of disappointed fans.
WS:"Alot of fans are going to be disappointed. I imagine ESPN is going to be disappointed. I know our promoter Main Events as well as Ceasers Palace is totally disappointed. I'm know they must have bee expecting Juan to draw alot of pay-per-view buy from the hispanics and Juan has alot of cross over appeal. Not just hispanics."
Send questions and comments to: onfireboxing@Verizon.net