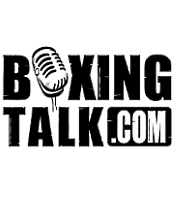 Undefeated heavyweight Timur Ibragimov (15-0-1, 9KOs) faces off against Billy Douglas (10-3, 8 KOs) on Saturday, December 11th 2004 as Final Forum Promoter Sal Musimeci and Matchmaker Sampson Lewkowicz present "Battle in Brighton" at the Atlantic Oceana in Brighton Beach, Brooklyn. In his last fight, Timur Ibragimov stopped Shawn Robinson in the first round to capture a minor title. In his first defense Timur takes on the son of former undisputed heavyweight champion and Mike Tyson conquerer James "Buster" Douglas. Timur has fought seven times this year with only two going the distance. See what Timur had to say as manager Boris Grinberg translates.
Jose Aguirre: How has training been going and do you spar with your cousin Sultan (Ibragimov)?
Timur Ibragimov: "I'm sparring with alot of people but we never spar with each other. We are cousins first of all. I'm sparing with alot of people, even Mike Tyson. Tyson has even promised to come support me as I fight Douglas, the son of Buster Douglas, who beat Mike Tyson in Japan."
JA: What do you expect from Billy Douglas when you step in the ring on Dec 11th?
TI: "We hope he shows us a good fight and not a dirty fight. We will show how good and ready I am for this fight. We expect him to try to show very good boxing. I've been working hard so I'm ready."
JA: How do you feel about fighting in Brooklyn alongside your cousin in what is a large Russian community?
TI: "I feel the same way. I have already met five or six different family members from my city. Some people notice me in the street and acknowledge me. I'm from Uzbekistan but everybody knows I'm here."
JA: What do you think of the heavyweight division?
TI: "I know only one way, work hard. I'm 6'4, 222 pounds, very fast and very strong. I have a big heart and I come to throw punches. If Sultan lands his left or right he will knock out anyone. I work hard and break a fighter down. I'm ready for twelve round fights. I feel very strong."
JA: Who would you say is stronger, Sultan or yourself?
TI: "Believe me, it's a little bit different. I have more power for the longevity while Sultan is explosive. I'm sorry for my analogy but Sultan is like a black guy. He's very good with power. He was born in the mountains. His endurance is great. He's very strong mentally as well. He's explosive."
JA: Would the crowd be a distraction for you or your cousin?
TI: "One time Sultan fought in Tennesee against a local fighter. Everyone applauded the local fighter and said nothing for Sultan. In the first round Sultan knocked out the local guy. Everybody then started cheering for Sultan. I'm a little bit different, people will step up against me but not against Sultan because he's a southpaw and a hard hitter. Next year you will have two
champions."
JA: Is there anything you want to say to your fans and the Boxingtalk.com readers?
TI: "I want to say thank you very much for hospitality. Please come out and support my cousin and I. What you saw last time is nothing compared to what you
will see Dec 11th."
JA: I'll be seeing you Dec 11th, good luck.
TI: "Ok, my friend. Thank you."
**Special thanks to Sampson Lewkowicz and Boris Grimberg for making this interview possible.**
Send questions and comments to: onfireboxing@Verizon.net