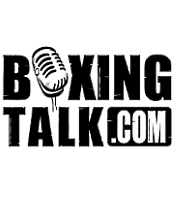 I dont understand why you havent been called by a "network big head", but i truly believe you would make a great commentator on ANY DAMN boxing show. Honesty, integrity, but most of all A RESPECTED OPINION FROM A FIGHT FAN POINT OF VIEW!!!!!!!!!!!!!! I wonder if they would let a vet in to inspect their cash cows....cuz they would discover a cow that looks pretty but does not generate the milk that a REAL COW could? is that strange to you as well?.... much respect and appreciation...thank you
Leon's Response: Thanks for the kind words I truly appreciate it. I do. HBO doesn't like me very much because I tell the truth about their evident favoritism and pull their card on the BS they've been airing. I'll let you in on a little secret, in boxing, everybody loves to read the truth, just not when it's about them. I'm strongly considering having my main man Scott Shaffer come to Boxingtalk headquarters once a week to film a Boxingtalk Weekly TV show called "The Thirteenth Round." We've already received clearance from Showtime and others to use highlights, and we have a couple of other big secrets in store for our membership. Let's put it like this you won't have to pay for any highlights on Boxingtalk. We're also considering having several close friends of ours who happen to be gym rats, provide you with sparring sessions from various gyms all over the country...I'm thinking about calling these Gym Warz. We'll have slo-mo replays and audio voiceovers with myself and the rest of Team Boxingtalk. I don't know if that'll ever get any of us a gig on TV, but hey it couldn't hurt right.
Since the Spinks/Zab fight, have you watched it again and if so have you changed your opinion of who was winning? I was surprised you had Spinks ahead. I thought Zab was controlling, dictating and commanding the fight. When are these going to learn that when they do the "hood" walk to the ring, they lose? Just ask V Forrest. Regarding Bhop. He's one of my favorite fighters. I think if Eastman brings it and brings it hard early he has a chance to get Hopkins out. No one has tested Hopkins and brought it to him in years. So it may really be quite a surprise if Eastman can do that and we'll see the result. Your thoughts? Keep up the good work..... D
Leon's Response: I have and while I can admit that my score might have been a little off, it wasn't by much. I think 5 rounds to 3 either way or 4 rounds a piece was within the realm of reality of how that fight should have been scored after eight rounds. I don't think it was a 7 rounds to 1 or 6 rounds to 2 fight like two of the three official judges had it. Knowing boxing the way we do, disagreeing with the official scoring might not be such a bad thing. I thought Zab let it become a boxing match, which is Spinks type of fight. Spinks can't punch and he's not a brawler, he goes in there to box and for several rounds Zab wasn't doing much and he was just following Spinks around. Roy Jones did the "hood" ring walk against Clinton Woods. I don't think he would've done it for Ruiz or Tarver though. Perhaps these guys should start being more careful when deciding which fights they want to give us their best impersonation of Apollo Creed in Rocky 4. Hopkins will dominate the fight. Eastman looked starched in that video footage to me, and I saw him licking his lips way too much. He looks like ice-cubes might melt instantly in his mouth.
Greg, i just wanna say that what you said to that guy in your mailbag was flat out pimp !!!! Telling him to fight Cory Spinks and then posting it for the viewers to see is just flat out gangsta !!!! Cory Spinks would make that guy look like his BITCH. Cory would make that guy look like Mike Tyson made Trevor Berbick look, like Kostya Tsyzu made Zab Judah look, like Holyfield made Rahmans head look, like Trinidad made Joppy look or like Hopkins made Joppy's face look. Take your pick. Or it could be worse, he'll be carted off in a stretcher and into a coma. Then he can tell Cory how much he knows more about boxing than him or how little power cory has. Its amazing how a guy who has never stepped foot into a boxing ring with another man can call a former undisputed welterweight champ a "BITCH". Better yet Greg, if this guy is saying that Cory beating Mayorga was a joke, why doesnt he put on the gloves for 4 rounds with Mayorga, lets see how he fairs against the nicaraguan slugger. Lets see if its as easy as Cory made it look. Let this guy see for himself. I've fought guys like Mayorga and they are tough mothaf*kas. They are no joke. Post this please so he can see Greg, please post this homie.Tommy From Phoenix AZ
Leon's Response: I don't mind when you guys criticize a fighter, but resorting to name calling is ridiculous. The man can't punch and he went twelve rounds with the most dangerous fighter at welterweight. Spinks or a fan in the boxing ring and my money's on Spinks. I don't know if Spinks has enough power to put anyone in a coma, but he would probably box circles around most of us without even breaking a sweat. Zab Judah has a lot faster hands than most people in the world and he wasn't hitting Cory at will by any means.
Hey G-Money, You gotsta get nando in the mix for a T.N.T Chat session!!! This guy has one hell of a following and would only help promote your boxingsite. Not to mention I wanna ask nando a question or two. You can say he's finished or whatever, but u gotta give him credit for what he did in that september showdown against Tito. Vargas was tooooo inexperienced and way tooooo young to handle all the pressure of fighting a fighter of the caliber of trinidad at that time. and he still gave him his toughest fight up to that point in trinidads career, not to mention he took a full velocity left hook right to the jaw in the first round ( trinidads deadliest weapon ) , and 3 very hard shots below the belt Holla at yo boy G-Money,Frank
Leon's Response: I spoke with his manager Rolando Arellano yesterday afternoon and we're going to be getting an interview with Vargas as well as a chat. I don't know exactly when yet, but unless his manager was lying to me, Vargas will be on a chat and there will be an interview on the front page in the coming days. I do think Fernando's best days are behind him, but that's only because he fought the best. He fought Winky Wright, Ike Quartey and Tito Trinidad pretty much back to back to back. Those fights took a lot out of him. I hope Vargas is successful because he's a star with a huge following and boxing needs as many of those as we can get, but he may be in over his head by choosing formidable middleweight Ray Joval as his comeback opponent. Joval has a lot more left than Wilfredo Rivera did when he stunned Vargas in the second round of one of his comeback fights after the Trinidad loss.
Greg, I must say the site has gotten much better as I have continue to come to it. It used to be number 2 in my book, but now it is the number one undisputed site. I don't see how everyone has written Cori Spinks off after a loss to Zab Judah. I felt the fight was really good and I had it even going into the 9th. I think people forget that Spinks was winning that round and had back Zab up a couple of times with straight lefts. Cori's style is that of Pernell Whitaker's where he isn't the hardest puncher, but his defense is so good that he can get away with it. I think he would have a hard time with Ouma or Wright, but either Santos or Sims he should br able to win. If he fights Mayorga again I think it will be another good fight. I read that Goosen is trying to get it so a Ruiz-Toney purse split would be 50/50. I know that people would rather watch Toney than Ruiz do to styles, but isn't that the promoter's job to get his fighter the most money and not make it go to purse bid so they lose some money on the table? Toney better be careful because Ruiz is a harder punch than people give him credit for. He just doesn't have the chin. One last thing, Kelvin Davis deserves to be stripped. He was stripped for the same reason Julio Diaz was. He took the fight and then backed out of it. To me a purse bid wasn't necessary. He knew who his manatory was and he first accepted the fight and then backed out last minute. He should look on the bright side, at least O'Neil Bell will get the world title and Kelvin doesn't have to take the loss he was going to get. By the way I'm from Northern Nevada and few knew who he was that was how great of a world champ he was. Thanks Greg, Keep up the great work. Chuck
Leon's Response: It's good to know we've elevated to the lonely number one in your book! Now I've got to make sure we keep this up and maintain our ranking, lol. I don't see it either, but that's the nature of the beast. When you've hit rock bottom people find ways to hate and when you're on top of your game they reinvent ways to hate. Ouma or Wright versus Spinks wouldn't happen anytime soon. Santos, Castillejo, Simms, McKart..guys like that seem much more reasonable at this point. Not to mention the fact that Cory Spinks is most interested in making a Ricardo Mayorga rematch.
Leon, I'll repeat my sentiments about you and your site. BT is the best boxing site PERIOD. And you are the best boxing journalist when it comes to inside information, breaking news and knowledge of the politics of the sport. But your arrogance when someone does not agree with you about the credibility of a fighter is annoying. Your argument sometimes borders on downright amateur boxing analyst. I mean how can you suggest that the oke who disagreed with you on your take on Spinks must fight Spinks himself to back his sentiments of calling him a b...tch? That is off the mark if you ask me. Spinks is fighter and the dude is not but that does not mean he cannot see that Spinks is overrated by you. Spinks will not prove his credibility by fighting fans but by fighting against other fighters. So far he has not been convincing when he 'beats' them. Please Greg, your responses spoil your other attributes. I also share the same sentiments that Joney is yet to prove himself in the heavyweight division, not by beating an ageing former great Evander Holyfield who everybody has long been calling to hang up his gloves. If Toney gets props for beating Holyfield it then means Holyfield has still some fighting left on him (and we know that is not the case). I admit Toney was superb against Jirov but that was at cruiserweight. He must prove himself in the heavyweight. I agree with you he will whoop Ruiz's ass but isnt Ruiz the same fighter who got beat by a lightheavyweight? Yes he has 'beaten' fighters like Oquendo and others but we all know how he did it. Mends East London, South Africa
Leon's Response: I didn't say he should fight Spinks because he disagreed with me, I said maybe he should fight Spinks if he really feels he's a bitch. Mayorga couldn't make Cory his bitch, I doubt JB from the mailbag will, LMAO. You could think I overrated Spinks and I may have overrated Spinks, but there's no need to insult the fighter to prove me wrong. Cory sold out 22,000 seats, Boxing fans should be hoping St. Louis responds that well next time because we need as many sold out venues as possible on television instead of the half-empty arenas that have become commonplace on all boxing networks.Toney does get props for beating Holyfield. He beat Holyfield right when it looked like Holyfield was going to fight Jones. And Lord knows Jones would have gotten high praise for beating Evander despite Evander's best days being behind him. How did Ruiz beat Oquendo and Rahman? And Johnson? And Holyfield? And Golota? Love him or hate him, Ruiz's resume is more impressive than Vitali Klitschko's.
How you feeling G Dogg and FIRE?? Boxingtalk.com P4P tha best baby! I haven't sent mail to you in like five months, but I do check the site everyday. I just read a headline that says "Tank Blast Judah". I guess he is talking about Supa Judah not wanting to fight Rivera. I just gotta ask aint this the guy who didn't fight Mayorga when his belt was not even gonna be up for grabs, and didn't he turn down a fight with Judah last year also? I just remember some idiot posting material on another site down playing Boxingtalk and saying you are wrong for talking about Rivera. Is this the same guy who turned down two fights that would have taken away his part time job, and gave him the chance to be a full time boxer. Just saw the article and had to ask. Let me also say that I never liked Spinks but that was a great night of boxing. Both men showing mad respect, and he lost like a man. Dawg if Judah keeps his focus I do not see anyone that he cannot beat and yup that included Kostya. Oh yeah BHOP KO Eastman in 10! Corey Garcia Dallas
Leon's Response: "Yep this is the same guy. They turned Judah down on short notice last May 15. After Judah looked sub-par against Rafael Pineda, I'm sure they regret not taking that fight. Judah has another Rivera, Cosme, coming up before he can think about meeting Jose Antonio Rivera, but the regular WBA champ remains in the mix for something big. However, I expect Judah to look for a big optional defense after he makes his IBF mandatory. Hopefully DKP and GBP work something out together because between Judah-De La Hoya and Hopkins-Trinidad II they could make two of the biggest fights in boxing. Hopkins by mid-late TKO sounds right to me as well. Eastman looked starched in that footage.
Hey Greg - As usual, great work on the site. The interviews are still the best (by far) in the biz. I'm a somewhat surprized by your comment in this week's mailbag about HBO throwing money at "2 white heavyweight brothers who can't fight". I guess I'm disappointed that we have to bring race into the debate. Surely you remember the hype HBO has heaped on other "heavyweights who can't fight" like Michael Grant or Courage Tshabalala? I'm not sure I understand what being white has to do with it. It's myopia, not racism. And to be fair, I think most people would agree that at least Vitali can fight a bit. It seems obvious that more folks want to see him than, say, John Ruiz or Lamon Brewster. That's just the way it is. Could that money be spent better elsewhere? You bet - but until someone else steps up to the plate at heavyweight (James Toney, PLEASE stay healthy), HBO is riding the bandwagon as far as it can go. John S
Leon's Response: It is disappointing that I had to bring race in, unfortunately it's also true. When was the last time HBO invested so much money into a pair of black heavyweights that couldn't fight? Wladimir reinvents ways to lower his stock and HBO is still jumping through hoops to have him on the network, this after he looked like crap against DaVarryl Williamson on SHOWTIME. More people might want to watch Vitali and his fights are a easier on the eyes, but John Ruiz has a more impressive resume than Vitali does and he's not being overpaid or overprotected. Say it again, James Toney please stay healthy! LOL.
First of all I have to give you props for all of the Hopkins coverage you have up today, that is my main man, from the town. Anyway, it is not really worth going back and forth about forever, I just would not have used that statement that he "tuned up nicely" or made any statements of "dominance" in refering to Cory Spinks and a dead man who he should have dominated, but did not. Yes he won, but winning and dominating are two very different things. He beat Gonzales, enough said period. Anyway, you are a Spinks fan, cool, forgetaboutit. On to your challenge, let me tell you, I PROMISE, if you can set up a sparring session with me and Spinks it is ON! We can do it in Philly! Even though he is smaller than me, I know you are not suppose to fight with someone who fights for a living, but I'm not afraid to be bitch slapped and ran from when we get in the ring. If he thinks Zab ran him out of there, I'm 6'1" 190lbs and lean muscle, I stay in the gym like B-hops baby. JB
Leon's Respose: Thanks for the props brother, glad you enjoyed the coverage. Our team is working harder than ever and we're going to keep it up. It's not really worth going back and forth on forever and I wouldn't have let it go too much further anyway. Maybe feather fisted Cory should have stopped the over the hill Gonzales, but he did dominate him in my opinion. I can set it up, but you'd have to sign a waiver that you'd cover your own expenses in the event your were hospitalized and you'd have to let Boxingtalk air it for it's membership without receiving compensation for your lesson. LOL.
CLICK HERE FOR THE FULL FREE MAILBAG
Send questions and comments to: gleon@boxingtalk.net