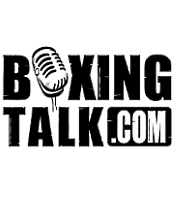 First of all, I would like to say boxingtalk is a step ahead of all webcompetitors...keep up the good work. I wont beat around the bush...I am a biased Tito fan, and will support him until he 1)punks out on a fight or 2)gives up a fight for money...until then I will join the battle cry "TITO..TITO..TITO". With that said, I was a bit curious about the politics of the Winky/Tito megabout...and in perticular, the part about the winner being promised a Hopkins fight in September. First, Winky denied it in your chatroom; second, since there is a rematch clause (which in itself is not Tito-like), how can either of them be promised a hopkins fight in September if the possibility for a rematch will still be pending? Hit me back, if you can offer some insight, and thanks again for topnotch boxing coverage...EMolina
Leon's Response: Obviously Hopkins versus the Trinidad-Wright winner is the fight that everyone in boxing wants to see. HBO will back the fight big time and I expect it will happen late this year. I'm not sure the winner has been promised anything, and I don't think anyone but Golden Boy Promotions is in a position to promise a Bernard Hopkins fight to anyone. Of course there is a rematch clause, Trinidad is a $10M fighter, Winky is not. It's called protecting your commodity, if that book isn't available at your local library, I'm sure someone at Main Events can loan you their copy. Thanks for the e-mail, tell a friend to tell two friends about Boxingtalk!
What up G-Unit?Thank you guys at Boxingtalk for the Owen Beck call he was pretty cool.I think he beats Barrett just off of Barrett's inactivity.You're doing a great job of bashing these HBO fights too.If I stay up 1 more time for shit like Pretty Boy Floyd Mayweather-Henry Bruseles! Even Leija looked as though he just wanted to see if the check cleared.G I know you was rollin when RJJ said Vick is like the him of football he can make something happen.Then Larry Merchant said he could also get ko Roy.I know Jones wanted to kill his old ass.I may be rushing to judgement G,but I see why Kassim Ouma will be the most avoided fighter.He has some serious skills.Ya boy,NARDFAN.......Louisiana
Leon's Response: Glad you enjoyed the call from Owen. He's one of the nicest boxers in the game. He hasn't beaten anyone of merit to warrant his ranking, but this Saturday he gets his chance. I've seen him fight a few times, and he looked good but the opposition was horrendous. I expect Barrett to pull it out because of his big fight experience, but it's heavyweight boxing, one punch can change everything. HBO has been airing some straight up bullshit lately. Mayweather-Bruseles was a sparring session, Peter-Diaz was horrible and Gatti-Leija, I mean Leidown, was horrendous as well. Seems to me everytime HBO tries to build-up a fight, they end up doing more damage than good. These prelim fights haven't made me want to see Mayweather and Gatti fight any more than I did two weeks ago, just like De La Hoya-Sturm and Hopkins-Allen didn't make me want to see Hopkins-De La Hoya any more than I did prior to June 5, 2004. Mayweather would beat Gatti EASILY though and Main Events knows this, so I expect them to do everything in their power to wiggle out of this one. To me, Mayweather and Gatti is a mismatch as well, but it's a mismatch people want to see unlike some of the other crap HBO has been airing. If Mayweather can fight Bruseles on HBO with all his pending legal troubles, why couldn't he have fought Gatti in January? Was it Gatti's sudden nose surgery that took place conveinantly around the time the WBC ordered Main Events to negotiate with Team Mayweather?  Or was it because that's not what Kerry Davis wants? Who says Ricardo Williams was the worst decision Lou DiBella ever made?  ( I believe he's the person responsible for hiring Kerry...don't shoot him hate mail over it though) LOL.
What's up Greg? It's funny how Kostya Tszyu comes back after two years and beats Sharmba Mitchell and he becomes the #2 PFP in your list and but Trinidad a former #1 who's only loss was to the "supposably" PFP king and he gets put at #15. He came back to destroy Mayorga after a 2 year layoff just like Tszyu. And Mayorga unlike Sharmba was actually known and on many peoples top 15 pfp lists. What's up with that? Why is X still running from Tito? To be unsdisputed you have to have everyone believing that you are. But millions know that a focused Trinidad on Sept 01 would have TKOed Hopkins. You guys can defend him all you want and call him PFP king and all that bull but millions out there don't buy that crap. If he is really undisputed than tell him to fight Tito again. If it's as easy as he says, than what's the problem? Three posible excuses  #1 -He knows if he gets knocked out, than the millions who actually believe the Hopkins mania crap will realize the truth.  #2- He's scared  #3- All of the above The only reason X is anywhere in the top 20 PFP list is because of Trinidad. Without Tito in his record who cares about X? Hopkins I know you read this stuff so stop running and fight Tito. There"re millions who know that Tito would knock you out. Thanks One of the millions
Leon's Response: Let's see. First of all, Kostya Tszyu was not out for two years, he was out for NEARLY two years. Sharmba was universally recognized as the second best junior welterweight in the world behind Tszyu, who UNIFIED his division (Has Tito ever unified?) And Mitchell WAS NOT the ideal comeback opponent for Tszyu. Mayorga was perfect for Trinidad. Mayorga was on my top 20 pound for pound due to his accomplishments at welterweight. Last time I checked he fought Trinidad as a middleweight.  Tszyu destroyed Mitchell in three rounds when many were expecting Mitchell to win the fight. Fret not Tito lover, if and when Trinidad  beats Winky Wright he will return to the upper echelons of Boxingtalk's top ten, but I'm sorry if beating a tailor made blown up welterweight making his middleweight debut didn't have me overly impressed. It was a great win for Tito, but not a win that warrants a top ten p4p ranking. The Hopkins fight was four years ago, you realize that right? Cherifi and Mayorga as you're only wins in the last four years won't get you on my pound for pound top ten.
Whats up?  Great site.  Keep up the good work.  I'm a big Floyd Jr. fan and I don't get why  he's being bashed for the Bruseles fight.  1st he is p4p the best in the game.  I hear some people say it's BHop and he is great but if Lil Floyd would have stayed at 130 his entire career he would have been defending his title for the 20th time.  But he look for more 1st at 135 and now 140.  He's not fighting blown up lightweights or Jr lightweight he is fighting legit jr welterweights.  Guys who have always been at 140.  Unlike BHop who 2 greatest wins are against Tito who is a better at Jr.Middle and DLH who is a blow up welterweight.  We can't give him that much credit for beating guys who he is already bigger than, he's a natural at that position.  Imagine if Marco A. Barerra came up to fight Lil Floyd when he was at 130 he would have gotten destroyed.  The same way BHop did Tito and DLH.  Just because he doesn't deal with the media thats not a reason for you guys not to give the man his due. What happens in his life outside the ring has nothing to do with he does inside of it  As far as him fighting Bruseles ever top notch boxer fights a fight like that he's not the first and wont be the last.  He's at the stage in his career where it's about making money so fighting Harris doesn't make since.  He needes to please himself because no matter what he does he can't please all the haters. Gerald/Lafaette,La
Leon's Response: You don't get why he is being bashed for the Bruseles fight? How about the DeMarcus Corley, Philip N'Dou or Victoriano Sosa fights? Diego Corrales is being crucified by some people in the press for not taking the Castillo fight for less than half of the money HBO paid for all of the aforementioned fights. Bernard Hopkins is the pound for pound best in boxing right now. He has some distance between himself and Tszyu as well if you ask me. Mayweather would get brutally KO'd by Tszyu, so if you ask me, I don't even think he's the best fighter in his division, let alone the world." Hopkins two most recognizable wins are against Trinidad and De La Hoya. Keen observations. Hagler's most recognizable wins are over Duran and Hearns. See what I'm getting at here? And Hagler has a loss to Leonard. I could only imagine what some of you Hopkins doubters would be saying if Hopscotch lost to De La Hoya? And by the way, in case you missed my above response, Mayweather-Gatti is another mismatch, Mayweather fifth in a row I believe.
HEY GREG JUST WONDERING CAN EASTMAN REALLY FIGHT OR IS THIS JUST A FORMALITY FOR HOPKINS ....WHO HAS HE FOUGHT OF SIGNIFICANCE ???? AND DO U THINK DLH WILL DO WELL AT 147?
Leon's Response: Eastman can fight and he has a lot of self confidence. Hopkins will beat him but it will not be easy. He has fought William Joppy and lost a close, but somewhat controversial decision.
how can u call yourself a legit boxing website when u have chris byrd your #17 p4p when he really lost his last 2 fights against fres oquendo and golota...u  serious???..........kassim ouma #18??????????????? your still serious????  how can u consider hopkins win over de la hoya a former super featherweight an impressive win....an impressive win is when the other guy stands a chance or when its hard 2 pick who's going 2 win.....hopkins waits for smaller marquis fighters to pick on....his name should be.... Bernard "THE BULLY" hopkins....and u have kostya tszyu #2 p4p and he only fought once in the last 3 years......if anybody deserves the credit that hopkins gets it should be floyd mayweather...hopkins has fought 17 bums and 2 former welterweight champions...that doesnt compare to moving up in weight and fighting the #1 fighters in 2 different weight classes such as jose luis castillo(who was # 12 p4p at the time).......and diego corrales(who was # 7 p4p at the time)...please get serious....i would appreciate it if you wrote me back at this
addressxxdblock354xx@aol.com
...and explain this mess....
Leon's Response: If you want to criticize our credibility, at least take the time to spell check please. His last two fights were against McCline and Golota. Oquendo was before that on September 20, 2003. I scored the Golota fight a draw, and the Oquendo fight could have gone either way as well. Kassim Ouma at #18. I'd probably pick him over Wright if they fought tomorrow.Ouma is the truth and it'll be a short matter of time before you're retracting that statement. Kostya Tszyu hasn't lost in how many years? He unified the thickest division in boxing with all KO's right? I'm not even going to defend Hopins being #1 because if you disagree with that I have to question your eyesight. Jose Luis Castillo was the last real fighter Floyd faced and if I remember correctly, most people, including myself, KNOW he lost that first fight.
Whats up!!! I was wondering on glen Johnson. If he deosn't fight tarver next for whatever reason, who would be a good opponent or who would you like to see him in against? For me, I would love for Johnson to either fight joe calzghe(if joe actually wants to fight someone good) or against the winner of tiozzo-michalzcweski. I would love to see Johnson fight michalzcweski!! Maybe not to many people are eager to see that, but I am!! I think that would be an awesome fight!! I wouldn't mind seeing him fight zsolt erdei or fabrice tiozzo. Maybe not too many people, including yourself would like these fights, but I sure would. I love boxing and I now about both fighters who fight in the usa and fighters overseas. Those are fights I would love to see. Plus, I don't' see anyone from 168 giving johsnon a problem. Including lacy!! Peace out. Sergio Herrera
Leon's Response: What's going on Serg? Johnson and Tarver will fight again. April or May. I like May 21 with the Trinidad-Wright replay on the undercard. Calzaghe had his chance to fight Johnson and he pulled out of the fight at the last minute. I'd love to see it to, but right now Glen is the man and he's probably not in a rush to fight in England when he's making million dollar money in the States. I never thought I'd be writing Glen Johnson and million dollar money in the same sentence. You gotta love the unpredicatbility of boxing.