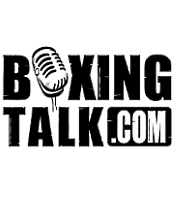 Dude you sound like a stalker. Leave the Klitschko brothers alone already. Why exactly are you so jealous of them? Damn - your blood must boil everytime you hear their names - knowing that you aren't even fit to carry their jockstraps. LMAO. Get a life already. Bottom line - Wlad has more talent in his pinky finger than you will ever have in your entire pathetic body. The same goes for Vitali. You should get down on your hands and knees & thank God for the opportunity to even speak about them.--Go Yankees!!!
Leon's Response: If you took the time to read the whole story, you would understand that HBO airing garbage, not the Klitschko's, was the purpose of the story. Are the Klitschko's part of the story? Sure, but the point is that Wladimir has done nothing to earn that HBO date and now Chris Byrd, the champion, is in a position where he has to get with Klitschko's program or risk watching Klitschko-Castillo. On to the junior welters, I'd rather watch a good college basketball game than Cotto's fight with Corley. Why? Because at least I won't know whose going to win. I'd watch Duke Vs. UNC all day long over Cotto-Corley. Cotto-Corley is like Duke Vs. Bronx Community College, you know Duke is winning by 30 so why watch it? You sound like a stalker, you're e-mailing me remember. My blood doesn't boil or cool when I'm talking about the Klitschko, and although I'd probably get KTFO'd early by either of them, there's no doubt I'd show up in better shape than Vitali's last few opponents
.
Greg, too often people mix race in with their opinions and call other people racist just to try to win an arguement. I have never read a single article on this site that either favored a race of people or made racial comments. The only thing close to it is when the obvious is state, such as someone is promoted to be the "Great White Hope". None the less, fans will try the high school debate tactic to try to show they have more knowledge of the sport than a respected journalist like yourself. People act like you don't give Vitali any credit at all when you have him on top of your heavyweight ratings. Ruiz-Toney is a good match up. I would even go as far as saying that it's a pick'em fight. The only reason why I say that is because Toney hasn't dealt with a guy who can mix up jabbing, holding and the occasional bomb the size of Ruiz. Ruiz has a better record than Vitali and had to put up ten times the effort to get half of the respect. Finally I would like to say that I loved seeing Mike Tyson on HBO durring the delay. He mentioned more boxing history in the few minutes he was on there than there has been said in the last 5 years on HBO. I only hope Showtime will put him with Steve Albert and Al Bernstein to make a complete announcing crew. Keep up the good work! Chuck
Leon's Response: It's always refreshing to hear from somone that gets it. Ruiz-Toney is a good match-up. Not as good as Byrd-Toney, but good none the less. I think Toney's skills will be too much for Ruiz at the end of the day, though it should be noted that with the exception of the Roy Jones Jr. fight, every time I've picked against Ruiz, he's won. Toney Vs. Stoney at the press conference is going to be CRAZY. I'm showing up with the teflon vest on, because I'm laying 2:1 odds that he pulls a gun on Stoney during at least one of the pre-fight pressers. I almost fell off of my chair with laughter when I read Ruiz's press release. He said he doesn't understand why he should have to fight a blown up middleweight. Maybe to redeem yourself from the Jones fight when you became the first heavyweight in over a century to lose to a former middleweight champion Jawny. Jawny hasn't lost to a heavyweight since Jones embarrassed him, and although Toney isn't as quick as Jones was at heavyweight, he's much stronger than RJ and he dominated Evander Holyfield, something Ruiz can't say he's ever done. Tyson was great during that interview. It even looked like he gave a Roy a quick heavyweight history lesson as well. I've always said Tyson should get a commentating gig. Hopefully one of the networks steps up to the plate.
Mr. Leon, you run a great boxing-site, but your Klitschko-hatred has lately become some kind of obsession to you. You accuse them of absolutely everything and give them credit for absolutely nothing. According to you they have no talent or skills at all. Isn´t it a bit strange to claim that we have a totally untalented world champion who knocks out all opponents? Sure you can go on and on that "Vitalis opponents train in McDonalds" but even if it was true (and you know very well that both Sanders and Williams came to their match just in the shape they were meant to) why blame Vitali about it? And isn´t it a bit illogical to call Olympic hero Wladimir "limited" and still admit that he will probably beat Byrd who you consider great fighter. Now your latest move was to accuse HBO of "favoritism" towards Wladimir and to hint that Vitali blackmails the company to help his brother. First of all, HBO can´t make itself guilty of "favoritism" because they have never claimed to be a neutral surveyor like WBC or IBF. They have the right to broadcast any fight they want. End of story. Second, Wladimir IS REALLY ENTERTAINING boxer who knocks out (or gets knocked out by) his opponents. He would make much more entertaining champion than any of DK:s current bore-us-boys. So keep up the good work but lay off the Klitsckos! SAMPO TERHO, FINLAND
Leon's Response: First of all thanks for the kind words, I appreciate them. Here we go again with the Klitschko hatred. I've never said they have no talent or skills. They're both very talented and they fight tall. Look Klitschko lover, tell me what the hell Wladimir has done to hold a date over the IBF heavyweight champ? Please tell me! I'm all ears! Again, the story was more about HBO than anything else. You're right, Klitschko and Sanders, and Kirk Johnson came in shape. That shape is round. I'd didn't hint Vitali blackmails anyone, I was just speculating as to how Wladimir gets a date when he hasn't done anything since beating Jameel McCline. Wladimir's lack of chin and heart helped resurrect Corrie Sanders from the dead and turned Lamon Brewster into a heavyweight champion. Emmanuel Augustus is a helluva lot more entertaining than both Klitschko's combined and he's not getting on HBO. Sounds like you should write the network.
I just wanna say i totally agree with you on the HBO hypocrisy situation going on.....the junior welterweight fights HBO has put on in recent memory plain out suck. I can't believe they are putting on another date for glasschin Wlad and way past the hill Corley. These two execs must be removed!
Leon's Response: When you actually look at ALL of those match-ups, you have to ask yourself, what the hell are they doing over there? Aren't we supposed to be seeing the best fight the best? Those guys running the show at HBO boxing are clueless. Cotto-Corley should have never been approved for an HBO date and Wladimir should not hold an HBO date over a heavyweight champion when heavyweight unification is supposed to the be the networks goal.
I enjoy reading your site, you get some solid interviews, but I wanted to commend you most on taking the sanctioning bodies to task for the politics, and theft that is made so blatant.. especially in terms of situations like Monte Barrett's, the attempt to gain sanctioning fees for eliminators, and eliminators for eliminators.. its pretty sick.. and then the WBC trying so hard to milk funds out of fighters in order to pay their debt to Rochigiani..
Leon's Response: The WBC, WBA and IBF are all complete jokes. They all enforce their rules and regulations arbitrarily and play favorites just HBO does. The WBC is a non-profit organization that continues to reinvent new ways for them to collect sanctioning fees. Then they had the audacity to bill their convention as "convention of loyalty". I guess that means whichever promoter "donates" the most money is the most loyal. LOL.
I just read your article on HBO and the garbage they've been putting on lately.. I heard that the Marquez-Pacquiao fight fell through not just because Marquez felt he was being shorted funds wise, that Pacquiao felt that way as well.. couldn't HBO have uped the ante a bit there? I mean, they wre offering 1.5 mil to split? Sick. It's great that Pacquiao is fighting Morales in what will for sure be a quality fight, but JMM is not a guy who deserves to be left out in the cold.. he's a guy who is deserving of a solid pay.. as much as I like Barrera..I am believing that somehow his newfound respect for his belts came when he realized that Marquez was the otherwise biggest fight out there for him…Peace Riaz.
Leon's Response: That's correct. HBO was only paying $1.5M for them to split. That's the same number HBO was willing to pay for Corrales-Freitas before they lost that fight to Showtime. Seems like they've lost the Marquez brothers to Showtime as well. Pacquiao-Morales is a great fight, but I get the sense that Top Rank manipulated HBO and got its way. You see, now Top Rank gets the Cotto-Corley mismatch all to itself and they make more money off Morales-Pacquiao than they would have off of Pacquiao-Marquez. Barrera is fighting at 130 pounds, so Marquez's straps at featherweight mean nothing to Barrera. Barrera's newfound respect for the WBC belt has more to do with the fact that Morales and Pacquiao would have probably fought for the vacant title if Barrera opted against making his mandatory.
I really liked your article on the garbage HBO has been airing. If you remember any of my previous letters you know that I'm a huge Gatti fan and believe in his right to earn. But your article and others you've written are starting to convince me that multi-fight contracts should be banned. It prevents honest rankings/matchmakings. It all goes back to the issue of a national commission to govern this sort of crap. Can you imagine the Patriots choosing who they'll get to play in the super bowl? Sometimes I forget that HBO isn't the NFL of boxing but an independent company. In that sense, you can't really hold them accountable for holding a heavyweight tournament. They're not responsible. Their only real responsibility is to profit financially from the sport. It sucks but what can you do?
Leon's Response: Hey, Gatti has the right to earn and the fact that he is a huge draw in Atlantic City makes him a commodity. His promoter Main Events, and his manager Pat Lynch have done a fine job in manufacturing Gatti's belt and matching him carefully so that he could put a nice string of victories together. Multi-fight contracts should be banned if they continue to allow their fighters to take on soft opposition and air these mismatches. If Gatti's multi-fight contractually stipulated, he had to fight Mayweather, Harris, Cotto and any mandatory challenger, then they wouldn't be so bad, but when they allow Mayweather and Gatti to take on one chump after the other, there comes a time where even the most die hard fan of a fighter says, 'enough is enough.' They're not responsible to stage a heavyweight tournament, but they have the money to set it up and have commented on the record about how the heavyweight division needs unification. It's the classic case of saying one thing and doing the other. Ross says he wants heavyweight unification, but Klitschko, not Byrd is holding an HBO date.
Greg, why all the HBO bashing? HBO's been catering to there house fighters for years, where have you been at? From there can't miss prospects to established champions they all get easy fights from time to time. Its funny how you bash Gatti's opposition but what about Hopkins lame main events against Simon Brown, Carl Daniels and who could forget Hakkar. All of whom I'd favor the 140 lbs.Gatti to beat by the way. What about Roy Jones host of easy paydays on HBO, from Antoine Bryd, Thornton, Lucas, to Richard Frazier, Kelley, and Woods. I do commend you for pointing out Mayweathers last 4 fights b/c for a fighter thats supposed to be that good his opposition of late has been horrible. To HBO's credit they thought Gatti-Dorin and Gatti-Leija were going to be exciting wars for the fans, its just that Gatti had different ideas. But if anybodys paid there dues inside the ring its Gatti and he, (not Jones Jr., Hopkins, or Mayweather) deserves a few easy fights. And Greg, you can't bash HBO's matchmaking and then say that you see nothing wrong with Hopkins taking easy fights (from mailbag a week or 2 ago). You said that Hopkins low risk-high reward fights were smart on his part. Well are they only smart on Hopkins part or are they smart on Jones, Mayweather, Cotto, Gatti, Klitschko's part as well. Take Care, Bo
Leon's Response: HBO has been catering to their house fighters for years, but how can Klitschko be a house fighter to HBO when his last fight was on Showtime. After Klitschko collapsed and each of his conspiracy theories received as much credibility as Vitali's claim to being THE heavyweight champion of the world, HBO has been rumored to tell many in the industry that they would never use Wlad again, "because even the fights he won weren't exciting." Dorin was a lightweight making his junior welterweight debut. Furthermore, he's not a puncher and he's right there to be hit. Translation, he was perfect for Gatti. Leija is filed as another careful selection by Main Events and HBO. Since when does beating Bojado mean you earn a shot at the title? Leija was being brought in as fodder to Bojado and managed to get the best of the consummate underachiever, but does that mean he deserved a title shot for doing so? Absolutely not. Did you know HBO emphatically refused Leija as an opponent for Mayweather? But suddenly he beats a green, inexperienced, never was, and he's a world class title challenger. Furthermore, HBO should have never aired Jesse James Leidown to begin with. I wouldn't want to air a fighter that's quit in two of his previous five fights. Leidown, quit against Ward right after making a stink about Camacho Jr. quitting against him. He quit against Kostya Tszyu and despite making the largest purse of his entire career, he quit against Gatti. Whatta surprise!