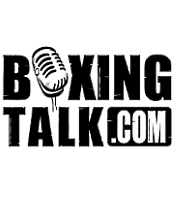 Brownsville Brooklyn. Undefeated fighter. Four wins. Four knockouts. Three in the first round, one if the fourth. Two in under thirty five seconds. On Friday, January 28th at the Hammerstein Ballroom in another installment of Broadway Boxing brought to you by DiBella Entertainment, it will be "Showtime" all over again. That's when Curtis "Showtime" Stevens, one half of the chin checkers, make his third appearance in New York City's Manhattan Center. In his last outing he got two knockdowns with one punch and stopped his opponent in 35 seconds. Boxingtalk was able to talk with the undefeated light heavyweight and must admit he had some interesting things to say. Don't miss what the guy who checks chins has to say.
Jose Aguirre: Curt what's going on my friend?
Curtis Stevens:"What's really hoo? What's popping?"
JA: You have a fight coming up on January 28th at the Hammerstein Ballroom in Manhattan N.Y. Is there a name of an opponent that you'll be facing?
CS:"Right now they haven't found an opponent because you know everyone is scared out there. But there is a reason to be scared. They don't want to check into the Manhattan mourge or the Manhattan Sinai Hospital. Eventually they'll find a victim and they'll be put to sleep on January 28th."
JA: How's training been going for this fight?
CS:"Exellent. Me and Jai are sparring everyday, hard as hell. Running hard. Everything is coming good. I'm just waiting for the 28th so I can get down and dirty."
JA: Does the fact that you don't have an opponent yet hinder your training or do you still train as if you already have an opponent set?
CS:"I train hard regardless. Whether they have the opponent now or later. They could get the opponent Thursday night if they really have to. They could bring Jeff Lacy, the champ. Bernard Hopkins. We're going to get it popping regardless."
JA: How excited are you to be back at the Hammerstein Ballroom where you have such a strong following?
CS:"The Hammerstein Ballrom is my hometown. Get the home crown. Bang Bang Brownsville gang can come up in there and big me up. We're just going to get down and dirty."
JA: What can we expect from Curtis Stevens as well as the Chin Checkers in 2005?
CS:"2005 we're spreading love and I'm not talking about the love your girl is giving you. I'm talking about pain because pain is the only option when you're in there with me, Curtis "Showtime" Stevens and Jaidon "The Don" Codrington. Pain is the only option and believe it, it's the only option."
JA: Is there anything you want to say in closing?
CS:"I want everybody to know if they get that call to Curtis Stevens, BEWARE! Fear because I'm violent. Everybody out there is sweet to me. I blow kisses to my opponents because they're sweet." Like my man Tyson said one time. We're on top of the food chain once again. I'm in the building and I'm going to ride this motherf___er until the wheels fall off.
Send questions and comments to: onfireboxing@verizon.net