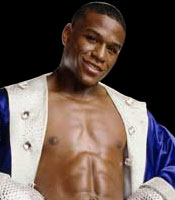 Greg, First off, love the site. I've been a reader of yours for nearly three years now. It's amazing how you guys have grown. Got a question about how you see a possible Sturm-Taylor fight going down. We all saw Sturm dismantle De la Hoya, who obviously didn't belong at 160. Sturm looked like a strong kid with good boxing skills, decent enough pop in his gloves, and high work rate. He won't be reluctant to pull the trigger against Taylor. This much seems to be certain. Not to mention, Taylor hasn't faced too many fighters that match up as well against him physically as Sturm does. Quite frankly, I don't see this fight ever taking place. Too big of a risk. What's your take? Also, with the Pacquiao-Morales bout on the horizon, who would you pick in a matchup between Zahir Raheem and Marco Antonio Barrera? Thanks, Chris from Sacramento, CA
Leon's Response: Thanks for the kind words Chris! My fridge is still full of milk and we're going to continue to grow. In my opinion Taylor beats Sturm seven days a week and twice on Sunday's. Other than Winky Wright, I don't see many fighter incapable of hurting Taylor, as capable of beating him. We all saw what Sturm did to De La Hoya, but that was an aout of shape Oscar De La Hoya in his first fight at middleweight. I doubt Sturm does as well against Taylor. As long as the Sturm camp doesn't ask for anything more that's already been offered, which I believe to be fair, I think Taylor's fists will prove you wrong better than my words can.
Hi Greg, merry Xmas from the UK. Fighter of the year 2005 ? - Has to be Mayweather. - He dethroned Gatti in style, beat Mitchell without losing a round - and in both fights had plenty to spare. - Hatton was great beating Kosta - but not the peak Kosta to be fair, and as for Maussa - hell Laila Ali could beat that guy ! Jones - Hopkins, too late not much of a spectacle anymore - bet it gets poor PPV ratings ! - Tarver - Tyson would sell better in the UK. Mayweather will be the fighter of 2006 as soon as he cleans up Judah. My prediction for Mayweather mid 2006 will be that he drops back down to junior-welter to fight Hatton - gets past him 7 rounds to 5, but Hatton stock rises with his gutsy challenge. Have a great New Year - Kath - UK !
Leon's Response: Fighter of the year Mayweather? NO WAY. All he did was what he was supposed to do and in a year where Taylor and Hatton emerged as pound for pound entrants, it's tough to give the nod to Mayweather for beating Bruseles, Gatti, and Sharmba Mitchell. Hatton's victory over Tszyu is bigger than Mayweather's three wins combined. If Mayweather beats Judah and another marquee name in 2006 he'll certainly be in the running for the award next year. 2005 fighter of the year is a two horse race between Ricky Hatton and Jermain Taylor. Team Boxingtalk's year end awards will be out shortly, so stay tuned for that.
Hey G, what's crackin'?  Just read your article on Hatton possibly inking with GBP.  Do you think he'll be affected by the Golden Curse?  If you don't know what I'm talking about, I mean how fighters seem to lose just shortly after signing with the Golden Goose of boxing (Rubio, De Leon, Ikeke, Chololo Larios, Valenzuela's eye problem, Ouma, and, more recently, B-Hop).  Do you think this will affect Hatton at all?
Leon's Response: I don't think is a Golden Curse, lol. Golden Boy is in the Hatton sweepstakes and from what I understand they appear to be the frontruner. Ray Hatton, Ricky's father and manager told me Main Events and Dennis Hobson were also in the mix, but if you ask me, Golden Boy would do more his career than Main Events and Hobson combined. I'm sure that Main Events courtship has a lot to do with the potential Gatti mega-money fight, which I believe promoters like Golden Boy and Top Rank would be able to deliver without Main Events becoming Hatton's promoter. Sure the Gatti people could always turn it down, but I'm not sure how well that's going to sit with HBO who cotinue to give Gatti seven figure paydays despite him not being among the 50 most skilled fighters in the world. I know Hopkins made money dealing with GBP than anyone else, same goes for Larios and Ikeke. I don't think those fighters promotional contracts had anything to do with their losses, lol.
G,wassup.Man,im going to the Corrales/Castillo 3 in Texas,and if you were'nt going to be tied up I would like to meet you.I will be wearing my Boxingtalk shirt,no doubt.Hype told me he wasnt going,but you were.Hopefully I can get at you.Holla PS:I hope Judah doesnt get upset.Its starting to look like Mosley when he signed on to fight Mayorga before the 1st Winky fight,then negotiated with Tito before the 2nd Winky fight.
Leon's Response: I'm going to be spanning the globe in 2006, there's not many fights I don't plan on attending this year so I'll definitely be in the house for Corrales-Castillo III. I plan on arriving at El Paso International late Thursday night or early Friday morning. I'm not going to be hard to fight all you need to do is look for someone towards the front of press row wearing a Boxingtalk shirt. It bugs me out how many people I see sporting the Boxingtalk shirt at fights, I love interacting with my readers and boxing fans so please don't be shy if you see me. I was thinking the same thing about Mosley and Mayorga, but didn't mention it for fearing of jinxing the fight...damn you! LOL
Hi Greg i emailed you before and said if the Judah/Mayweather fight comes off then you deserve an award, Then you wrote saying you have already ask Bob father for your fees. Well i really trully think you deserve it and they really should give you part of the fees or some recognition for making this fight happen, I appreciate people like you but who do you like for the Judah/PBF fight? am going for floyd if he boxes but judah's power scares me,  So what do you think..tunde London.
Leon's Response: The Bobfather and I will have a talk shortly after January 7, but I'm not looking for any fees, just a little mention as someone who played an intricate role in getting the fight done would be good enough for me. It's not about being big headed, but personally I don't feel this fight happens without Boxingtalk, plain and simple. I don't think even the harshest of G. Leon haters could deny that. I like the best man to win and I don't feel that it's appropriate to predict the winner on April 8 when Judah has a fight coming up with Carlos Baldomir on January 7.
Hey G, thanks for the mark my word special. I'd rather see a Pbf-Oscar fight if Pbf gets by Zab than Oscar-Vargas II. I personally think that Oscar has nothing to prove by fighting Vargas cause he already ko Vargas when Vargas was cheating. What do you think will happen now if Vargas can't take steroids anymore? I think Oscar will make more dough by fighting Floyd and why don't fight the best in his last fight and if he beats Floyd, he can go out number one. Fighting Vargas is just senseless. I'd rather see Vargas fighting Taylor if he gets by Shane. Do you have an update regarding the Tarver-Tyson match? We got excited when we first heard the news here only in boxingtalk and it will be terrible to see the fight fall just because of Tarver's insane demand. Tyson has no plans of fighting at all until Tarver call him out, then now Tarver want's a way out. It's a win win situation for Tarver cause even if he lose he can still go down and have a superfight with Lacy or Jones. Greg, convince Tarver to go see a psychiatrist. When will the Rocky movie be shown? Rocky Balboa ko Mason Dixon in round 12. Tyson will do 3 rounds of ass whooping before he gets rid of Tarver. Pacman will stop Morales. Thanks. AXEL
Leon's Response: If victorious on April 8, Team Mayweather will aggressively pursure the winner of Mosley and Vargas. Oscar has nothing to gain by fighting Vargas? I'm sure the $20,000,000 plus for facing someone who couldn't beat him on steroids would be considered something to most. Oscar would probably make as much money fighting Floyd, but maybe not De La Hoya-Vargas II is HUGE in September, especially if both of them get by Mosley and Mayorga impressively. Unfortunately, I'm expecting Mosley's speed advantages to be the difference against Vargas and although I'm favoring ODLH based on his boxing ability, but Mayorga definitely has a strong chance to pull the upset. I have several updates regarding the Tyson-Tarver match, but I'm waiting for more to develop before I print anything else. Besides, no one else is going to have any info on that fight until I write something, so what's the rush, it's not like I'm going to get scooped on anything. Others in the press would need that direct, anytime access to both Tyson and Tarver to make that happen....How's the song go? One is the loneliest number that I ever knew, #1 is the loneliest number that I ever knew! LOL
Hey Hey G,,hope all is well at Boxingtalk- lot's of good stuff coming for us in the next few months, Judah - Mayweather looks like it should be a good one, I can't see Zab hanging with Floyd as far as skills go, I would suspect Floyd wins in a close one that goes the distance, Barrera - Chavez would be a great bout, I must say tho, it's been hard to get a line or feel for this one,,one site says yes, it's a done deal for 3-25-06 ,the next site says Barrera is still trying to decide on a possible foe, what's the latest? I always enjoy watching Margirito work as well so mid feb should be fun to,,on the other hand, Vargas - Mosley looks like a snooze fest, I mean both these guys are on the back side of their careers (washed up) without question, and their most recent bouts would bear that out, similar feeling for Jones - Hopkins, while Bhops has produced a few nice payouts for me he is fighting a losing battle with father time, RJJ has lost his last three, and seemed to be proud of the fact that at least he didn't get knocked out the last time in the ring, it's almost as if these guys are saying, "Hey somebody's gotta win" and maybe they could luck up and be the guy, I dont sense that either one of these guys need the money, just can't seem to walk away from the limelight,,in closing what are your thoughts on Barrera - Chavez on 3-25 if it happens,,I kind of like Chavez, and would expect he would be a 3 or 4 to 1 underdog,,thanks for the insight G, I always appreciate you sharing your knowledge,,Nate in NC "see ya at the cashier's window"
Leon's Response: I've been trying my hardest not to disrespect Carlos Baldomir, so while I am looking forward to discussing a mega-fight that started on my front page, I want to give Baldomir the respect he deserves as someone who fought in two eliminators and paid his sanctioning fees to get his shot. Don't get it twisted I don't think he's going to beat Judah, but completely overlook him I will not. Barrera is still looking to solidify his opponent. My understanding is that HBO would prefer the Chavez fight over a Barrios or Mosquera unification. The clock is ticking and the unified 130 pound champ has a decision to make and quick. I definitely don't think Vargas and Mosley will be a snoozefest. Considering how both guys probably don't move as well as they used to, I'm expecting it to be a very good fight that's even better for boxing since a big name fighter is finally going to get a win.
What up G!! I hope you had a good christmas and I hope you have a great new year. I am going to just jump right into this...........First of all Tarver is a fraud but he did beat RJJ but with the being said I dont think Tarver could touch Roy of the even 3 years ago. Now this guy is calling out Mike Tyson but when Tyson is thinking about taking the fight this guy want half of the purse come on Tarver makes me laugh. What I dont understand is why dont he fight Jeff Lacy I really think he could not handle Lacys power or pressure..........Lacy KOS Taver in 5............Speaking of "Left Hook" who do you think wins the Lacy vs.Calzaghe fight I think Lacy gets him in the late rounds by stoppage...........Before I am out G I do want to ask you a question where in the hell has Prince Nassem Hamed been I was not a big fan of his but I like how the guy was a true warrior but after Marco put a beating on him I think he had one fight after that and then he had been ghost just want to know if we will ever see him fight again. I love your site it is the boxing bible if you ask me keep doing what you are doing G I cant wait for 2006 I know you guys are gong to be holding it down.........1........Eric from Tampa, Florida
Leon's Response: Christmas was Merry and, you wouldn't believe me if I told you how happy my new year's going to be. Tarver isn't a fraud, he's a businessman looking for the biggest money available since he was never in a position to make any big money until he was 34 years old. There's going to be an interview with Tarver dropping shortly in which he will thoroughly explain why he feels 50-50 is a fair offer. While I don't agree with him and still don't believe he should get 50-50 against Tyson, I don't think you'll find his demands as ridiculous after you read his reasoning. Lacy has to get by Calzaghe and win his first marquee fight and get by Calzaghe before we accuse Tarver of cowardice for not seeming all that interested in fighting him. I don't think Lacy and Calzaghe is going six rounds, it's going to be a shoot-out from the opening bell and could very well wind up being a Hagler-Hearns of super middewleight. If my assessment is correct, the question is, who's going to play Hagler? I've got the right numbers to get at the dude, I just need to get on my internatonal grind. How I wish there were 34 hours in a day.
I would like to start off the year with a big Shut up to all the fighters out there who run there mouth and don't fight, First Floyd I know everyone wants to make money that's fair but Zab is the champ and he gets less then Fifty percent for the fight I am glad to see the true hart of a champ with Zab he is a champion and he doesn't care he wants to fight that shows the day of the old fighters who would fight to prove there worth and not for money rarely seen these days but let's be glad the fight is happening, second shut up to Ricky Hatton he is a champ who also run's his mouth after the fight he said I want to fight Cotto and Floyd then we here they are looking to get a fight with Gatti why? He isn't in the top anymore look the Heavyweights aren't doing it so shut up to all of them, what I would like to see is everyone get over the money factor I know everyone deserves what they get but sometimes you should put that aside for the fact that you want to prove you're the best I never seen so many fighters cry there way out of fights over money please to all the great fighters out there do what is right and show the world, I guess what I am trying to say is instead of  saying you want to fight the best go out there and do it maybe it is me but I want good fights the welter's and light welter's are so talented that it is time for all of them to now take a hold of boxing and put it where it needs to be because the way it look's like it will get a lot worse then better Thank you for letting me blow some steam  That's my opinion  
Leon's Response: First of all, Floyd runs his mouth because he's won every single fight he's been in. His talk should be taken seriously considering he's 3-0 against two other top ten pound for pounders in Jose Luis Castillo and Diego Corrales, and holds a stoppage win over a lightweight champion that Marco Antonio Barrera is considering fighting in 2006. Zab is the champ, but he's getting more than he's ever gotten before without having to worry about losing his titles. Notice I said titles and not status, because even Zab acknowledges that the winner of this fight should be considered the man at welterweight. Hatton's going to through a grace period following his huge win over Tszyu. His next couple of opponents will tell the story of what they're trying to do better than I can. It's disappointing that Team Hatton is interested in Gatti when Cotto and Mayweather are out there, but I must admit as a businessman it's probably the right decision.
Yo - just read that interview with Yankello.  Is this guy the american Nacho Beristain or what?  He says he hopes Klitschko can beat Chris Byrd or Brewster, so that Brock can fight f***king Ray Austin to move up the bogus alphabet soup rankings?  WTF?  That fight would be as bad as this Zuri Lawrence garbage, and the man doesn't need it.  Brock is a top 10 contender now - his management ought to be talking to V-Klitch, Byrd etc about fighting those guys right now, this year.  Get some ambition and at least schedule some competitive bouts - if not Byrd then how about Briggs, Maskeav, Barrett?.  Beating up the Ray Austins of this world is not going to create any public demand for a Brock-Byrd or Brock-Brewster fight. -Jacob
Leon's Response: I understand your frustration but look at it this way, Chris Byrd's last two defense have been mandatory challengers, Rahman is defending against his mandatory, Brewster just made his mandatory, John Ruiz just lost the WBA strap making his mandatory...Yankello would be a fool for not wanting to get his kid one step closer to the mandatory position. Ray Austin as the number two heavyweight contender is atrocious, but hey blame the IBF, he fought in their eliminator against Owen Beck, who was coming off of a knockout loss.
What's up G! Although you are the authority on boxing news I have to take issue with your 400,000 PPV buy prediction for Hopkins v Jones. Unless the undercard is spectacular I would not think of purchasing this five year to late fight. I agree that this is comparable to DLH-Tito 2, but Hopkins is a boring fighter and Jones has not looked anywhere near his old self. THis fight will be boring. DLH-Tito has other side plots, such as Mexico v Puerto
Rico. However I am looking forward to Vargas v Mosley go figure. I think Vargas will stop Mosley setting up a rematch with DLH. On to the main fight Judah v Mayweather. Boxing fans need this fight. Please Zab do not overlook Baldomir. I have not wanted to see a fight so bad since Barrera Morales 2. I would love to see Judah KO PBF, but I would not bet on it. Lastly, Tyson v Tarver sparks my interest but Tyson does not want to fight. He needs money.
I wish he could get an analyst job or something to pay the bills. After his loss to Danny Williams I vowed never to watch him fight again. I love Tyson and hate to see him fighting solely for the money. The man has said more than once that his heart is not in the sport anymore I hope Tyson finds some peace and stays out of the ring.-Roy Bettencourt
Leon's Response: You probably would have taken issue with me if I told you Tarver-Jones III would do bigger PPV #'s than the first two fights with Jones coming off of two straight knockout losses. As a diehard fan you might not want to see these fights get attention and generate money, but at the end of the day fights like Jones-Hopkins II and Tyson-Tarver II will be financial successes. Think about this, even with Mike Tyson coming off of two losses to burgers, Tyson-Tarver still does bigger PPV #'s than ANY two heavyweight champions fighting each other.
Your coverage is something special, but it is curious to me that Zab has a fight in January but all the talk is of a probable match up with Mayweather.  Yeah Zab vs PBF is an exciting proposition but is it right that this fight with Baldomir? Is totally overlooked and is pretty much irrelevant.  Now I am not saying Zab is overlooking his opponent but the media and fans most certainly are.  They can care less about this fight. The interesting aspect is that other than Zab's two fights with Spinks he has fought a long line of nobodies….slow and pathetic nobodies to be exact.  Is this good prep for a fight with Mayweather? I wouldn't think so.  I am curious G, I want to know, if Zab will tell you, who will he be sparring with and how will he prep himself for Mr. Pound for Pound, I'm flawless, I will take anyone from 154 on down, oh that's easy work Mayweather?
Leons's Response: Ahh, it's refreshing to hear from someone not completely disrespecting Zab's mandatory challenger. You hit it right on the head, Zab isn't taking Baldomir lightly, the fans and media are. Perhaps Boxingtalk is the most guilty of this considering how much attention Judah-Mayweather has received here, but then again we have mentioned Baldomir pretty consistently throughout our exclusive interviews with Judah. I love the Mayweather nickname, lol...I don't think Zab would hide his sparring partners from the press or anyone else.
G-man, thanks for keeping the mail real.  With your pro boxing promotional experience and background over the years, you might agree with me on the move Lou DiBella is aiming with on fighting Sam Soliman.  This fight would be extremely smart for the Bad Intentions team orchestrated by Mr. D.  Why you ask, Jermain would do something Wink couldn't, knock Sammy out thus gaining purse $$$$ and pre fight hype leverage over Wink.  Everyone that viewed the Winky/Soliman bout knows how fresh Sammy was and looked after 12 rounds.  You might also agree that if Jermain were to fight Soliman, there would be many, many, many right hands landing on Sammy's chin.  By the way, in my opinion it would probably only take 1 or 2 right hand bombs to put Sammy down for a nap.  Jermain's power would shine in this fight, something Wink struggles with, with each opponent he fights.  Lou D. knows this style fight for Jermain creates another win/win situation for team Bad Intentions
Leon's Response: Taylor knocking Soliman out would be a great look for him considering how Soliman won more rounds from Winky than Mosley or Trinidad. Here's the other way to look at a potential Taylor KO over Soliman? So what, everyone knows Winky's never been a puncher, and perhaps it was Wright's punishing body work that softened Sammy up for JT. There's always two sides to a coin. Soliman deserves another shot at prime time televsion, but I don't think he should get a shot at Taylor before Wright does.
Send questions and comments to: gleon@boxingtalk.com