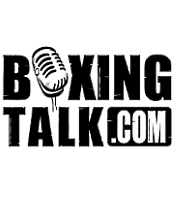 Whats up G, I just read your article on the Peden-Campbell rematch and the IBF appointing incompetent judges in this case. That is down right terrible, considering they are getting 6% of the purse and could use that to pay some decent judges. But then again what criteria can you use in choosing a good judge. We all know the dubious decisons judges like Stanley Christodoulou, Eugenia Wiliams, Larry O'Connell, Duane Ford, Glen Hamada, Jerry Roth to name a few have been involved in. What judges are getting appointed and where are they from? Fear not my son that the fight is being held Down Under, the risk of getting a bad decision is apparent no matter where you are fighting or where you are from. I must say a situation like Kali Meehan whooping Lamon Brewster or Lewis whooping Holyfield only to be ripped off is unlikely to happen in this land of fairness and equality. Brad, Australia
Leon's Response: Brad, shame on you for putting Stanley Christodolou and Duane Ford, two of the best judges in boxing in that company. You left out Carol Castellano and Dalby Shirley, and Melvina Lathan, and many others I can't remember off the top of my head. At the end of the day the judges won't matter because I expect Campbell to win the Peden fight by KO. He would have won the first fight if he didn't get stupid. Bad decisions happen everywhere this is true, but American fighters have a long time history of getting screwed overseas.
Hey Greg, I'm curious as to why you are so low on Cotto-Corley and think that the fight should never have been approved by HBO. I do not view this fight as a mismatch. I think Corley is just as deserving of this fight as the gatekeeper Jesse James Leija, who earned a shot at Gatti after upsetting Francisco Bajodo. I believe Chop Chop poses more of challenge stylistically for Cotto than say Randall Bailey. I pick Cotto to win but at least Chop Chop will not stand in front of him waiting to be hit like some of his recent victims. To win impressively, Cotto will have to go get it. I relish an opportunity to see Cotto deal with different styles to gauge whether he ready for the high profile fights at 140 and/or 147. Keep it the great work! Stretch Lanham, MD
Leon's Response: Cotto-Corley is a joke. What has Corley done to warrant a title shot? Defeating Daryl Tyson never meant so much I guess, because that's his only win since January 2003 and now he's in a title fight and back on HBo to get destroyed for the third time in a row. Cotto will stop Corley in less than eight. Maybe even very early if he doesn't come out conservatively. I've already been hearing rumblings that Cotto could be fighting Harris if he gets past Corley, so at the end of the day we might have something to look forward to, just not this Saturday night.
I have just finished reading your free mail bag for February 22, 2005. Someone sent an email with regard to your bashing of Gatti, Cotto, Klitschkos, and HBO, and the writer had a good point, you have heavy favoritism for Hopkins, when he has been in the same boat as the above fighters. It is interesting the way you never answered the question with regard to Hopkins and found a way to justify your bashing of Gatti-Leija (that he laid down); how about Hopkins-De La Hoya did he laid down or what? And to make matters worse, they are partners now! I'm sorry, but one can not cast stones when they have a glass roof! If you are not going bash Hopkins-De La Hoya than you can not bash Gatti-Leija; however, this is your site so you can do what you please! Good Luck Angel Baez
Leon's Response: I've not bashed Cotto at all. I've taken HBO to task for allowing him to take on such weak opposition time and time again and allowing Corley another shot on HBO. Please don't say that Hopkins is in the same boat as those fighters. Hopkins hasn't lost in over twenty fights. How many fighters have Gatti and the Klitschko's lost to over that time period? Cotto, if he reaches his full potential one day will be able to boast Hopkins resume, but to say that he's in the same anything with Hopkins other than the same sport is CRAZY! Did De La Hoya lay down? I don't know, I'd have to let Bernard Hopkins hit me with a body shot to be certain. Say DLH did lay down. That would be his first time and he was fighting someone who could have seriously hurt him. Leidown has given in three times in his last six fights.
What's up G, Daniel from L.A. back in the house. Wifey lost her job and had to give up a few luxuries for a minute, but I'm back no doubt. I was at the B-Hop fight at Staples and must say, Hopkins impressed the sh—out of me. He was booed by a lot of fans who kept screaming for him to stop running. It was an Impressive piece of boxing, if you ask me. Another thing, I finally saw in this fight, how you could see two different things, by being there live and watching T.V. I had the fight 8-3 from my seats, which were on the floor and gave me a good view. When I went home and watched the tape, I had Hopkins winning 11-1 maybe even 12-0. On T.V he made it look so effortless and easy. There were some shots that looked as if Hopkins was stunned by Eastman, but once I got home, He was making Eastman miss badly, while standing in front of him all night long. Now I agree with you that BHop is the man, and I don't see anyone touching him all year, unless he gets old overnight. He's made me a believer. One last note. I bought my tickets at the box office, since I knew it was not going to sell out. Iron Mike Tyson was near the ticket booth by himself, just chatting with a few fans and took a picture with me and my brother in law. Talk about a cool cat. He was gracious and friendly as hell. I guess you got to be from the streets to understand Mike, cause these bushi ass people got him all wrong. Anyway, Much Love to Mike, nothing but love from the Mexican fans of the L.A. streets, and Big Up to Greg and N.Y. Peace.
Leon's Response: Sorry about to hear about wifey losing her job. Hopkins impressed the what out of you? The fact that he's the first middleweight to ever defend his title 20 times was more impressive than his performance. Hopkins did just what he had to do and seemed to be having more fun scaring Eastman with his feints than trying to knock him out. Hopkins didn't have to show us much because Eastman didn't force the issue and he was content to allow Hopkins to slowly take him to school. If Eastman would have tried to pressure the fight and prove that Bernard Hopkins wasn't the best p4p fighter in the world as he said before the fight, he should have done more. To me it looked like Eastman was there to taken his million dollars and go home. Since Hopkins and Taylor are now on the same schedule, I wouldn't be surprised if that's the fight Hopkins makes next. Trinidad and Winky are off schedule for now. I'd expect Hopkins to fight Taylor in PPV in June. Hopkins only wants PPV fights and his only PPV options are Jermain Taylor and the Trinidad-Wright winner.
Hey Greg,I agree with you about Wladimirr getting a date on HBO is a joke. The difference between him and Corley is that Chop Chop's last 2 losses have been against Floyd Mayweather and Zab Judah. As much as I dislike both fighters, they aren't exactly slouches. Floyd is recognized as #2 p4p in the world right now, and Zab just knocked out Corey Spinks. Wladimir, on the other hand, was knocked out by Corey Sanders (could have been legit because of Sanders' power), then Lamon Brewster...then, as you mentioned, got knocked down by "TOS." At this point, comparing the two fighters is more an insult to Chop Chop than it is to Wladimir. I agree with your point...but give Chop his due. At least his last 2 losses were to 2 of the best fighters in the world...and he rocked Floyd in round 4. Nate
Leon's Response: You make a fine point about Corley losing to two great fighters. To add your agruement he lost both fights by decision, Klitschko was stopped twice. But Corley lost to Mayweather worse than he lost to Judah and he'll lose to Cotto worse than he lost to both Mayweather and Judah. The man doesn't deserve a shot at the title and he shouldn't be facing another elite junior welterweight when there are much better fights that could be made. Shoot, I'd rather see Miguel Cotto test his skills with someone like Emanuel Augustus over someone like Corley. I think Augustus would give him a tougher fight too.
Sup G, I just have to write to thank you, the hype, and everyone else at Boxingtalk for hooking it up with a phone call from the former heavyweight champion Hasim Rahman. I was a little worried when Vernon Forrest couldn't show up, but Boxingtalk came through (like the best boxing site on the web should) and hooked up a bomb Rahman chat. I wouldn't expect anything less from the top boxing website in the world. Yo Rahman was down to earth and let me know that he is gonna do it for all of his fans against Vitali. That robot best watch out for the left hook! These T'N'T chats keep getting better and better. Who knows how crazy it's gonna get in there when James Toney takes control of the room. DAMN RIGHT it pays to be a member! Once again Greg I just gotta thank you for the privelage of the phone call and all the bomb ass content you guys put out everyday. No doubt I'd pay double my membership fee. (don't get any ideas playa) Keep it real boxingtalk! Cory Rapacz
Leon's Response: Thank you for coming on the chat and we should all thank Hasim Rahman for saving the day when Vernon "Hollywood" Forrest was suffering from memory loss. Forrest will be rescheduled shortly. We'll always have a secondary option. Anyone who can't get a substitute on the drop of a dime isn't too well connected if you ask me. But what the hell do I know? The James Toney takeover is going to be off the hook. The most outspoken fighter in boxing had to be appearing exclusively at the home of the fighters, Boxingtalk.com. And woooooooo, we've got some great Trinidad-Wright giveaways for new members we're going to be running.
What UP G? I just wanted to comment on the your last response in the mailbag. Leija does not deserve a chance at the title, but does deserve a going away present. The problem I have is people get Titlist and Champ confused. Gatti is not the champ! We all know Kostya Tszyu is the champ! Its kind of an insult to Tszyu. Don't get me wrong, I love to watch Gatti fight. Who doesn't? I just think the alphabet organization are doing this crap to collect more sanctioning fees. I really don't care if the ABC's want to collect more money, but the boxers should! Gatti and Harris' so called title's are just for money making purposes. Kostya is the champ with #1 Harris, #2 Gatti, #3 Mayweather, #4 Cotto and #5 Hatton (in that order). I put Harris at the #1 contender because all the other guys are scared to fight him. Love the membership, keep up the great work. Steve Pimental
Leon's Response: Leija did deserve one last payday. And most thought it was going to be Bojado. To his credit, Leija broke Bojado down to the body and was able to get the largest payday of his career at 38
CLICK HERE FOR THE FULL FREE MAILBAG
Send questions and comments to: gleon@Boxingtalk.net