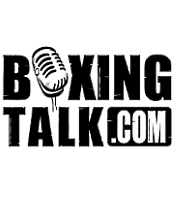 Over 20 Minutes of Bowe on BoxingTalk
Even after his "closer-than-it-should-have-been" split decision win over the fairly unknown Billy Zumbrun, Riddick "Big Daddy" Bowe was eager to speak with BoxingTalk's own Darren Nichols about his performance, where he feels he needs to improve, and what is it like being in the ring again compared to how it was before his retirement over eight years ago.
Billy Zumbrun Talk on "Beating" Bowe
Billy Zumbrun almost beat a guy who has only lost once, and that was to Evander "the Real Deal" Holyfield.  Zumbrun was just one judge shy of adding a Riddick Bowe notch to his win column when Zumbrun lost by split decision to the former undisputed heavyweight champ.  BoxingTalk's one and only Darren Nichols caught up with Zumbrun after his bout to get his thoughts on the fight and how this loss was actually a "win" of his career.
Andre Ward on BoxingTalk
The 2004 U.S. Gold Medalist Andre Ward had his third pro fight, which aired on The Best Damn Sports Show Period Thursday night, and he went up against an opponent who made Andrew Golota seem like Mother Theresa.  Ward spoke to BoxingTalk's own Darren Nichols about his most recent performance against a very tough and dirty fighter, what his game plan is for the next year, and why no one should take him lightly.
Dirty Roy Ashworth Explains Himself
For those who did not get a chance to see Roy Ashworth's fight against Andre Ward last night, the fight should have been Rated X, for extreme holding and dirty fighting.  BoxingTalk's Darren Nichols had to hear firsthand Ashworth's reasoning for fighting the way he did against the Gold Medalist.  You will be amazed at what Ashworth has to say.
Vassiliy Jirov Speaks Out On Boxingtalk
The last time we saw Vassiliy "the Tiger" Jirov in action, he had been stopped by the former undisputed champ Michale Moorer.  However, Jirov showed that he is on his way back to heavyweight contention after knocking down Forrest Neal four time in less rounds.  BoxingTalk's Darren Nichols spoke with Jirov about his performance, where he would like to go next since his recent victory, and what the possibilities are of having a rematch with James "Lights Out" Toney