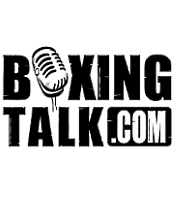 Bowe Provides Dates For His Next Six Fights!
GL: You recently got into the ring for the first time in over eight years to face Marcus Rhodes. Can you tell us how it felt to get it on after so much time off? "It was like I died and gone to heaven. It was all gravy, I was doing the damn thang and I was just loving it. I was very anxious to get in there, and I didn't want to make any mistakes but once I got to popping old boy things went as planned."
GL What's going to be next up for you?
Riddick Bowe: "October 23 in Louisville, Kentucky. I'm going to my idol's hometown to put it down. I'm coming to the home of the greatest heavyweight of all time. Then we'll be going on November 6 in North Carolina and then I'm going again on November 19 and then maybe again in early December 15 in California. We're going to Atlantic City in January and in February we're going to Tennessee.
Jimmy Adams: "We don't have any of the opponents yet but we're working on them right now."
GL: How important is it to you to have your next several fights already lined up, does it help keep you motivated?
RB: "By having all these fights lined up I know I can't slack on the in between time. This time around I'm going to be better each time out and I'm going to wind up a better fighter because of the grind while I get my swagger back."
GL: I didn't see your fight but I saw several pictures. You looked chubby Big Daddy, at the end of this fifteen fight comeback tour how much lighter....
RB: (cutting in) "Let me explain something to you. I've been walking around at 330 for a long time so the weight isn't going to come off tomorrow. I'm working my way down and taking it slow so that when I do get to my weight of 245, I won't be weak. A big part of this comback has to do with taking my time to make sure everthing's fine.
GL: What did you think about most of the newspaper writers covering your fight instead of Roy Jones Jr.'s?
RB: "Roy Jones is a great fighter but I'm at heavyweight, not at crusierweight or light heavyweight so I think that makes a difference. I guess they also wanted to see if Riddick Bowe still had it, they wanted to have the story. But Greg, I'm telling you, I'm going to have to change my name."
GL: What would you change your name to Riddick?
RB: "We might have to change it from Riddick "Big Daddy" Bowe to Riddick "Bust That Ass" Bowe because all I'm going to be doing from here on out is busting ass."
Send questions and comments to: gleon@boxingtalk.net