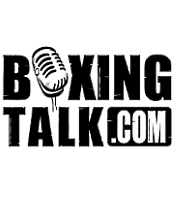 October 3rd, 2003 is a date Cedric Boswell remembers all too well, but would just as soon forget.  On that night, referee Kenny Bayless questionably halted the action in favor of Jameel McCline, and in turn, gave Boswell the only blemish on his professional record.  Fast forward to February 18th, 2005 when, after enduring a couple trips to the OR to repair his rotator cuffs, Boswell will once again enter a ring in Atlanta, Georgia to start his journey towards the heavyweight title.  Before he gets there though, Boswell wants to make sure that Jameel McCline will be a stop along the way, for he is tired of people thinking of him as the fighter who was stopped by McCline, he would rather be known as the fighter who came back to knock McCline out.  This is one interview you will not want to miss.  Boswell gives BoxingTalk the full scoop on what his comeback will entail, and why the heavyweight division will be better with him in it.
BoxingTalk: Cedric, you are fighting on the February 18th, how are the rotator cuffs treating you?
Cedric Boswell: Really good, I'm ready to get back into business.
BT: I bet you are…
CB: It's been too long, I'm anxious to get back in there and fight for that title.
BT: Well, it's been almost a year and a half since you fought last…
CB: I remember that deadly night…
BT: How did you think Jameel McCline looked against Chris Byrd?
CB: I thought he looked good for the first half of the fight, then he got tired.
BT: What have you and Joe Goossen been working on in the gym?
CB: Me and Joe have been working on a lot of different things.  We're working on my breathing; we're working on my inside game; we've been doing a lot of good tricks like spinning my opponent around and then catching him with some nice punches.
BT: Have you felt any tenderness in your shoulders at all during sparring?
CB: They get a little sore, but I ice them down.  They don't hold me back from throwing punches.
BT: When you get in the ring on February 18th, is there any concern of ring rust?
CB: No, not one bit.
BT: This will be one of your longest layoffs you have had in your career?
CB: Right, I had one when I was getting out of my contract with Don King, but this has been a long one due to injuries.
BT: But you're well now and all is good, right?
CB: It's all good, there's no problems.
BT: Since you have not seen action for almost 16 months, what will your strategy be for this fight?
CB: Hopefully the fight won't go more than a couple rounds, but I'll feel my opponent out, see what he gives me, and take it from there after the first minute.
BT: How soon would you like to be back in the ring after this fight?
CB: Hopefully I'll be right back in there in March.  It depends on the outcome of this next fight.  If it's a real quick knockout, then I'll be right back in there in March.
BT: What is your game plan for the next year?
CB: My plan is to fight as much as possible, getting sharper along the way, and fight the top fighters to go for the title.
BT: Does a rematch with McCline interest you?
CB: We already tried to get him, but he won't take it.
BT: The last we heard from McCline, he was calling out Samuel Peters…
CB: Samuel Peters is garbage.
BT: Sounds like you've been hanging out with James Toney…
CB: Yeah, we hang out, do fitness together, but make sure you tell Jameel McCline that since he wants to call out those other cats we have to make that rematch...we have some unfinished business to take care of.
BT
: I'll make sure it's the headline on this article.
CB: The first thing he'll say is that he doesn't need that fight because he beat me already, so tell him I'll do whatever I have to do to get that rematch.  If you need me to fight some other guys, knock some of those other guys out, whatever he needs me to do I'll do it, let just do it.
BT: We can let McCline know right here on BoxingTalk.
CB: Yeah, let's make it happen.  I'm tired of that fight with McCline being the last thought of me in people's heads.  I want their last thought of me to be that I came back and knocked Jameel McCline out.
BT: Are you the one who is going to bring the heavyweight division back to the forefront?
CB: I think the heavyweight division is in poor shape because of the promoters.  You have promoters who have fighters, and they won't let those fighters fight other fighters.  I think the promoters should let the best fight the best, and stop trying to get options.  You got those guys because you thought they were winners.  So if you think they're winners then let them go out there and fight, and stop trying to get options on them
BT: You're not talking about Don King are you?
CB: (laughing) I'm just talking about all the promoters.
BT: How do you feel your boxing skills will compare to your boxing skills of 2002 and 2003?
CB: They will be a lot better, because I'm learning the whole boxing game.  Joe is teaching me from the outside to the inside, and from the inside to the outside.  A guy will really have to do his homework if he thinks he will even come close to beating me.
BoxingTalk thanks Mr. Boswell for taking the time to speak with us.  We wish him continued success both in and out of the ring.
Send questions and comments to: fool4rush@aol.com