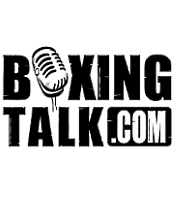 When IBF Junior Lightweight Champ Robbie "The Bomber" Peden goes up against Marco Antonio Barrera next month, he knows what he will be in for.  Peden knows that he will be facing a fighter who is as smart as he is strong, and that is why he knows he will need to be more active than in any of his previous fights.  The good news for fans is that this means it could be an all-out 12-round war.  BoxingTalk spoke with Peden from his training camp recently to get his thoughts on the fight, how his camp is going, and what "The Bomber" feels is his key to victory to defeat Barrera.
BoxingTalk: What's the latest Robbie?  Is Hurricane Katrina steering clear of your training camp over there?
Robbie Peden: Yeah, Mate.  They went straight past us.  We've missed two of them during this camp, so it must be a lucky camp.
BoxingTalk: Hopefully some of that luck will spill over to your fight on September 17th.
Robbie Peden: I must be saving all my luck up for the fight,
BoxingTalk: How is your preparation going for Barrera?
Robbie Peden: It's going good, Mate.  I've been training pretty hard.  I've been sparring mostly 10 and 12 rounds, but I went 13 rounds this past weekend.  I've done a lot of running, I've sharpened up a little bit, working on a few technical things, and then I let the body rest a little bit.  I'm in good shape.
BoxingTalk: How would you compare yourself as a fighter now to when you last fought Nate Campbell?
Robbie Peden: I'm in much better condition now.  When I started this camp, I was in better shape three weeks into then when I finished my camp for the Campbell fight.  I'm really going to make this fight count.  I'll be fighting on the big stage.  Fighting on an HBO Pay-Per-View - the biggest network in the world – on Mexican Independence weekend - the whole world will be watching me.  It doesn't get much bigger then that.
BoxingTalk: Are you up for that challenge?
Robbie Peden: Of course Mate.  I've been waiting for this fight my whole life.  I've prepared myself the best I can, and I'm going to fight my fight.  If it's good enough, then it's good enough.  If it's not, then it's not.  People know they will only get 100% out of me.  I will give them their money's worth.
BoxingTalk: Barrera told BoxingTalk that he is preparing for 12 explosive rounds.  Is that how you are preparing for this fight
?
Robbie Peden: Let's go 15.  I know what Barrera is about, and he knows what I'm about.  We're both just fighters.  We don't talk trash.  We have both spent so much time in this business, and what it comes down to is, "Do you want to fight the best.  Do you want to prove that you are the best in your division?"  This is what this fight proves.
BoxingTalk: Do you feel you are at an advantage for being in the junior lightweight division longer then Barrera has?
Robbie Peden: Not really.  He's been at this weight for a while.  He was the 122-pound champion, and the 126-pound champion.  He started young, and he is not one to slow down. I'm a natural 130-pounder.  You can see that most of my knockouts have occurred at 130-pounds.  What can you say about Barrera?  He's a Hall-of-Famer.
BoxingTalk: How do you think this fight will be different from the Juan Manuel Marquez fight or the Nate Campbell fights?
Robbie Peden: Marquez is good boxer and puncher.  Nate is a very awkward fighter, and he can still become champion if he dedicated himself, and had the right people behind him.  I've fought fighters from all over the world as an amateur and a professional.  So this is nothing new.  I'm a fighter.  This is what I do.  The main thing is that I fight, and I give the public what they want. 
BoxingTalk: How much of a role do you think the crowd will play in your fight with Barrera?
Robbie Peden: Not at all.  The only two things that will play a role in my fight with Barrera is my left hand and my right hand.
BoxingTalk: What is the key to victory to beat Barrera?
Robbie Peden: I have to be very intelligent, and I have to fight him at a pace he doesn't like.  I have to make him feel uncomfortable.  Mentally, Barrera is very strong, one of the strongest I've ever met, and I know what I'm getting myself into.  It will be a 12 round war, and let the best man with the best chin stand up after the fight.
BoxingTalk: Will be more active in this fight then in some of your previous fights?
Robbie Peden: I have to be, and he has to be.
BoxingTalk: You have recently been quoted as to say that you will knock Barrera out.  Is that your game plan?
Robbie Peden: I'm not going to try and knock him out, but I'm also not going to let the opportunity get away.
BoxingTalk: I know not too many people know this, but you are only the second Aborigine ever to become champion…
Robbie Peden: That is correct.  The first was Lionel Rose in 1968.  It's great to be one of only two Aborigines to have had the title.  It's great to be a role model for the kids of Australia.
BoxingTalk: You had an incident happen you earlier in your life where some guys broke into your house to kill you.  What happened there?
Robbie Peden: It was over a girl.  I went to a function and the girl went home with me rather than this other guy who was there.  He broke into my place and hit me with a club over 30 times.  It wasn't a nice experience.  He did what he did, and he paid the price.
BoxingTalk: How did going through that experience affect your boxing career?
Robbie Peden: Everything I go through in life makes me stronger.  It's all about how you take things.  Life is full of tests, and how you come back from them is a sign of your character - that includes losses in the ring.  I'm just happy to be alive
BoxingTalk: You walk away the victor in this fight, and you could be facing Erik Morales or Manny Pacquiao next.  Who would want to face first?
Robbie Peden: Marco Antonio Barrera is the only person I'm looking at right now.  Morales and Pacquiao had there chance at me, but they didn't want to fight me.
BoxingTalk: With the shape that you are in right now, is there any way that reason why you won't defeat Barrera?
Robbie Peden: I've been in camp for seven out of ten weeks.  I'm ready to roll right now.  If I'm not ready right now then I shouldn't be fighting.  I just hope he'll want the rematch afterwards.
BoxingTalk thanks Mr. Peden for taking the time to speak with us.  We wish him great success both in and out of the ring.
Send questions and comments to: fool4rush@aol.com