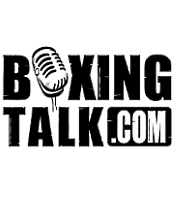 It did not take long for the less experienced Dumont Welliver to get over any pre-fight jitters he might have had when he faced Carlos Bojorquez Monday night in the main event of Thompson Boxing Promotions' card at the Ontario Doubletree Hotel.  After feeling out the seasoned veteran for the first minute of the opening round, Welliver used his jab to determine what Bojorquez had brought to the ring.  Once Welliver felt comfortable enough, he invited Bojorquez to wage war in the center of the ring, and a fierce session of landing numerous combinations of left and right hooks to his head and body commenced for the remainder of the round.  Their take-no-prisoners style of fighting continued into the second and third frame as Welliver stood his ground, not only taking his opponent's shots, but dishing back the punishment.  Bojorquez used his ring experience to wait out Wellive's attacks, and successfully dodged numerous incoming missiles, but Bojorquez seemed confused when, near the end of the third round, Welliver was still standing in front of him absorbing some of Bojorquez toughest shots. 
As soon as the fourth frame got under way, Welliver leaped from his stool and charged Bojorquez to successfully crack him with quick combinations of hooks upstairs.  Bojorquez again relied on his clever movements to evade his opponent's attack, and wisely countered with crisp rib-cracking shots to Welliver's sides.  Being advised by his corner to make Bojorquez miss, Welliver fought on his toes in the opening moments of round four, giving him the advantage to stick and move with jabs to Bojorquez' body.  With Welliver still dancing around the ring in round five, Bojorquez' head was being peppered by Welliver's quick jabs, who could only counter with wide hooks upstairs that easily missed his desired target.  Bojorquez stalked his younger opponent in round six, pushing him back in the corner, and landing a two jab lead with a crushing right hook to follow.  Having felt Bojorquez power, Welliver shook off the punishment that was being administered by his opponent, even going as far as putting both gloves on the top ropes while cornered and dancing in between rounds to show that he was not being affected by his elder.  The two warriors took their fight upstairs in round seven, as they both took turns landing two-punch combinations of hooks to the side of their heads.  Bojorquez changed up his arsenal half way through the round by tossing out head snapping uppercuts which landed flush on the chin of Welliver, sending him into the ropes.  However, the youngster was able to escape by using his still fresh and strong legs.  Fighting with his hands at his waist, Welliver lured Bojorquez in with a lack of defense, only to pepper Bojorquez with quick jabs upstairs.  Welliver's youth and inexperience got the best of him when he lured Bojorquez in again by fighting defenseless, because this time the ring veteran used his vast boxing knowledge and expertise to unleash a flurry of hooks that never seemed to stop.  Even though Welliver tossed out soft jabs at an attempt to keep Bojorquez at bay, referee Raul Caiz Jr. knew they were not enough to keep Welliver safe, and stopped the bout at 2:24 in the eighth round.  Bojorquez improves to 23-5-6 (18), while Welliver gave a good fight, but drops to 15-12-1 (9).
Santos in Battle Against Garcia to Take Well Deserved Win
Using the first round as a feeling out period, the real action began in the middle of round two, when Juan Garcia butted heads with Michael Santos at the same time Santos landed a punch south of the border.  By being hit in two different places at the same time, Garcia fell to the canvas from the illegal blow and became a bloody mess from the legal shot upstairs.  Seeing red, Santos pressed the action hoping to inflict more punishment to his damaged opponent.  The fight entered a phone booth in the third round, as the two fighters closed in on each other, and were content to save their energy by landing crisp short jabs and thudding hooks to each other's ribs and temples.  The fourth round became a wrestling match as the two fighters locked arms and moved each other around the ring, but in the fifth inning, Garcia and Santos took their fight in the center of the squared circle to each land a crowd pleasing exchange of straight rights upstairs that landed flush on their opponent's chins.  After dancing around the ring snapping quick jabs at their faces, Garcia and Santos spent a major part of round six crushing each other with monstrous right and left hooks as they stood toe-to-toe in the center of the ring.  Both looked tired as their corners tended to them in between rounds, but when they came out for the seventh frame, they sprung from their seats to stick-and-move around the ring landing the classic one-two combinations upstairs.  The pace of the fight slowed slightly as they both tossed out meaningless crosses that were easily ducked, but when a rare power shot was landed upstairs, the two combatants were happy to hold on to any part of their opponent's body, since it meant a brief resting period would commence.  With the outcome of the fight still up in the air, Garcia and Santos dug deep to continuously land three and four punch combinations upstairs as they traveled the four corners of the ring.  With a minute left in the round, as the two were waging war on each other's heads at a feverish pace, Santos got the upper hand by landing the more powerful punches, sending Garcia reeling across the ring in desperate trouble.  As Santos flung wild shots to end the fight early, Garcia did the same in the hopes that he would keep his attacker at bay.  With the two warriors giving it their all in the corner, referee Jack Reiss ruled that Garcia slipped on one of the advertising logos, and that Santos hit Garcia while he was down.  Many at ringside felt that it was a legal punch since the two were fighting in an entertaining flurry, but regardless, Garcia was given some much needed relief.  Once the action restarted, Santos looked to finish off his exhausted opponent, but was once again halted when Reiss allowed Garcia to recapture his fallen mouthpiece.  Santos again pressed the action, but now lacked the time to take advantage of Garcia's once fatigued condition.  When the final bell sounded all three judges scored the fight in favor of Santos with scores of 79-72, 78-73, and 77-74.  Santos improves to 11-2 (7), while Garcia drops to 7-5 (3).
Barrera Takes Plessis' "O"
Trading tremendous head shots for six exciting minutes, Freddie Barrera began getting the upper hand in rounds three and four when he used his speed and stamina to land the higher percentage of shots to Shaun Plessis' head.  Knowing the fight was likely to go the distance, Barrera ventured downstairs in rounds four and to punish Plessis' ribs with crushing hooks from both his left and right hands.  In the sixth and final frame, Barrera followed the advice of his corner by throwing more combinations and using his powerful left hook to land successfully against Plessis' side and then followed it up with the same punch upstairs.  When these punches went unanswered by Plessis, Barrera took full advantage of his opponent's idleness by landing left hook body shots and right hook heads shots in blazing succession.  Plessis kept his ground during the oncoming punishment, but lacked the power to hurt his attacker.  When the final bell rung, all three judges saw it in favor of Barrera with scores of 59-55 (twice), and 58-56.  Barrera remains undefeated with a record of 5-0, while Plessis dropped his first with a record of 9-1 (3). 
Bradley Demolishes Lopez in 18 Seconds.
It did not take long for Timothy Bradley to get rid of his foe in the ring Monday night.  In fact it was at the :18 second in the first round when Bradley cracked Luis Lopez with a bone crushing left hook on the jaw to send him to the canvas and on his back where referee Jack Reiss counted to two and then decided it would be best to call in the ring physician to come to Lopez' aid.  Reiss told BoxingTalk after the fight that when he was counting over Lopez his eyes were rolled back in his head.  Bradley impressively improves to 3-0 (1), while Lopez drops his first professional fight with a record of 0-1.
Pendarvis Takes Majority Decision Over Parker in Pro Debut
As two rookies, Steve Parker and Cloetis Pendarvis fought evenly through two full rounds of action not wanting to give away too much in their coming-out party.  However, when they butted heads in the middle of the third frame, it was Pendarvis who, when he saw his blood, took his pain out on his opponent by landing a furious flurry of cranial hooks to take the round.  Pendarivs took some time off in the opening moments of the fourth and final inning, but came alive again in the last half of the round landing more power hooks to Parker's head, and using his speed to dodge Parker's counter punches.  Only one judge saw it even with a score of 38-38, while the other two gave the nod to Pendarvis with scores of 40-36 and 39-37.  Pendarvis breaks into the pros with a record of 1-0, while Parker drops to 0-1.
CLICK HERE FOR FULL REPORT AND PHOTOS
Send questions and comments to: Fool4Rush@aol.com