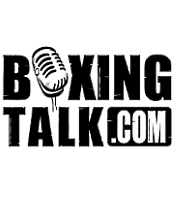 Monday night, select Dallas boxing fans enjoyed the latest of Steve Crosson's VIP, Black Tie (by-invitation only) professional boxing events at the Rotunda of the Plaza of the Americas in downtown Dallas, TX.  Chairman of Crosson Dannis, Inc, a real estate consulting firm, Steve was a boxing referee and Treasurer of the WBC in past years and has never lost his passion for boxing at its' best!  In conjunction with The Dallas Petroleum Club, 4 boxing matches spanned several weight classes and culminated in a 12 rd. bout for the vacant NABA Welterweight Championship.
The Guest of Honor was Larry "The Easton Assassin" Holmes, the undisputed World Heavyweight Champion from 1978 to 1985.  Mr. and Mrs. Holmes celebrated Larry's 55th birthday and wowed the crown with their wit (his) and charm (hers)!  Larry graciously gave his autograph to all who asked and posed for pix with his many fans.
The fights started with a UD win by McKinney, TX lightweight Noel Rodriguez, 3-2 (2 KOs) over Wayne Fletcher, 4-9-1 (2 KO's) of Dallas.  Rodriguez out hustled Fletcher all 4 rds and won by scores of 40-36 and 2 of 39-35.
Number 2 saw Dallas' jr middleweight rising star Taronze Washington, 5-1 (2 KOs) take out Abdias Castillo, 6-7-1 (5 KOs) of Austin, TX in 4 rds.  Trained by Dallas' Grand Old Man of boxing, Curtis Cokes, Taronze beat Castillo to the punch and wore him out with a withering body attack.  With no quit in him, Castillo fired back but could not hurt the faster, more powerful Washington!  Scores were 38-38, 39-36 & 37-35, a majority decision for Washington.  Good job!
The 3rd bout saw McKinney, TX's bad boy lightweight Alberto Rodriguez, 5-0 (4 KO's) dominate completely Emanuel Ford, 6-24-3 (no KO's) of Tyler TX.  It was a rout all 4 rounds as Alberto beat Ford to the punch, shook him several times, but could not finish him.  Scores were all 40-36, UD for Rodriguez.  This young man is going to be a champion!
The main event was a pier 6 brawl, just what the crowd wanted!  Welterweight Steve Martin, 46-5-1 (28 KOs) of Houston carved another notch on his pistols with an exciting KO in the 4th (of a 12 rounder) over Grover "the Punisher" Wiley, 27-5-1 (12 KOs) of Omaha, NE.  Rd 1 was a slow start for both as the felt each other out.  Steve controlled the flow with quick jabs to Wiley's head & body.  Rd 2 picked up the pace with Wiley coming in side and pounding Steve with head shots.  Not wanting that, Steve laced Wiley with wicked shots and started blood pouring from Wiley's nose.  Steve finished strong with body shots on the ropes.
Round 3 was even better with Wiley worrying Martinez with head/ body combinations.  Steve caught fire and unleashed a torrent of punishing head shots.  He backed Wiley onto the ropes and punished "the punisher" badly.
Round 4 was all Martinez as Wiley was fading when Steve knocked him down with a left hook to the body, and again with the same.  Jerry McKinsey, the referee, gave Wiley 2 merciful 8 counts, but that was not enough, as Steve closed in for the kill.  He caught Wiley with a spectacular series of head and body shots, which were not answered.  Wiley went down for the last time at 1:47 of rd 4 and ref waived it off.  KO victory for Steve Martinez!  He won the vacant NABA Welterweight Belt and a handsome one it is!
Thanks, Steve Crosson, for another thrilling night of Top-Notch boxing entertainment for the Dallas VIP fans.  You really know how to put on a show!