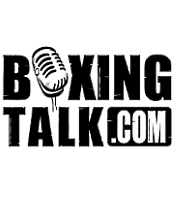 Last night Dallas enjoyed FightNight 2005, a premier fundraising event for local charities and community organizations.  Sponsored by the Dallas Petroleum Club, this annual event has raised many millions for worthwhile charities in the community.  This VIP, Black Tie (by-invitation only) boxing match was produced by Steve Crosson, Chairman of Crosson Dannis, Inc, a real estate consulting firm, who was a boxing referee and Treasurer of the WBC in past years.
The Guest of Honor was Kenny Norton, the NABF World Heavyweight Champion and top challenger for the WBC championship in the '70s & '80s.  Ken, a true gentleman, graciously signed autographs and posed for pictures for all who wished.
The affluent crowd of DFW boxing fans enjoyed four great professional fights and one (most unexpected) surprise!
1st fight:

Houston junior welterweight Fernando Chacon, 3-7-1 (1 KO) pleased the crowd with an aggressive but losing effort against Fort Worth's Tomondre King, 3-9-5 (0 KOs).  Rds 1 & 2 saw a slow pace with neither seeming to want to win.  In rds 3 & 4 King picked up the pace by cutting Chacon's eye and popping him with head and body shots, enough to win by scores of 40-36, 39-37 & 38-38.  The crowd wanted more action than this.
2nd fight:

McKinney, TX's exciting young lightweight Noel Rodriguez, 5-1-0 (3 KOs), was a bit more than Joel Ortega, 3-6-0 (3 K0s) of Nuevo Laredo, Mexico could chew.  In rds 1 & 2 Rodriguez was a calm & cool stalker, as he let Ortega come forward and countered him effectively.  The crowd buzzed and cheered as Rodriguez rained head shots on Ortega, who had no quit in him.  Rd 3 & 4 were an aggressive exchange as both men showed their guts and skill.  Rds 5 & 6 were a dazzling display of heart and courage by both with Ortega pressing but Rodriguez getting the better with head and body shots the should have put Ortega down, but did not.  Scores were 58-56 X 2, and 59-55.  UD for Rodriguez!
3rd fight:

McKinney, TX's other young up-and-comer lightweight, Albert Rodriguez, 8-0-1 (4 KOs), put it to Saul Torres, 6-3-0 (3 KOs), of Ft Worth, in a 6 rd free for all!  Both started slow but Rodriguez came on in rds 2 & 3 with sizzling head shots and body hooks.  Torres woke up and started rd 4 with haymakers.  His aggression took the round.  Rd 5 was a seesaw of go-home savagery.  The crowd cheered and yelled for more.  Rd 6 was winner-take-all and both were trying for the prize.  Torres demonstrated why his name sake is "El Toro" by rushing Rodriguez and raining haymakers.  Rodriguez responded with wicked uppercuts and head shots as the bell sounded.  Scores were 60-54 twice and 58-56, UD for Rodriguez!  Aggression and coolness were his tools for victory!
Main Event:
The night culminated in a scheduled 12 rd. bout for the NABF Welterweight Championship between the champion, Steven Martinez, 47-5-1 (29 KOs) of Houston, TX and Alfonso "Poncho" Sanchez, 19-4-0 (17 KOs) of Mexico City, Mex.  Martinez's attempted to set the pace with his usual cool and deliberate style.  But Sanchez came to take home the belt.  Shortly into the round, he caught Martinez with a vicious left hook and he went sprawling between the ropes.  Lucky for Steve that some fans held him up or he might have ended up on the floor outside the ring.  The referee, Lawrence Cole, took one look at Martinez and waives the fight at 40 seconds of rd 1.  The crowd shouted its pleasure!  Martinez lost his NABF Welterweight World Championship Belt and (SURPRISE!!) Poncho did not win it.  He had previously come in 6 lbs. over the welter limit of 147.  Now the NABF will apply its' rules and probably have an elimination for the belt.
DFW fight fans contributed many dollars to this worthwhile cause and got every bit of thrills and entertainment they came for.  Thanks, Steve Crosson, for another great boxing event!