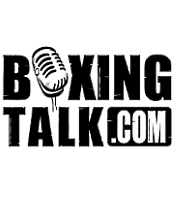 GL: What's good Dream?
"I'm just getting ready for my next fight against this tough cookie Roman Karmazin. I'm really focused on this guy, I can't complain about anything right now, I'm just really ready for this fight."
GL: The last time we spoke you didn't know much about Karmazin, have you seen him on tape yet?
Kassim Ouma: "I got a tape but I didn't really look at it. I left that for my trainers. I looked a little a saw that he's a tough cookie so that's what I'm training for."
GL: How important is it for you to make a statement against Karmazin in order to stay in the mix for big fights?
KO: "It's very important to me. My title is on the line and this guy is the mandatory challenger and he's a tough cookie. I'm just going to go out there and fight him and do whatever I have to do beat him."
GL: Winky Wright recently told me that if he can't get a fight with De La Hoya or Bernard Hopkins, he would definitely want to fight you. But he also says he'd like for you to scoop up the other titles to make it a bigger fight. How do you feel about that?
KO: "To be real with you, Winky is a middleweight now and I only can focus on what's in front of me. I would love to fight Winky, but right now I don't even want to talk about that too much because it's all about Karmazin."
GL: What did you think of Ike Quartey's fight with Verno Phillips?
KO: "I thought it was a good performance. Phillips is a tough guy and he's been around and Ike did what he had to do. But right now I'm just focused on Karmazin. That's what it is."
GL: Is there anything you'd like to say to the fans in closing?
KO: "To all the fans, I love you. Watch my fight with Karmazin, I'm going to give you a good show. And then hopefully we could keep it going with a big, big fight."
Send questions and comments to: gleon@Boxingtalk.net