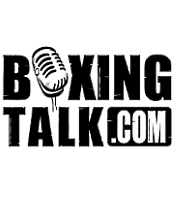 Hamburg - The heavyweight clash between Ukrainian prospect Taras Bidenko and former British champion Julius Francis is now available as rebroadcast on
www.boxing.de
24h/day for free.Bidenko, 12-1 (7), beat Francis, 23-19-1, over ten rounds at the Universum gym in Hamburg last Tuesday. Beginning at 18:00 four fights of that event on September 21 were broadcast live on
www.boxing.de
with German and English live commentary. From 20:00 Eurosport began to broadcast live on TV all over Europe.
The entire broadcast plus the Bidenko-Francis fight can now be retrieved from the ARCHIVE of the LIVE section. Also available are all three previous live broadcasts.
The next live broadcast on
www.boxing.de
will take place on October 26. On this Spotlight Boxing event from Rostock, Germany, among others Taras Bidenko (heavy), Ruslan Chagaev (heavy), Wladimir Sidorenko (bantam) and Dimitri Sartison (super middle) will step into the ring.
From this event
www.boxing.de
will broadcast between four to six fights live on the internet.