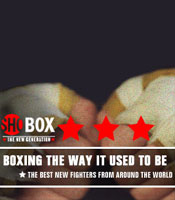 Andre Berto can look back now and chuckle. However, it was no laughing matter just a few years ago when the feisty fellow with the fast fists fought all the time.Berto was not a bully, bad kid or a street fighting young man. But if you gave him a dollar, he could be. Talk about getting a bang for your buck.   
"The older kids knew I had a temper, so they would give me money or a bag of chips to go punch somebody or to go push a kid,'' said Berto (9-0, 7 KOs).  The undefeated 154-pound brawler will not be in with a pushover when he faces fellow unbeaten, southpaw Jonathan Tubbs (7-0-1, 3 KOs) in the Friday, Feb. 3 co-feature on "ShoBox: The New Generation" on SHOWTIME (11 p.m. ET/PT, delayed on the west coast). "I am sure they all got a kick out of me and a pretty good laugh too since I was really young. My reputation was that I was one bad dude.''  
One of seven children, Berto was raised in Winter Haven, Fla. His parents, who hailed from Haiti, moved the family when Berto was about five years old. His father competed in mixed martial arts in Japan and taught the sport in Winter Haven. Berto's two older brothers were also involved in martial arts.    
"My dad was the first to get me into the boxing game," Berto said. "He would take me along to the gym with him. But, even before that, I remember how my dad and I would sit in the kitchen for hours and slap box. I thought at first it was for fun, (laughing) but then I realized he was trying to knock me out.  
"To this day, my dad finds my weaknesses better than anyone I have seen in the ring."  
Berto has brought the heat since getting out of the kitchen and lacing on the gloves. During a distinguished amateur career in which he won the vast majority of his approximately 200 bouts, Berto won a bronze medal at the 2003 World Amateur Boxing Championships, was a two-time National Golden Gloves champion, a two-time national PAL champion, a three-time U.S. amateur championship medalist and won 22 state titles in Florida.  
At the 2004 United States Olympic Trials, however, Berto was disqualified for throwing Juan McPherson to the canvas. Although he says that he is over it now, Berto remains confounded by the nightmarish incident and how he lost.  
"I was beating McPherson by four points going into the last round," Berto said. "I hit him with a good shot and he grabbed me. I tried to shake him off, and then pushed him. He flopped and threw himself to the canvas. The referee did not know what to think.  He was just looking around.  The guy's coach told him to stay down, so he did. The referee went to the judges.  The judges talked about it and they disqualified me.  
"I could not believe it.  At first, though, I was thinking 'OK, I just got disqualified, but I will be in loser's bracket.'  But they took me out of whole tournament.  That broke me down.  I was torn up.''  
Berto got a reprieve, but it turned out to be short-lived.  
"They reversed the decision and gave me the win," Berto said. "I was so excited. I fought the next guy (Vanes Martirosyan of Glendale, Calif.) and beat him. That was supposed to put me in the finals, but then they stopped the whole tournament, and took me out again.  
"Ever since I had put on a pair of boxing gloves, it was my dream to fight for the U.S. in the Olympics, and they took it away from me.  Everybody watched me earn a spot and they just took it away.  But that gave me inspiration.  I realized that I have to work hard for everything I want and just keep on trucking.  In life, you have a whole lot of curves and stops and things to take you off the path."  
Berto wound up representing Haiti in the 2004 Olympic Games, but lost his first-round bout to France's Xavier Noel, 36-34.  
Since turning pro on Dec. 4, 2004, the strong, aggressive-minded, 5-foot-9-inch, 22-year-old has not come close to losing. He has won five consecutive starts by knockout, the last three in the first round.  
"My toughest fight came against Anthony Little," said Berto, who fought eight times in 2005. "He took me into the sixth round before I got him out of there. That is my longest yet.''  
Before beginning his formal amateur career, Berto was known to family and friends by his middle name of Mike. But once the fighter began to compete as an amateur, he went by Andre. By any name, he has left a solid impression.  
"Of the class of 2004, most insiders agreed that Berto was as good a prospect as anybody, including the medal winners," "ShoBox" expert analyst Steve Farhood said.  "It was politics and circumstance that kept him off the U.S. Olympic team, but, that aside, he is a great pro prospect because of his natural aggressiveness, his strengths and his punching power.  At the age of 22, he has a fully developed man's body.  Thus far in his pro career, he has shown a seek-and-destroy approach and it has worked well.  I cannot wait to see him on 'ShoBox.' "  
"Berto was an excellent amateur, and as a professional, he has emerged as a top prospect. I have seen several of his bouts and one thing stands out – he is an aggressive, crowd-pleasing fighter with good power, but he is also patient when he goes after his opponent,'' said Dan Rafael of ESPN.com.  
"Andre is a promising fighter with loads of talent,'' said George Willis of the New York Post. "He could be one of boxing's next superstars.''  
"I remember seeing Berto as an amateur and thinking that he was going to make a terrific pro because of his style," said Tim Smith of the New York Daily News. "He's an all-action, power-punching boxer who is not interested in scoring points. He wants to knock the other guy's block off. When he learns to be patient, and learns how to set up things, he will be very dangerous.''  
"It is just a matter of time before Berto becomes one of the best super welterweights around," said Anwar Richardson of The Tampa Tribune. "He has the power and quickness to ascend to the top of his division, plus a mental toughness to stay upon his arrival."  
"Berto is an explosive fighter who is all business in the ring," said Chris Robinson of Doghouseboxing.com.  "He can either brawl or use his skills to win a fight, and he is extremely strong.  He is a no-nonsense type of guy who really looks to make a statement with each fight he has."  
Berto, who has sparred with world champions Jeff Lacy and Winky Wright, anxiously awaits his SHOWTIME debut.  
"I am definitely looking forward to fighting on 'ShoBox,' " Berto said.  "This is my first big opportunity.  I want to be a superstar.  I want to bring it back to the days when Mike Tyson would fight on television, and everybody got off work early so they would not miss it."  
Along with making a memorable impression in his initial 2006 start, Berto also will attempt to exact revenge against Tubbs.  
"Tubbs beat me when we were 12 or 13,'' Berto said. "It was my first national tournament and first fight against a southpaw. It is crazy because I have accomplished so much and grown so much since then.  I know he is a completely different fighter too. But he is going to see a whole different person than when we fought before."  
In the Feb. 3 main event, undefeated junior middleweight Sechew "Iron Horse" Powell (18-0, 11 KOs) will make his record fifth "ShoBox" appearance when he takes on Robert "Push Up" Frazier (31-6-4, 15 KOs) in a 10-round bout.  The DiBella Entertainment doubleheader will originate from the Pend Oreille Pavilion in Airway Heights, Wash.  
The telecast represents the 72nd in the popular "ShoBox" series, which debuted on SHOWTIME in July 2001. "ShoBox" features up-and-coming prospects determined to make a mark and eventually fight for a chance at a world title.  A number of fighters who have appeared on "ShoBox'' have gone on to become world champions, including Jeff Lacy, Ricky Hatton, Juan Diaz, Leonard Dorin, Joan Guzman and Scott Harrison.
Nick Charles will call the action from ringside, with Farhood serving as expert analyst.  The executive producer of the telecast is Gordon Hall, with Richard Gaughan producing.
For information on "ShoBox: The New Generation" and SHOWTIME CHAMPIONSHIP BOXING telecasts, including complete fighter bios, records, related stories and more, please go the SHOWTIME website at
http://www.sho.com/boxing
.