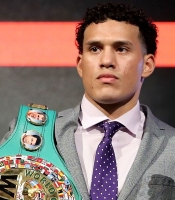 Super middleweight rivals David "The Mexican Monster" Benavídez (pictured) and Caleb Plant stated their intention to settle their rivalry emphatically during Thursday's final press conference before they meet for Benavidez's WBC interim super middleweight title on Showtime pay-per-view this Saturday, March 25th from the MGM Grand Garden Arena in Las Vegas in an event presented by Premier Boxing Champions. Here is what the two former title holders had to say Thursday from KÀ Theatre at MGM Grand:
DAVID BENAVIDEZ
"I'm gonna break Caleb's jaw on Saturday night, by the sixth round.
"I've been working extremely hard and I'm super ready. All the talk is done. I see Caleb has been doing that grave digging gesture, but he's digging his own grave. We're gonna see what that chin is like on Saturday.
"We worked so hard. I'm definitely the harder puncher. I've had this power. I've just tweaked it and now I'm even stronger. This is a boxer versus a pressure fighter. We're coming out on top.
"Every time he fights a real true super middleweight, he gets hurt. He's gonna be in there with the hardest hitting and most accurate fighter in the weight class. We're gonna see what's up.
"I gave him all of my attention. Back in the day I hit hard, but I didn't really train that hard. Now that I've really prepared myself, I'm really dangerous and he should be worried. He definitely gave me the extra motivation because I really don't like this guy and I want to shut him up. I'm definitely going to be pushing for the knockout every single round.
"Caleb is a good boxer with speed who moves around well. I've hurt everyone I've gotten in the ring with, and I can't say the same for him. I guarantee I'm gonna hurt him.
"I just told him I was going to break his jaw. You know how it goes between me and Caleb Plant. I really don't like that guy at all…This is definitely the grudge match that everybody wants to see.
"Caleb Plant doesn't like me and I don't like him, but it's a classic fight between a really good boxer and a really good puncher. He's going to be running all night and it's going to be a cat and mouse game for me. I definitely have to be on my p's and q's.
"The winner is right there in position to fight for all the belts. But I'm not worried about anything else except this fight. I have to win this fight before I can get where I want to go."
CALEB PLANT
"The fans are going to see me get my hand raised. That's what I'm guaranteeing.
"I appreciate everyone showing up today. We're gonna put on a big fight Saturday. That's what boxing needs and what the sport is all about.
"I've worked extremely hard for this fight. I don't care if he's already on weight. That's what you're supposed to do. Welcome to the club.
"You got your newfound muscles that you've been showing off all week. Welcome to the club. I don't need the right opponent in front of me to start working hard. I've been this disciplined and I've walked the straight line. I've been doing it since I was a little kid.
"You have a real one in front of you on Saturday. I'm no blown up middleweight, I'm the real deal. You're gonna see."
"I feel I'm the better boxer, I have the better IQ and I have more experience. I have the better pedigree and it's gonna show on Saturday night.
"I'm one of the best in the world at what I do. We've yet to see if he can perform at this level, but we're gonna find out on Saturday.
"David is a good fighter, and he knows I'm a good fighter too. I'm not interested in fighting bums. I want to fight good fighters for the fans and for my legacy.
"The winner of this fight is right there at the top. Canelo has that spot right now and I'm super motivated for this fight so that I can eventually right that wrong. First, I'm gonna handle business on Saturday night."