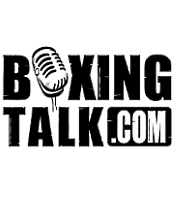 GL: Can you give us your thoughts on your fight with Monte Barrett?
"It was a good fight. It was a give and take fight and I know the fans were happy with it. I came to the ring to win and I came to bring it. I thought I was bringing it to him, I just made some mistakes and now I'm disappointed. I'm disappointed because I know I didn't do some of the things that I'm capable of doing. I could have done better, but when I come back to the ring I'm going to have those fixed and nobody is going to be able to survive in there with me."
GL: Obviously you're disappointed over the fact that you didn't get the victory, but as you know, the fight was exciting and it made for great TV.  Does the fact that it was an all-out war make it easier to deal with the loss, since a network will probably want to televise you again?
Owen Beck: "Oh yeah. It was exciting and everybody who saw me after the fight told me they get their money's worth on our fight not the main event. I'm definitely looking at it as something to build up for my comeback."
GL: You said there were certain things you could have done, or should have done. Can you tell us what some of those things were?
OB: "Basically, I got overconfident in the fight. I got too overconfident and lost focus. I lost focus and it cost me. I know I was capable of going twelve rounds because I put in a lot of work with many different sparring partners and I went more than twelve rounds with each of them."
GL: Do you feel that you were in control of the fight and...
OB: (cutting in) "I was in complete control and I let it get away by making a couple of silly mistakes and I got caught because I lost focues. I thought I had the round in the bag and I blew it."
GL: Do you feel that you need to get a rematch with Barrett in order to be taken seriously as a heavyweight contender?
OB: "I hope the people think I'm a contender already, but I definitely want to set the record straight with Monte. He and I showed a lot of respect to each other after the fight, and I definitely would like a rematch to set the record straight. I think a second fight would be more exciting because now we both know what to expect." 
Send questions and comments to: gleon@Boxingtalk.net