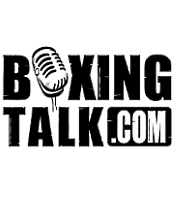 Alex Becerra captured the vacant NABA Jr. Flyweight title with a majority decision over Valentin Leon Saturday night at the Speaking Rock Casino in El Paso, Texas in a card promoted by Albuquerque promoter Lenny Fresquez and Fresquez Productions. Scorecards read 100-89, 97-92 for Becerra, and 95-95.
Bobby Joe Valdez defeated Juan Salazar, when Salazar was disqualified in the sixth round for illegal tactics.
Evaristo Primero and Roberto Gomez fought to a majority draw after six rounds. Scorecards read 57-57, 59-55 Gomez and 58-56 Primero. Miguel Torrecillas pounded Mauricio Borquez for six rounds to earn a near-shutout decision; and Carlos Madrid won a unanimous decision over Edgar Pedroza.
As per Becerra's interview on Friday, he definitely went up against a brawler. This title was scheduled for 10 round. Both fighters came on strong in the first round, getting a feel for each other's style. Leon was connecting quite a bit with a left jab and Becerra returning punches to the body of Leon.
Round 2 displayed a lot more action, with Leon smiling at Becerra every time a shot was blocked and even when a shot was connected. Becerra remained focused and returned back at Leon with combos to the body and face.   
Rounds 3, 4 and 5 were basically the same, neither fighter showing any signs of fatigue. Both Becerra and Leon connecting with a series of body and combination's to the face, scoring points for themselves.
Rounds 6 and 7 Becerra dominated causing Leon to keep his distance and move around the ring more. Becerra throwing more punches and connecting with the power punches he taken about during our interview. I myself was wondering when these shot would come out.
Finally in round 8 Becerra connects with a hard right knocking Leon down. This was a shot herd throughout Speaking Rock Casino. Leon, down on one knee was back up by the nine-count. Leon kept his distance the rest of the round, swinging and missing. Leon begun to show signs to exhaustion and moving slowly back to his corner.
Rounds 9 and 10 Becerra beat Leon to the lunch, the crowd and myself could tell Leon was out of breath and still wasn't recovered from the hard knock down in round 8. The fight ended declaring Becerra the winner by Majority Decision with Judges scoring the fight 95-95, 100-89 and 97-92.  
This indeed was a close fight, and not Becerra at his best. He defiantly put on a good show for his hometown El Paso fans. They too were recovering after Ring Announcer Pedro Fernandez made up his own version of" The Pledge of Allegiance". It was one of the shortest I've ever heard. I asked him what "version" of the pledge that was, he smiled and said, " I forgot how it went". I don't know about you guys, but that's one thing I could never forget, especially after saying it everyday I went to school from Kindergarten through 12th Grade. Oh well, maybe instead of telling us how to report in the future, he should rehearse something that would make all our military at Fort Bliss proud.
Bobby Joe Valdez VS  Juan Salazar
This was one of the best slugfests I've seen in a long time. With Valdez entering the ring looking a little on the heavy side and his opponent entering looking in good shape and ready to demolish his opponent. Rounds 1 through 6 is exactly what Salazar did to Valdez, punish him.
Round 1 Salazar connecting power punches, putting Valdez in a daze. I could see that these were shots Valdez wasn't able to handle. Salazar continued to pound Valdez. Valdez came right back connecting with combos to the face and ribs of Salazar. For some reason, some of those body shots were even connecting right on the spine of Salazar, he began to display to red welts right on the spine.
Going into round 2, Valdez complained about getting hit low, there was 1 maybe that I was able to point out, but it honestly seemed that these shots were connecting to the abdomen and Valdez wasn't able to take them. This act continued throughout the round causing the ref to deduct one point from Salazar for hitting low. This time the fight moved to the crowd, a fight brook out causing all the attention to be routed there. Even former World Champion Johnny Tapia (who was a guess that night) made his way out there to be part of the action. What a good example to set. This gave Valdez some extra time to recuperate. These shots were clean from my few, I didn't see any other one other than the first. It really seemed Valdez was trying to find the light at the end of the tunnel.
Rounds 3 through 6 included the same, Salazar pounding away at Valdez, while Valdez was putting on a show like he was performing on Broadway. Valdez returned with shots to the body and face, which had no effect on Salazar at all.
Finally around the middle of the 6th round, the acting paid off, Salazar connected a low blow under the belt causing Valdez to drop in despair. This shot I would agree was one of the lowest shots of the night. This low blow caused to ref to call the fight.   
Valdez declared winner by Disqualification. Out of all the so-called "low blows" I would say that maybe, just maybe, 2 were legit. The rest seemed to be an easy way out. In my opinion, Valdez would have been knocked out before the 8th round. We could all see in the first, as hard as he was getting pounded that he wouldn't have lasted.
Mauricio Borquez  VS Miguel Torrecillas
In the first round, both fighters were connecting with fierce shot to the body and face. Both Borquez and Torrecillas felt each other's strength and style of fighting. Torrecillas was the dominant one beating Borquez to the punch, pretty much a feel out round.
Rounds 2 and 3 were much more exciting. Torrecillas connecting hard body shots and to the head face causing Borquez to keep his distance from the dominant fighter. Torrecillas continued to pound Borquez, while he and Borquez begun to show signs of fatigue. As round 3 came to an end, both fighters made their way back slowly to their corners.
Rounds 4 through 5 were pretty much the same. Torrecillas connected shots to the face, stunning Borquez. Borquez on the other hand did land a few power punches. Borquez begun to fight sloppy, while almost every punch he threw was a miss. The shots that did connect weren't doing any damage at all.
In round 6 both fighters continued to score themselves points as they both connected body shots and hits the face. While Torrecillas connected with power punches to the face sending Borquez to the ropes and corners for more punishment.
Miguel Torrecillas walked away with a Unanimous Decision over Mauricio Borquez.
Evaristo Primero  VS Roberto Gomez
This fight included 2 fighters that were there for only one purpose, and that was to win.
Right at the sound of the bell, both fighters exchange hard right and left blows to both the body and the face. With Primero using the right hand mosltyand beating Gomez to the punch.
Rounds 2 and 3 included a lot of the same, with Primero and Gomez slamming each other with body blows and face shots. Gomez began showing a bump under his left eye from Primero's hard hits to the face as round 3 came to an end.
Rounds 3 through 6 included more action with Gomez taunting and smiling at Primero. Gomez shaking his head each time Primero would connect. Gomez looked to be more alert and throwing more punches that were connecting. AS round 6 came to an end both fighters connected each other with combos to the body and power punches to the face.
Judges scored the fight 59-55, 58-56 and 57-57 resulting in a Majority Draw. The crowd was not pleased at all with the judging. Many cussed and booed and the fighters exited the ring.
Carlos Madrid VS Edgar Pedrosa
This was a 4 round fight worth watching. Carlos Madrid and Edgar Pedrosa battled it out for I guess bragging rights. One of then walked away with them I assure you.
As round 1 begun, body shots rang out from Madrid while he was sticking with the left jab to the face. Pedroza favoring the right jab gets a few that were enough for points as he kept his distance from Madrid. Madrid seemed to be the quicker one.
Rounds 2 and 3 were about the same as Madrid connected with more combos and right and left jabs to the face. Madrid was caught in the corner as Pedroza pounded on him.
Madrid was the dominant one in round 4 as he connected with combinations and blows to the body. Madrid connected several power punches to the face leaving Pedrosa stunned as the round came to an end.