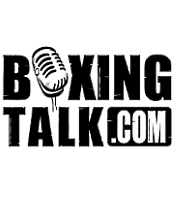 Golden Boy Promotions' Boxeo De Oro did not disappoint either the fans in Los Angeles or those watching on HBO Latino Thursday night brothers Enrique Ornelas and Librado Andrade both fought their twentieth pro bouts at the Grand Olympic Auditorium.  Billed as the Bash Brothers, they were vying to keep their undefeated records but only Andrade was successful, destroying Vitali Kopitko in two rounds.  Ornelas led Christian Cruz through eight rounds but was nailed by Cruz in the ninth causing the fight to be stopped with an upset victory in favor of Cruz.
Librado AndradeTakes Care of Kopytko in Under Two
Looking to redeem his brother's first professional loss earlier in the night on Thursday's undercard of Boxeo De Oro that aired on HBO Latino, Andrade took it to his opponent in the first round when he landed an devastating uppercut followed by a right hook to make Vitali Kopytko respect his power in the ring.  Another right hook quickly followed and that started a barrage of more power punches upstairs to put the troubled Kopytko down for an eight count.  Once the fight was able to continue, Andrade took the fight right back to his opponent by attacking  Kopytko's head and body to put him down for the second time in the first frame.  When Kopytko found himself on his feet again staring at the raging bull ready to pounce from the neutral corner, he was relieved to hear the sound of the bell to end the 10-7 round in Andrade's favor.  The second round started exactly how Andrade left his wounded opposition, and when he met Kopytko in his corner and started punishing him with every punch in the book, the end looked soon to be near.  Uppercuts, hooks, and crosses dug deep into every inch of Kopytko's legal territory until he finally crouched in the corner as a sign for some form of relief.  Referee Lou Moret came to his rescue and stepped in :27 seconds in round two to give Andrade a quick family-redeeming KO.  Andrade keeps his record clean by improving to 20-0 (14), while Kopytko drops to 24-7 (9).
Cruz Upsets Previously Undefeated Ornelas in Dramatic Fashion
Christian Cruz came out of his corner standing his ground against the previously undefeated Enrique Ornelas.  As the two were feeling each other out, Cruz had his opponent in trouble and off balanced when he landed a crushing one-two.  After Ornelas wisely grabbed onto Cruz to allow the cobwebs to clear, he found his mark when he landed a huge right hook that landed flush on Cruz' chin as round one came to a close.  For the next six rounds of action, the fight turned to Ornelas' favor.  The pepper started shaking beginning in the fourth minute of action when Ornelas was beating Cruz to the punch during each exchange.  In the last minute of the fourth round, Ornelas was credited with a knockdown when he stuck out a stiff left jab as Cruz came in missing with a wild right hook to his opponent's body.  A punch that was simply meant to keep Cruz at bay became a 10-8 round for Ornelas by his perfectly timed leather.  Ornelas had Cruz covering up for the next two rounds by attacking the body with punishing hooks to his opponent's ribs, and then venturing upstairs to inflict some pain there.  Half way through the sixth round, Cruz found himself on the canvas once again, but this time it was from three powerful left hooks that forced Cruz to retreat and drop to one to for refuge.  The remaining time left in round six had Cruz serving as the human punching bag for Ornelas, who continually attacked the head and body of Cruz' until the sweet ring of the bell sounded for him.  In between the minute rest period, the ring physician met with Cruz to inform him that he was taking on too much leather (as though Cruz didn't know that already), and warned him that any more punishment could result in a stoppage from him.  Ornelas almost took that decision away from the doctor when he landed a disastrous right hook two minutes into the seventh round.  With Cruz' hands down, he walked into Ornelas' right that put him down for a count of seven.  Cruz could have been counted out had Ornelas not stepped away from the neutral corner and forcing referee Raul Caiz Jr. from stopping his count to address Ornelas departure from his post.  Both fighters unwisely spent the eighth round resting, as Ornelas could have taken out the hurt fighter during the eighth, while Cruz was wasting valuble time that he did not have.  However, everything changed in the ninth.  As the two stood toe-to-toe and landed their share of power shots upstairs, the shocker came a minute into round when Cruz stunned and dropped Ornelas with a crushing overhand right.  After getting up from the standing eight-count, Cruz went on the attack and landed more hooks upstairs to trap Ornelas in the corner.  While Ornelas turned his attention away from the newly invigorated fighter and onto the third man in the ring to complain about  shots landing on the back of his head, Cruz continued his attack and landed another flush overhand right to the front of Ornelas' head.  The referee came to Ornelas' requested rescue, but it was to stop the fight in Cruz' favor.  The previously undefeated fighter tried to plead his case to Caiz Jr. that he was okay to continue, but it was to no avail.  The official time of the stoppage was 2:38 in round nine, giving Cruz a very dramatic KO victory.  Cruz improves his record to 9-1 (7), while Ornelas drops his first with a record of 19-1 (13).
CLICK HERE FOR THE FULL FIGHT REPORT
Send questions and comments to: Fool4Rush@aol.com