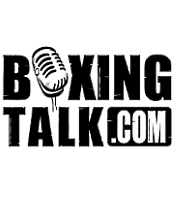 Press release:
Francis Barrett and Billy Corcoran have particular reason to look forward to the Hennessy Sports 'Born To Do It' promotion at the Wembley Conference Centre on Friday November 12th.
Both will be boxing in front of a raucous hometown crowd; Corcoran for the first time ever, Barrett for the first time with a title on the line.
"I am banking on my boys to turn out as usual get behind me," said the popular Barrett, who made history by carrying out the Irish Tricolour at the Atlanta Olympics at just the age of eighteen.
"I might need a few choruses of the 'Fields of Athen Rye' to get through this one. Bosworth is one tough cookie, a real scrapper."
Barrett, 15(2)-2 and Alan Bosworth meet for the formers EU light welterweight title and a potential crack at the full EBU crown. A blood and guts affair is expected.
"I have a lot of time for Bosworth, he always gives it everything," added 27-year-old Francis.
"He is a bit like me in that he never takes a backwards step.  There's going to be fireworks when we meet in the middle."
"I certainly wont be giving any quarter. I am like the Duracell bunny when I get going so know I can outlast him. I am hoping to break him down for a late stoppage."
"That will put me in a fantastic position, hopefully allowing me to go on to challenge for the full European title."
Corcoran – of the same Galway ancestry – is similarly looking to put in a big performance.
"It is time for me to push on now," began the 23-year-old, 9(3)-1-1.
"A first fight in my own backyard will provide me with the perfect platform to do that."
"Given the number of relatives me and Francis have in the area I reckon the roof is going to be lifted of the gaff."
"I should be competing in an eight rounder, my first one of the year. A good win will put me bang in the title picture going into 2005."
"Hopefully then I will be able to emulate Francis and fight for a title in Wembley."
"If we get a big enough bandwagon going we might have to upgrade to the football stadium!"
'Born To Do It' takes place at the Wembley Conference Centre on Friday November 12th. The headline contest sees Junior Witter defend his European light welterweight title against Poland's Krzystof Bienias. A full bill is available at
www.HennessySports.com
. Tickets are available on 0870 060 0870.