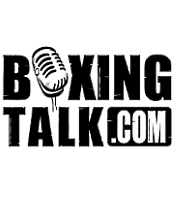 By Ramon Rodriguez
On August 13, Hasim "The Rock" Rahman and Monte "Two Gunz" Barrett will square off on Don King's "Global Glory" main event at the United Center in Chicago for the WBC interim title and the hopes of fighting Vitali Klitschko as soon as December.
Though Klitschko has been mandated by the WBC to immediately fight the winner of Rahman-Barrett, nothing has been finalized on Klitschko's behalf. Nevertheless, on a conference call held Tuesday, Alan Hopper of Don King Promotions, applauded both Rahman and Barrett for choosing to face one other when they could have played it safe. "Neither of these fighters had to agree to this match. Rahman had been the mandatory challenger to Vitali Klitschko since beating Kali Meehan so he could have waited on the sidelines till Vitali surfaced. Barrett won an eliminator against Owen Beck so he was next in line for Chris Byrd. Both of these fighters have earned world title shots, which they're risking by fighting each other. Both of these fighters have a lot of heart and courage."
Rahman (40-5, 33 KOs), a former heavyweight world champion and currently rated #1 by the WBC, is coming off a crushing fourth round technical knockout win over Kali Meehan and is looking to overwhelm Barrett come August 13. "Monte signed the contract first so he left me no choice. I got to answer the call if he calls me out. I'm going to look like a genius or a dunce after August 13 and I've never been referred to as a dunce. I'm not going to do anything to him that he's not trying to do to me. So that's why I'm going to try to draw first blood and make it a war," said Rahman. "Monte Barrett is an all heart type of guy and he's going to be walking in the danger zone. He's going to bring everything he has but I'm going to be there to devour him. There'll be plenty of blood and I'm going to make him donate. I'm clever enough a boxer, strong enough a fighter to impose my will on him and not let him impose his will on me. I don't care what kind of shape he's in. He can run but he can't hide and I'm hoping he won't even run. If he moves, he's going to punish himself. I'm going to knock him out viciously. It could be early, it could be in the middle rounds but I don't see him getting in the later rounds. I don't care how much he moves. Once Monte gets hit with these punches, he'll have a hard time getting his point across."
Four years ago, Rahman got his point across when he shocked the world by knocking out Lennox Lewis in South Africa. However, in the immediate rematch, Rahman was knocked out, and for his next few fights, appeared to be a completely different fighter. Rahman, like most professional boxers, had hit a wall and was forced to look within for answers or hang up the gloves. Instead of quitting, Rahman faced his fears and fought his way back to the top of the heavyweight division he once terrorized, with a renewed ambition. "Consistency is the key. I'm much smarter. I've done a lot of stupid things in the ring, out of the ring that I've learned from, that are no longer part of my program. I'm ready for anybody! If for some reason, Monte can't get in there, put anybody in there! The only way I could underestimate him is if I took a shortcut or two in my training and I haven't done that, though I have in the past," said Rahman with a reflective tone. "I'm trying to put on my best performance and better myself every time out. I'm at the end of my career so I'm trying to go out with a bang. I've been real consistent and hungry, ready to show and prove."
Nowadays, Rahman, who is managed by Steve Nelson and Carl King, Don King's son, is confident that he can restore luster to the heavyweight division and become the people's champ by running through his opposition, starting with Barrett. "I will put the game on back on the 13th and I'm going to show you there's nothing any heavyweight can do with me—none. I bring excitement, I know what people want to see. They want to see a big strong heavyweight who can move around, who can hit and hurt, and knock somebody out. They don't want to see Monte Barrett win a decision," said Rahman. "I feel like he's confident because he's beating up on his sparring partners and that's all good. But when the Rock gets in the building, it'll be a different story. People underestimate—I can do it all and that's why he's going to get knocked out. I can shut a guy's defense or offense down, I can box, I can move. There's nothing that Monte can show me that I haven't seen.  I don't feel like his A game is on par with mine. I feel like he's been brainwashed, that he really thinks he's going to win this fight. The more confident he is, the shorter the night will be. However long it lasts, if he wants fifteen rounds, fifteen minutes or fifteen seconds, that's up to him—but he will get punished. He will find me a much more formidable opponent than anything he's ever realized."
For a warrior who carries such a fierce punch, Rahman also knows the code of respect and honor. "Monte is a good person, a good guy. It's all good and after this fight, I won't harbor any hard feelings. I hope he doesn't. I'm not disrespecting Monte or assassinating his character. I have the utmost respect for him but at the same time, I don't respect his fight game more than I respect my own," said Rahman. "The better Monte looks, the more credit I should receive."
That credit and respect has sometimes eluded Rahman. It's been said that Rahman's recent opposition does not merit his position as a # 1 contender. Yet, Rahman feels as though he has done everything needed to get to where he is and prove that he is the best. "I witnessed Meehan winning the title from Brewster [many thought Meehan deserved the WBO title, but the decision went to Brewster controversially] and when I destroyed him, it was 'oh well, Meehan isn't this, that, the other.' So now Monte puts together all these wins, and when I stop him, I want to sit back and read what everybody got to say about 'Monte's not this, he's not that,'" said Rahman. "Look at how he won [his last fights], look at his record and you come tell me. He's not winning any of these fights spectacularly. He won a decision over [Robert] Wiggins, he won a split decision over Dominic Guinn who everyone saw turned out to be nothing, he lost to Joe Mesi. He's just surviving, he's winning these fights, doing what he has to do but in no way, shape or form, do I see him blowing out these guys. I'm here to show Monte what I'm going to do to those guys through him. I'm just a highly competitive guy whether it's dominoes or at the card table with my family. Now you're talking about the implications of millions of dollars? C'mon now, I've got to be right."
But while many are already picking Rahman to win the WBC interim title, Barrett (31-3, 17 KOS) feels as though he has more than enough talent to prove to the world that he is a certified contender. "This fight is number one in my career because every fight that I have fought is number one in my life at the time. From my first fight to this fight—I can't look past nobody. There is no tomorrow when you get in the ring. In boxing you only live for the moment," said Barrett. "I'm so strong mentally, it's unbelievable. I'm going to be on my A+ game. Only three people done it before me in New York: Floyd Patterson, Mike Tyson and Riddick Bowe. I will be number four! I know Rock will be in shape for this fight: physically, spiritually, mentally, emotionally. I would have it no other way. All I want is that green belt (WBC)."
For Barrett's trainer, the legendary Harold "Shadow" Knight, the lack of attention has driven Barrett to a new level and will ultimately lead him to victory. "We've used it as fuel for the fire. Monte has been the gatekeeper at times with the Eric Kirklands, the Dominic Guinns, the Owen Becks but now he's the sweeper. The spotlight's not on us. We have nothing to lose and everything to gain—this is do or die," said Knight. "I haven't seen him so dominant before. Heavyweights mature and come around a little longer and Monte is there right now. The best is yet to come. His focus, intelligence and athleticism, his will to win and belief in God and hard work—I couldn't ask for anymore."
Barrett and Knight are working together once again after some misunderstandings in the past. But for both, it is clear that the present is what is most important. "Things are like a marriage. Sometimes you disagree and we had a difference of opinions but Monte knows I've always been a big fan of his. I'm happy to say we got back together," said Knight. "We will shock not only Hasim Rahman, but the world because Monte isn't even supposed to be in this position."
Barrett is nowhere near as well-known as Rahman, but the overlooked contender from Queens, NY doesn't seem irked at all. Instead, Barrett turns to his faith for guidance when nobody else believes in him. "Just two years ago, nobody knew who the hell I was, so for me to be in a position, having earned my way to the top rank, to now make a decision on who I want to fight…what would you do? I put God first in my life and my family keeps me focused. With a lot of praying, that's how I've maintained and gotten better over the years," said Barrett. "As long as I'm doing what I need to do, nobody's going to beat me. This has already been prophesized and no one's going to deny me. All the things I've been through the past couple of years: bankruptcy, repossession, divorce, separation of my kids, no money, the kids with holes in their sneakers, sharing chicken Mcnuggets, losing money on stock market—everything you can think of. You think Hasim Rahman has a chance? There's always a lot on the line. You might see a lady who has a child trapped under a car and she would dig so deep and have unbelievable strength to do things she would never believe she could do—with a sense of urgency. That's where greatness comes from. I think that's what I bring to the table. I fight whether good, bad, cut, bleeding or feeling like I can't go on—I will fight my heart out."
Not only is Barrett relying on his gameness, he also knows that his trainer guided another fighter to victory against Rahman. "I was in Lennox Lewis' corner when he fought Hasim Rahman and won the titles back, so I know what Rahman brings to the table. I know he's strong, I know he's determined and I know he's in good shape. But I've incorporated a few moves to beat Rahman. I try to bring in the different facets to be able to negate Hasim Rahman and win this title," said Knight. "I look to have every advantage and exploit them."
It is well-known that Barrett and Rahman are very good friends, but if you ask Barrett, he doesn't think friendship will strain their match at all. "Rock and I are really good friends—that's no secret. I have a lot of respect for his family, his kids and his wife but we're in a blood-sport business. I think being close friends makes it a competitive fight but at the end of the day, there's only one winner and one loser," said Barrett.
At age thirty-four, Barrett is still fresh enough to become the savior of the muddy heavyweight division. For him, other names mean nothing now that he is less than two weeks away from his upcoming fight. "Vitali who? Brother please, I don't even know who he is. The only thing I've been thinking about for the past seven weeks since I've been in training camp is Hasim Rahman. He's my best friend but he's my worst adversary. I have pictures all around, every morning I wake up, I see Rahman when I go in when my door, when I come out, when I'm looking at the clock," said Barrett. "I'm not counting my money before I spend it and I'm not counting my chickens before they hatch. The boy is bringing the pain. When you see me in Chicago take my shirt off, you're going to be like, 'this guy's a machine.' I'm a matchmaker's dream. And I think that's what boxing fans really appreciate. I'm trying to bring them up back into boxing and give them more exposure. I feel like I have the character, the charm, the charisma to do that. I think boxing needs me just as much as I need boxing. Many are called but few are chosen."