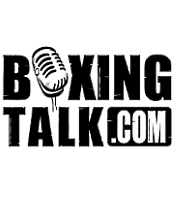 Maxell Taylor and Derek Ennis in brutal draw
Thursday night in Glen Burnie, Maryland, junior middleweights Maxell "the General" Taylor and Derek Ennis engaged in a thrilling six round back and forth battle, that had fans on their feet throughout the bloody, knockdown-filled affair.  Baltimore's Taylor (12-2-1, 5), was one of the area's top prospects at 154 pounds, before dropping a decision to the Contender's Ahmed "Babyface" Kaddour on Showbox last July.  The fight was Taylor's first since the Kaddour loss, and he picked a rugged foe in the Philadelphian Ennis (9-0-1, 6 KOs), who enthusiastically matched Taylor's warrior spirit before the General's friendly hometown confines at Michael's Eight Avenue. 
It was a great night of boxing, capped by the electrifying Taylor vs. Ennis main event.  Here are the results.
Maxell "the General" Taylor D6 Derek Ennis... This fight was simply local boxing at its very best.  Two highly regarded prospects, in an important must win type fight, with the winner likely advancing to the next level of nationally televised events (Ballroom Boxing's excellent matchmaker Chris Middendorf is also matchmaker for several ShoBox cards). 
Both men gave a tremendous effort, and dug down deep to give even more when they appeared to be nearly out of the fight.  The hard-punching Ennis applied pressure early and often to the slick boxing lefty Taylor.  Ennis wisely went to Taylor's body from the opening round, before flooring Taylor in round three. 
As Taylor went back to his corner following the third round beating Ennis had just administered, his career hung perilously in the balance.  Coming immediately off the Kaddour ShoBox loss, Taylor was now trailing on the cards, and hurt in his comeback fight at a hometown show where he had always dominated.  And when the bell rang for round four, Derek Ennis showed the intelligence that makes him a very intriguing prospect.  Rather than going for the kill, Ennis went right back to attacking Taylor's body.
It was under these conditions that Taylor turned the fight around.  Relying on markedly improved boxing skills, Taylor caused Ennis to miss many big shots, and countered with his underrated power.  The precision counter punching clinic Taylor put on in the fourth round ended with Ennis on the canvas twice, and badly hurt as the bell sounded.
Taylor boxed brilliantly again in the fifth, but seemed a little less aggressive, having to ward off some furious rallies by Ennis.  In the sixth and final round, with the momentum now solidly back in Taylor's favor, Ennis staged a brave rally that wrested a victory away from Taylor, and salvaged a well deserved draw.
Judge Bill Holmes scored the bout 56-55 for Taylor.  Judge Kenny Chevalier had it 57-55 for Ennis.  Judge John Gradowski cast the deciding vote at 56-56.  Boxingtalk's unofficial card scored the fight 56-55 for Taylor.
Jose Rodriguez MD6 Orazio Robinson...  The main event overshadowed a very compelling and competitive six round junior middleweight bout in the co-feature.  Jose Rodriguez (5-0, 1 KO), from New York City, increased his attack throughout the fight to pound out a majority decision victory over Manassas, Virginia's Orazio Robinson (5-3-2, 4 KOs).  Official scores were 60-54 and 58-65 for Robinson, while one judge saw the fight a draw 57-57.
Muhsin Crebrey UD4 Kareem Robinson...  Welterweight prospect Muhsin Crebrey, of Hilton Head, South Carolina, floored Kareem Robinson in round one, then battered him for three additional rounds to win a lopsided four round unanimous decision.  Crebrey improved to 3-1-1, while Robinson, of Philadelphia, Pennsylvania fell to 2-4, 1 KO.
Eric Hunter TKO1 Steve Lozoya...  This scheduled four round featherweight fight was over before it started.  Eric "Outlaw" Hunter, of Philadelphia, stormed out of his corner and caught El Paso, Texas' Lozoya early.  Lozoya (0-3) appeared to twist his leg on the way down, and was unable to continue.  Hunter (5-0, 3 KOs) was declaired the winner by TKO at 0:29 of round one.
James Franks TKO3 Andre Nichols...  James "Boo" Franks was simply too big for Andre Nichols in this scheduled four rounder.  Franks, of Newport News, Virginia, knocked Nichols down in the second, and was landing an increasing number of damaging power shots against the small, but extremely game and speedy Nichols, before referee Gary Camponeschi stepped in and stopped the bout in round three.
Jameson Bostic UD6 Williams Bailey...  Unlike their main event counterparts Taylor and Ennis, Bostic and Virginia Beach's Bailey did not give the crowd much to cheer about over the course of this six round cruiserweight snoozer.  Brooklyn's Bostic improved to 5-3, 4 KOs, while Bailey, called "the Storm",was more like a light drizzle on this night, fell to 4-9-2, 2 KOs.
Ballroom Boxing is promoted by Michael and Scott Wagner.  The matchmaker is Chris Middendorf.
Members may wish to visit the vast Boxingtalk video archives to see last year's interview with Maxell Taylor, his management team of Felix Dialoiso and Lou Duva, as well as highlights of Taylor's devastating May 5, 2005 second round knockout of Calvin Shakir in Taylor's previous visit to the Ballroom. 
Also, keep an eye out for the most talented ring card girl in all of Maryland during the video's closing credits.  http://www.boxingtalk.com/pag/article3662.html
CLICK HERE FOR THE FULL RINGSIDE REPORT
Send questions and comments to: donwrightus@yahoo.com