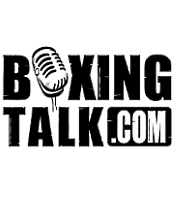 Jose "ONFIRE" Aguirre! I just wanted to say (along with everyone else) that you are doing a great job with the mailbag.... as good as G, but without mirroring his style. I really enjoy your approach to the mailbaggers questions and comments, as well as your own insight to the sport of boxing in general. Very impressive. Will you eventually be covering other assignments for BT, such as interviews and feature articles, on a regular basis? Question(s). With Sept/25th not to far off. Do you guys have any Glen Johnson/Roy interviews coming our way? Any reports from each of the perspective fighters camps? Have odds been posted yet?
Peace Anthony Garcia Houston, Texas
OnFire's response: Chillin Anthony. Hope all is well. Thanks, I appreciate it and having alot of fun with it. We all have different outlooks when it comes to boxing just as we all like certain styles. Boxing is my life. It is my passion. Oh, and I know a litte bit about the sport (laughs). Thanks again. I'm looking to become more involved and those that make it happen are giving me the channel to do so. I'm a grinder and a mover so I expect that will be noticed. Knowing how Boxingtalk does it I'm sure we can look forward to all that you have mentioned in the near future. Peace.


What's up? Man, what a great fight. Popo was doing a damn good job of boxing, until he got tired. I was watching the fight, and knew Popo was going to get tired, in the later rounds. Like I said, Popo moves around and looks great against B & C fighters. Chico is Class A, and stalked Popo down patiently and effectively. Popo can run and move against B fighters, because they get frustrated, and gave up. Chico knew Popo would tire, and Popo could not take the pressure against a class A fighter, like Chico. The Bombs Freitas took, would have made a lesser fighter quit earlier. Freitas got his ass up every time. He knew it was over, and knew he was going to get KTFO. I do not blame him for not wanting to get destroyed, because that is what would have happened, if he continued. I also understand how people could view him as a coward, because a Boxer/Fighter is suppose to be a WARRIOR, and go down fighting ala Vargas vs. Tito. Peace. Daniel from L.A.


OnFire's response: What's good Daniel? What a great fight is right. Just as I had thought would be the case, Acelino Freitas used his athleticism and speed to offset what Diego Corrales tried to do. Popo has always fought this way. Moving as he was you'd have to expect that he would slow down. It has worked for him added with his punching power. He makes many mistakes, the most dangerous is dodging out of way from punches with his hands down. Diego, to my surprise did not try to jab early on in the fight. This allowed Freitas to use the ring and catch Diego with some good shots. Corrales has been down a high number of eight times but to my amazement he took the blows well. The punches Diego hit Freitas with made a him quit, imagine a lesser fighter. Freitas knew it was over because he probably felt it in his heart before it showed to the millions watching around the world. We knew it was over because we knew what kind of puncher Corrales was. Message to anyone dreaming of gold in pugilism. Don't go out ala Vargas. People will have different opinions but it may differ if you've never been in a similiar situation.


What's up over there at Boxingtalk.net. Big ups to you all for giving nothing but the best of boxing knowledge. Baltimore is feeling you, holla back! But now onto what I thought at first was the biggest disappointments of the night. When Frietas gave up in the 10th round. At first I was disappointed not because I picked Frietas to win, but because he quit. After thinking about it though, I'm not disappointed in Frietas at all. It takes a bigger man to admit defeat than it does to stand there and get his brains beat in. Frietas was DONE, and even though he looked like he could continue, he took a shot to the ear that probably sent his equilibrium spinning. I mean do fans want to see him living like Ali? Does that define you as a warrior? Do you have to die in the ring, or get beaten so bad that you become retarded? To me that doesn't classify you as a warrior, that classifies you as a simpleton. This isnt movie boxing, where the brutally beaten fighter gets to ride off in the sunset and live his life like everything is okay. This is real life, where the brutally beaten fighter dies, or lives the rest of his life with brain damage. Frietas may have decided he couldn't go on anymore, but he's still a warrior. If Frietas wasn't a warrior he wouldn't have climbed off the canvas those 3 times, he would have allowed himself to get counted out like Tyson, and even in defeat before he left the ring (to head to the hospital, might I add), he congradulated Corrales, showing that he is still a class act. Frietas didn't lose a fan over here, I think he just reminded all his fans that he's human, and theres only so much a man can take. Maybe you all could try to catch up with Frietas and get an interview from him so he can let the boxing world know what he was thinking.


OnFire's response: How you doing Brunson? Thanks. I as well as those here at BT have some kind of passion for the sport. Shout Outs to B-More from The Home of the Towers. I'm thinking that since the whole thing has quieted down maybe Freitas is asking himself some questions. We've seen him knocked down before, but not as bad. He's always come back fighting as hard, just not against a fighter like Corrales. To quit means to have been broken down. Physically, mentally, spiritually, internally and all the other words that end in ally that you can think of. Three hard shots to produce an equal number of knockdowns can to that to you. Good word too because this was an alley fight. My hat goes off to both fighters for a hell of a fight. Boxingtalk is doing what it does best to bring you the best that there is.


Jose, You know I had Corrales by KO, I did have it a little earlier but I'll take it. I thought he was gonna make popo pay for those wild punches earlier........ BIG BIG BIG UPS to Diego. After he got beat by Mayweather who would of thought he'd make it this far again, I didn't. I hope this elevates him to get some good money fights. I normally wouldn't give props to a fighter who straight up quit but I gotta give popo some credit for gettin' back up, three times. Those two first knockdowns looked insane. That first shot was nasty....than that second one looked worse. If you show someone who didn't see the fight the clips of just the punches that knocked popo down those first two times they would never believe he got back up. Where do you rank this one on your Fight of the year list. I got this one ranked at the top right now. cesar, Ft. Lauderdale


OnFire's response: What up Cesar? I know and I vouch for you. You have no choice but to take it (laughs). You can't give it back though I'm sure Popo had wished he could. Mayweather, nuff said. Diego Corrales has been a top fighter with heart and skills for along time. Popo did get up from some hellacious knockdowns. I was sitting ringside and not only did I hear the thud but the crack of leather hitting skin. Paquaio-Marquez is ranked as number one on my list.


This was one of the most anticipated bouts of the year and Acelino cheated us! He deprived us and Diego the opportunity of a great finish! I definitely feel that Diego would have finished him off in the 11th had the fight continued. I was more frustrated than Diego for the first 7 rounds. Big UP to Diego for the remarkable calm composure throughout this cat and mouse bout. I've been reading alot of articles, but none express the disgrace and outright cowardice of Acelino Freitas. I think part, or all of his purse should be witheld. In all honesty, (and I really hate to say this) he still was in the fight had he pulled out rounds 11 & 12. He could've gotten a controversial decision, or a draw. But plain and simple: HE HAS NO HEART!!! As far as Diego Corrales, he could very well unify 135 because there are no other fighters in this weight class with the footspeed to give him that much trouble. I looked at boxrec.com and I see Diego is at the top, replacing Freitas when Freitas should not have been there anyway. This is Jose Luis Castillo's division, unless Diego can prove otherwise. Castillo's strength against Diego's pure punching power. I mean, Corrales is ridiculously heavy handed. He doesn't have to get full extension on those bombs, all he has to do is land them! There's Castillo, Lazcano, Julio Diaz and even Stevie Johnston and Freitas never fought any of them. How could they rank him #1 @ lightweight? I didn't include Juan Diaz, because as much as I like the kid, the punching power is just not enough to keep Diego honest. He would be the easiest belt to go after, but I don't think Main Events will let this one happen by choice. But Diego shouldn't be in a hurry to move to 140 because guys like Mayeather, Zu, Mitchell, Harris and Cotto could cause him some problems up there..... one! ktizzel


OnFire's response: There was still alot of time in the 10th and Chico could have possibly ended it then. Diego didn't really look frustrated during the fight. If you've read the last two mailbags you will see that some have. Why? Because he decided against being knocked out and possibly hurt against the dangerous, hard punching Corrales? I'd rather see him back another day. I agree and maybe he could have, but never if he didn't think so. IMO there was no way that Freitas could have survived. Castillo would be a tough test for Corrales. He's been known to have weight problems but it didn't show in his last time out against Juan Lazcano. Hopefully, as mentioned after his last fight, Morales moves up and challenges Corrales. Diego just moved up. I wouldn't imagine he'll be in any rush to move to jr welterweight when he has so much to conquer right here. Though I think Corrales can add more weight to his tall frame.


OnFire, sup kid...in response to your reply, and thanks for posting my statement, Freitas, plain and simply, disgraced himself and the title he once held. He still had a chance in the fight yet he walked away as if nothing mattered. Freitas could have elected to continue in hopes of landing that one punch. Or, simply, because of a desire to honor the title that has helped him earn thousands of dollars and made him an idol to millions in his homeland of Brazil. What caused Freitas to quit? It was frustration, and a lack of heart!!!! It takes bravery simply to walk up the steps and through the ropes, but a champion should have more pride that Freitas showed Saturday. No Doubt about it. I mean, Hey... Don`t get me wrong I know this is real, and fighters have died in the ring...and I surely believe no fighter should sustain a serious injury just to appease a bloodthirsty crowd. But Freitas was clearly in control of his faculties when he made like a chump and quit. He wasn`t stumbling, nor walking over his feet.. like Jones in the sec fight w/Tarver or Judah in the Tzyu fight. Freitas stood holding both hands and said, "Forget it, let him have the belt"! If he wouldv`e continued, Corrales would undoubtedly have jumped on him had the 11th started, trying for a knockout. And that's when Freitas could have chosen to have boxed and dance the final two rounds and hope he had done enough early to earn a decision or he could have tried to counter an attacking Corrales for a miracle knouckout, again hence Chavez vs. Taylor.. And NO I`m not comparing Chavez to Freitas but like Chavez or any other Profesional fighter you don`t give up... Especially A Champion defending his Title. Its a disgrace to other fighters who`ve fought with dislocated arms or cuts and have made it to finish the fight, win or lose!! Instead, he dishonored himself, his fans and the title he once wore so proudly.Somehow, one gets the feeling Freitas is going to use the money he was paid - notice, I didn't say earned - on Saturday and disapear into the Brazilian forest. IMO, It takes more HEART and HONOR to finish what you start. ~Joe from Brooklyn


OnFire's response: Chillin Joe. What's good? From the millions of fans that boxing has I'm not surprised that you or anyone else for that matter feels that way. If he quit maybe it meant that HE didn't think he had a chance. Maybe he walked away because something did matter to him, his health. His hope of continuing and landing that one punch went out the window after he landed those numerous shots early on and Diego didn't budge. I guess some people (Freitas) choose to fight another day than to never fight for another title or maybe more millions. What made him do it beside the hard punches and knockdowsn that followed is anybody's guess. I agree he looked as if he was ok when he arose but was he? He could have tried that and at the same time hoped for a miracle in getting out safely. Fighters have given up by quitting, not coming out for a round or just plain laying down. I don't think of it as a disgrace to those who have fought through adversity and injury. It would only prove that they have the mettle to grind it through. Imagine being undefeated for many years and then you get beat in this fashion. You realize what it's all about now that you are on the other side. You don't like the feeling. It happened to Trinidad before he came back. It also happened to Hamed who we have not seen since his lose to Barerra. We will have to wait and see what happens.


whatzup boxingtalk, first I saw that Greg Leon was one of press row judges for the fight which is cool as shit hopefully one day you can be a real judge for a fight so I know 1 card will be non-biased, also onfire I love your mailbags you get hella props from me. on to boxing for the record Robert Pedan sucks and I can't wait for Nate Campbell to KO him like you could have the first time if you didn't let his guard down but its all good, he lost once but not twice. I'm sad to see frietas lose but I knew it was going to happen, I learned from Roy you can be as fast as you wanna be but a good counter puncher that can apply some pressure will catch you everytime, plus corrales is the shit. he could easily unify the title and I hope is doesn't go to 140 cause he still can't handle Mayweather, not that anyone can expect for Cory Spinks(STL represent) if Mayweather moves up in weight and possibly shramba Mitchell. so what do you think is next for Chico cause i can't see anyone at 135 or under beating him and do you think after he becomes undisputed he will go up in weight and do some damage. Peace, Loki - St. Louis, MO


OnFire's response: What's cracking Loki? G Leon, the man who brings it all to you has brought it to millions around the world via press-row on Showtime. Thanks, I really appreciate it all. I don't know about Robert Peden but it sure sucked that Nate Campbell put himself in that position to be stopped. I'm sure when they fight again Nate will stay focused for the duration of the fight. However long that may be. Corrales is not after anything but belts as was my understanding. There is alot of gold he can try for in this division and some good fights if others move up to take his. As I've said before I couldn't imagine he'd want to move up anytime soon. Maybe if he can become undisputed it can be an option for a bigger fight in a higher weight class.


Yo wassup? I was lookin for u Sat night to holla at you, and let you know boxingtalk is 2nd to none. Anyway This is my 2nd time seeing Chico in person, both at Foxwoods. And I wanna say say he has got to be near the top of your PFP list. Also I believe he will take anyone out at 135. I was sittin ringside and it seemed like me and man were the only ones yellin out CHICO CHICO CHICO!!!!!!! Anyway do me a favor, and holla at Chico and let him know his 2 BIGGEST fans are out here in CT, and I hope he fight out here again, and we will be there... Peace Out!!!! Mino in Ct!!


OnFire's response: What's up? All good. Sorry we missed you but we imagined some members of Boxingtalk would be in attendance. Aren't the electricity at the arena and at home so much more different? He is definitely at the top. Greg's 20 top pound for pound list coming soon. Chico is King at Lightweight. You just let him know as I would imagine he's probably reading (laughs). One.


This Site is the Bomb. About the fight the other night, In my opinion we give Diego to much credit for that win. I'm a hard core boxing fan I'm on fight news every night. Not taking away any credit from Diego because he hung in there and just waited for Freitas to tire and he did tire. That had to be his only game plan because on my card he lost every round 7-0 until the 8th round. He has 0 boxing skills, does'nt jab, does'nt throw upper-cuts only left hooks when he's close enough, even though it was a straight right in the 10th that put Freitas down by then he was done anyway. So I give Corrales credit for being in shape and doing his job but he had no answer for the right hands he was getting hit with all night he has no defense at all. I hope it does'nt sound like I'm dogging Corrales because I'm not. I'm not a fan of Freitas or Corrales but lets be for real Corrales should win all the fights at 135lbs he's 6 ft tall Freitas is 5'6, Casamayor is 5 ' 7 in and I believe Casamayor will beat him again if there's a rematch. The biggest person he's going to fight in that division is going to be 5' 7 in. tall unless he gets a fight with Morrales. Basically he fighting midgets. He should move up to 140 or 47 at 6 ft tall guy fighting people 5'6 lets be for real. thanks


OnFire's response: Stand back because we're about to blow up!! Are we giving him too much credit or not taking any credit away from Diego? A real hardcore boxing fan would be on Boxingtalk every night. And day for that matter. I'm sure Diego's plans of Freitas tiring out included boxing, jabbing and cutting off the ring. With Freitas speed early on he was not able to do all that except cut off the ring. He kept getting caught with right hands going in due to his lack of the jab in this fight. He picked up the jab in later rounds as Freitas tired out. If height were everything alot of people wouldn't be champ today.






MEMBERS CLICK HERE TO READ THE FULL MAILBAG
Send questions and comments to: onfireboxing@verizon.net