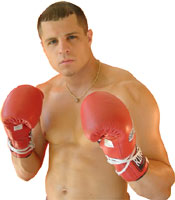 Press Release:
Undefeated cruiserweight prospect "El Peligroso" BJ Flores and Main Events Inc. have come to an agreement to part ways, giving the young and talented fighter the opportunity of free agency.  At 15-0 with 10 knockouts, the highly skilled and charismatic Flores is looking to elevate his career to the championship level. 
"Main Events has been a great promotional team for me and I appreciate everything they've done, but the time has come for us to part ways," explained the highly touted and talented cruiserweight.  "I am on the road to the title and I can't be stopped."
With the enormous marketability, skill set and talent level it takes to become champion, Team Flores is already entertaining offers from some of the biggest promotional companies in the game.  There is a sell out crowd expected for BJ's upcoming fight at the Arizona Coliseum and it would be unprecedented for any and all of the top promotional companies not to be weighing the possibilities.
On May 13th at the Arizona Coliseum, a promotional company run by BJ and Jeremy Flores, Danger Boyz Inc., will be putting on a stacked card featuring BJ Flores vs. the former NABF Cruiserweight champion, Ali Supreme for the WBF Americas Cruiserweight Championship.  The Co-feature on the card will be none other then Phoenix's own, "El Martillo" Jesus Gonzales in a middleweight clash.  As expected, the action packed "Champions of Tomorrow" fight card is selling out fast and Danger Boyz Inc. has already established a successful promotion.
As Team Flores realizes this is an important time of transition and that the biggest promotional companies are taking notice, handling business against Ali Supreme for the WBF Americas Cruiserweight Championship is the most important step that currently must be taken. As the road to the undisputed cruiserweight title begins to develop, Team Flores will be accepting only the best opportunities on the championship path to stardom.
For promotional inquiries please call Lou Mesorano @ 361-854-4976
For more information on "El Peligroso" BJ Flores, please visit
www.bjflores.net
About "El Peligroso" BJ Flores
BJ Flores is a graduate from ASU and has served as a missionary in some of the poorest areas of Mexico.  After earning a communications degree from Bringam Young Universtiy and traveling the world to help the less fortunate, BJ Flores went onto win the 2002 U.S. Championships in the heavyweight division.  At 15-0(10), Flores has become one of the hottest prospects in all of boxing.