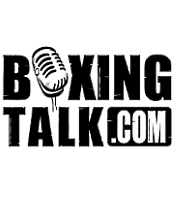 BJ Flores is one of the most personable guys when you talk to him, but it would be a big mistake for any of Flores' opponents to mistake his good nature for weakness.  For this heavyweight prospect, who sports an 11-0 record with 8 knockouts, Flores has the hunger and desire to be the best heavyweight of his class, and with his exceptional hand speed and power, Flores has the capacity to take over the division just as he sees fit.  BoxingTalk caught up with the man who has sparred with Chris Byrd and Vassiliy Jirov to get his thoughts on his next fight on June 8th, and why he is so confident that once boxing fans see Flores fight, he will make believers out of all of them.
BoxingTalk: You are coming off a recent victory against Cliff Nellon.  Explain how you feel that fight went?
BJ Flores: In the first round I caught with a couple good shots…I wanted to set the tempo early.  There were seven fights on the undercard of Vargas-Joval, and only two ended in knockout: mine and one other.  I was the only heavyweight on the card, and I wanted to get the crowd excited.  For the first punch of the fight, I landed a hard hook, and BOOM right on the chin.  I knew then I got his attention, and from that point on he fought scared.  I like to catch my opponents really solid in the beginning of my fights.  In the second round I went to the body, and in the third I could tell he was feeling my body punches.  Nellon tried to fight a bit more during the round, and that is when I got him in trouble.  I threw a hook, Nellon blocked it, and I caught him with a right hand.  He went off the ropes and came back to me, and that is when I caught him with another right hand. It ended after the third round.  When the bell rang, Nellon was out on his feet, and that is when his corner ended it. 
BoxingTalk: What is your game plan now?
BJ Flores: My game plan is to show up on June 8th, and to make a believer out of everyone there who will see me fight that day.  Come June 8th I am breaking out, and I have a big chip on my shoulder.
BoxingTalk: Do you know if it will be televised
? 
BJ Flores: It's going to be on ESPN2 from the Pechanga in Temecula, Calfornia. 
BoxingTalk: What are your expectations for your next fight?
BJ Flores: My expectations for this fight is, 'Hey, I've been in camp for 8 weeks, I'm in great shape right now, I have been in Catalina away from my family for 8 weeks and I'm only on my eleventh fight.  I'm getting an early start, I'm going to be in the co-main event, I'm 11-0 with 8 knockouts, and I'm going to be in an eight round fight with a decent opponent.  
BoxingTalk: How do you feel the quality of your opponents have helped you in your career so far?

BJ Flores: I feel like I'm not fighting guys with huge losing records.  The majority of my opponents have had winning records, and those who have had losing records have had a lot of experience and have been in the ring with world champions.  For example, the last guy I fought was 15-22, but he had been in there with O'Neil Bell and Vassiliy Jirov.  So I'm trying to get everything from every opponent that I have. 
BoxingTalk: At what point will you be ready for a top-20 heavyweight?
BJ Flores: Top 20, I'm not sure.  That's going to be a ways down the road, but what they're doing right now, Darren is they're matching me with smaller heavyweights, and guys who are coming up from the cruiserweight division.  Kind of like how they did with Oscar De La Hoya.  When he was fighting at 140, they brought up 130-pounders to fight him.  They do this with all the prospects.  They bring up guys from the lighter weight divisions, and you use that until you get to the level you want, then you go on to take on normal guys.  In the beginning stages right now, It's important for me to get a couple names on my ledger. 
BoxingTalk: Do you know whom you will be fighting next?

BJ Flores: There are a couple names out there that I don't want to give right now, but one guys 18-1, and the other is 14-0.  Their records don't bother me, because even though I'm 11-0, I've had 130 amateur fights, I was the 2001-2002 US Nationals' Heavyweight Champion, and I've fought overseas a lot.  I've seen almost every style there is out there, and that's not to say that I know it all, it's just shows that I can adapt in the ring. 
BoxingTalk: It also goes to show that you are walking into the professional ranks with a lot of experience already…
BJ Flores: My thing is that when I was an amateur, I was fighting Korea, China, France, Australia, Germany.  I was fighting all those guys.  In the National Champions, I fought France's National Champion in France, and let me tell you, that wasn't easy.  They're throwing things at you in the ring after you win, they're taking away points from me and I can't understand what they're saying.  It's those kinds of things that build character and train you to deal with adversity.  I now know that I can deal with anything.  If I get knocked down, I'll get back up.  If I get hurt, I'll recover.  If my opponent lands a good shot, I'm coming right back.  So to me, it doesn't matter.  Anything can happen, but one way or another, I'm coming out on top. 
BoxingTalk: What style of fighting do you prefer to fight in the ring?
BJ Flores: I'm definitely a boxer.  I have very fast hands.  My trainer says I have the fastest hands in the business as far as heavyweights and cruiserweights go.  I've sparred with Vassiliy Jirov, I've sparred with Chris Byrd, and they all tell me that my hand speed will guarantee a world championship one day. 
BoxingTalk: Would you say that your hand speed is your greatest skill in the ring?
BJ Flores: I've always had hand speed, so now I'm just working on adding power.  I've knocked out all but three of my opponents, and those three that I didn't knock out really were just surviving more than anything.  I think my power is really coming along, and my trainer is helping me to become more patient and attacking the body to set up the headshots, making sure I turn all my body weight into the headshots.  I mean, the gloves are little, Darren.  I'm just grazing these guys with my punches and they're going down.  When I catch them clean it has been a done deal. 
BoxingTalk: You mentioned Oscar De La Hoya, who, when he fought Julio Cesar Chavez, said he was fighting his idol.  Is there a fighter out there now that if you were to fight him, you would be fighting your idol?

BJ Flores: As far as a heavyweight right now, I really can't say I have an idol.  There are a couple guys I definitely respect, like Chris Byrd, who is able to handle the big guys the way he does.  I really respect Vitali Klitschko.  I think he's a good person and good for the sport of boxing.  I like Joe Mesi.  People look at Joe and say that boxing is not all that bad, and I respect him for that.  I've met Joe a couple times and he's a real personable guy, and he can fight too… 
BoxingTalk: …I agree what you're saying about Joe. I've met him before too, and like I tell people, Joe Mesi had done everything he has been asked to do when it comes to boxing.  With each fight, he took on tougher opponents and he won…
BJ Flores: Absolutely, and he was getting paid in the mean time too.  Besides the blood and guts, boxing is a business too, and Joe was business-savvy enough to know that. 
BoxingTalk: What would you like boxing fans to know most about BJ Flores?
BJ Flores: I think boxing fans will be surprised when they see me throw my first punch, because they're not going to be used to the speed element and the way I mix up my combinations.  I love to go to the body, I love to use my jobs, I love to walk people into my right hand, and I love to be all over my opponent so that I'm in my range, but he's not in his range.  I am an aggressive fighter, I throw a lot of punches, and I have very good hand speed.
BoxingTalk: How did you get involved in boxing?
BJ Flores: When I was a kid my dad was in the military and stationed in Texas.  He would take us to the gym where Vince Phillips and Ray Mercer worked out.  We would watch them train and spar, and they would even show us some moves.
BoxingTalk: When you are not boxing, what are you doing to enjoy life?
BJ Flores: I'm heavily involved in investing in property, I love to play golf, and I love to work out.  I'm really hungry right now, and it's my time to be me.  It's time to show the crowd exciting fights and what I have to offer as a fighter.
BoxingTalk thanks Mr. Flores for taking the time to speak with us.  We wish him continued success both in and out of the ring.
Fool4Rush@aol.com