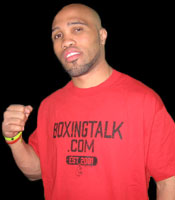 I recall my first day ever in the boxing gym, when I was 9 years old; I remember the stench stale smell, from the gym when I first entered.  All I remember repeating to myself 'is why are all of these boxers making noises when they punch the bags?'  Yes, that noise the boxers make while hitting the mitts or punching the heavy bag was quite intriguing to me, especially at 9.  However one thing from that first day still rings true, one of the many things you still hear when you first enter a boxing gym is that almost rhythmic noise boxers make when hitting the heavy bag or sparring, and nobody in that gym had a better or should I say louder fighting noise than Lonnie Smith.  What can I say?  I fell in love with the sport as soon as I stepped into the Golden Gloves Gym for the first time that day; what a sight, one could call it my first love.
Many great fighters passed through those Golden Glove doors over the years, and I must admit that I have seen them all.  Golden Gloves was the place I called home all of my boxing life.  I remember seeing some of the best boxing matches take place in this gym and I will confess that Roger Mayweather was involved in over half of them.  Gerald McClellan passed by many times, he was something to watch as a little kid.  He moved so graceful in the ring, it seemed as if he were floating through the air.  I mean we housed a lot of great fighters during their stay in Las Vegas; Terry Norris, Felix Trinidad, Mike Tyson, Pernell Whitaker, Riddick Bowe, are just some to name a few, of the greatest fighters that have ever lived.
I could go on and on about myself and how I grew up in this gym, and how knowing all of these professionals fighters impacted my boxing career today; but this story would be about 10 web pages long and Greg would have to break it up into a thousand parts!  So I will try to stay on subject and give you my best description of this magnificent fighter, and it was no other than 'The Professor'.  Do you know him?  Do you ever hear him mentioned?  How long did he box?  Why is he never even mentioned amongst some of the all time greats?  These were the same questions I asked myself.  I wonder why such a brilliant boxer never seems to get the accolades he deserves.  If you ask me, personally I do not think anyone today in the featherweight or super featherweight division could touch him; and if your still wondering who 'The Professor' is, it is no other than Azumah Nelson.
Azumah was probably one of the greatest featherweights to ever step foot in a boxing ring, and note I said, "one of the greatest;" but why is one of my idols never mentioned throughout boxing broadcast or on boxing websites?  That is a question that I cannot answer, only God knows that, and of course the boxing community.  One thing I admire about talking to guys like Tommy Gallagher is the fact that they have so much boxing wisdom; and you can sit there for hours and take it all in, it's like a kitten to milk for me.  It is great to get and old timer's description on great fighters and the history of the sport; I say this about Tommy, because he has seen and heard a lot.  I mean, can you believe Gallagher actually witnessed Ray Robinson fight live before!  Talking to a person with a lot of boxing knowledge and history is something I always cherish.  So as a little boy I would sit back and watch all these great fighters and admire how they carried themselves and how they chatted amongst each other.  You have Roger Mayweather, very outspoken and confident in what he is doing; you could call him the class clown of the boxing gym, he kept everyone laughing.  Then you have a guy like Felix Trinidad, very quiet, I mean very quiet, but when he stepped in between those ropes, whoa it was like watching a butcher cut meat; his punches were very crisp and right to the point, he didn't waste anything.  All I remember about Mike Tyson was the fact that we couldn't train when he was in the gym, so as a kid we had to wait outside until he was finished; back then this use to make me so angry, but as I grew up I understood why he had to do this.  That being said let me get back to the man of the hour, Azumah Nelson, and what can I say; if you look up class act in the dictionary, a picture of him would come up; this guy was so polite and so quiet.  He came in did his job and left, and when I say did his job, I mean did his job!
Azumah Nelson was poetry in motion; I remember stopping whatever I was doing every time he got ready to spar.  He put on boxing clinics, I used to go home and try to mimic some of the things I saw him do in the gym and when I had to spar, I tried those same things I saw him doing.  I can recall a special moment in my life as a kid; I was sparring and trying some of those moves I saw Azumah try, I had to be no older than 9 or 10; and it so happened on this day he stayed in the gym late.  After one of the rounds I looked over at him to kind of see if he approved or not, and he had the biggest smile on his face!  As if to say, 'you're doing a good job kid.'  I remember him coming over to me and my coach after I finished sparring and asking how old I was, he said this young man is going to be champion someday!  Who would've known 19 years later, that I would be on the verge of becoming just that!  So now, imagine Floyd Mayweather and Diego Corrales put together, this is what Azumah Nelson was.  He had Floyd's boxing ability and defense, and he had Diego's heart and warrior quality mixed all into one. 'The Professor' used to catch punches with his shoulders, and he used to trade punches with people like Diego, he was something to watch.
Maybe after further thought, he doesn't get the credit because of the fighters he's faced, could it be?  I think not!  Can you believe that he fought Salvador Sanchez in only his 13th Pro Fight, yes the great Salvador Sanchez, God rest his soul and not only did he fight him, it was a great fight until Sanchez stopped him in the 15th round, oh and one of the judges had him winning up until the stoppage, 13 fights folks! Oh by the way Sanchez had a record of 43-1-1 32KO's when they fought.  This guy was in some serious wars; from that fight on he fought the best, Pernell Whitaker, Wilfredo Gomez, Jeff Fenech twice, Gabriel Ruelas twice, Genaro Hernandez (a fight I felt he won, that judge with a 118-110 score should have been banned, and he was a whopping 38 years old when he fought Hernandez), and finally Jesse James Leija 4 times (one of the fights he was pushing 40 years old and another one he was 37, he TKO'd him when he was 37 as well and this is when Jesse was considered a very good fighter, ask Bojado about Jesse).  Azumah finished with a record of 39-5-2 28KO's, that is pretty amazing since 3 of those loses came after he was 35 years of age.  Greatness is measured by ones heart and accomplishments in and out of the ring, Azumah Nelson was not a good fighter, he was great fighter with a big heart who dared to take many chances inside the ring, he searched for greatness from his 14th Pro Fight and he accomplished everything a boxer could imagine. He won two titles in two different weight divisions, and in my mind he is one of the greatest featherweights to ever live.   Boxing scribes say to be consider an all time great one must have never been knocked out, well I think he definitely fits into the all time great category; he was never knocked out; only TKO'ed by a legend in the 15th round when he only had 13 pro fights.
The boxing gym became a second home for me at a very young age, I spent many summers in the gym.  Azumah made my stay at the gym very pleasant; he was a very respectful individual.  So when I hear a guy like Gatti being proclaimed as one of the greatest boxing warriors to ever grace the ring; I can only get a little upset.  How can you mention warrior and not mention Azumah Nelson?  Not even a little peep or squeak!  We seem to forget what 'The Professor' did in the sport; we should be thankful and gracious for the many fan pleasing fights he delivered for us, and for electing not to dodge anyone; he fought everyone, and for that we should be thankful.  They say legends don't die!  Well I will make sure that this legend won't, he will not be forgotten or put to the side; he was a little man with a big heart and he accomplished many things. 
Azumah to say it has been awhile is an understatement, and if you don't have any other fans in left in America, please know that you have one in me.  I not only respect you as a fighter, but as a man, you have done great things for your country, and you touched millions of people by your fighting ability.  Please know that legends cannot be made, they have to be born, God made you into a legend, and I am proud to call you my idol. God willing I will do everything in my power to prove you right and become world champion, someday I hope to make you proud of me just as I am proud of you, God Bless.
A man shared this with me and I want to share it with you:
"It is not the critic who counts: not the man who points out how the strong man stumbles or where the doer of deeds could have done better. The credit belongs to the man who is actually in the arena, whose face is marred by dust and sweat and blood, who strives valiantly, who errs and comes up short again and again, because there is no effort without error or shortcoming, but who knows the great enthusiasms, the great devotions, who spends himself for a worthy cause; who, at the best, knows, in the end, the triumph of high achievement, and who, at the worst, if he fails, at least he fails while daring greatly, so that his place shall never be with those cold and timid souls who knew neither victory nor defeat."
Theodore Roosevelt  
Well past your prime you delivered some amazing performances for us, and for that I say thank you.  Thanks for all the great years you gave us in the sport of boxing, every time you stepped in the ring you gave 110%.  You just don't know the impact you had on my life at such a very young age, you made a difference; without you I don't know if I would even be boxing today.  Thanks, and I promise not to let your vision of me becoming champ die.
Send questions and comments to: sugarshay@sugarshay.com