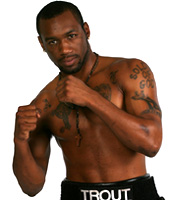 Greg Leon: Your bout with Terrell Gausha [21-1] was just announced for May 25th. When did training camp start? Austin Trout: "Shortly before they made the announcement we shifted it into gear, maybe a week, a week and a half ago. I'm going to be going to Vegas on Tuesday to work with Robert Garcia and Floyd Mayweather Sr so that will be another gear that I'm going to be shifting in." GL: What do you think about Gausha as a fighter? What do you think about the style match-uo? AT: "I think it's a good style match-up for myself. He's going to play into my strengths. I don't want to get too much into how our styles will mesh or what I'm going to do to him, but it's a good fight for me and it's a fight that's going to make me look good."
GL: In our recent interviews, you've made it clear that you were up against it with the odds stacked against you in unfavorable circumstances with Jarrett Hurd and Jermell Charlo. Do you feel that way going into this fight?
AT: "I always feel like my back's against the wall. I feel like the size isn't going to hurt me in this fight like it did with Charlo and Hurd. It's going to feel good to fight somebody my size."
GL: Other than victory is there a prediction?
AT: "I don't like saying I'm going to get a knockout or be looking or a knockout, but I think I'm going to stop him in the late rounds...like the tenth."
GL: Is your plan for this to be your coming out party to show people that you're still here and able to compete at the highest level?
AT: "Absolutely. Ain't no half stepping. After another year layoff I'm jumping in there with an Olympian who has only been beaten once. This is a fight I need to win if I want to stay in the game."
GL: In his biggest fight to date he seemed to be a bit overwhelmed by Lara. Do you think he learned from that and will be a better fighter when you see him?
AT: "I'm sure he learned from that and I'm not preparing for an underwhelmed Terrell Gausha, but I do plan to overwhelm him with my skill and work level."
GL: Who do you like in Hurd-Williams?
AT: "I like Hurd. He's just a big ass tank and he can really let those hands go. His stamina is crazy and unless the weight has gotten to him, I like Hurd in that fight."
GL: What about the Harrison-Charlo rematch?
AT: "I like Harrison, I don't think Charlo is going to be able to make the adjustments he needs to make and I think Harrison is going to be able to improve on what he did last time. I think Harrison just might have his number."
GL: What do you want a victory over Gausha to lead to?
AT: "A title shot of course. If not a bigger fight."
GL: Bigger and better things.
AT: "That's right. And I'm not giving up on my goal to get to 147 so for me this is just a stop on my way there. I'll let you know who I want when I get there."
GL: What do you consider your biggest advantage going into this fight with Gausha?
AT: "My footwork."
GL: What about your experience?
AT: "I don't need to rely on my experience and I don't want to have to rely on my experience. He's a technical fighter, but I'm planning to win by banking on the things that are physical. I think physically I'm the better fighter. I'm not just the more experienced fighter."
GL: Closing thoughts for the fans.
AT: "I appreciate y'all. Tune in and check me out on Fox Sports 1 on May 25th. It's going to be a great fight to let y'all know I'm back."
Send questions and comments to: Boxingtalkg@Yahoo.com