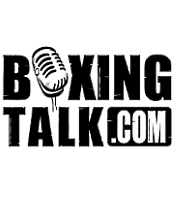 Press release:
Olympic gold medallist Audley "A-Force" Harrison (18-0 13KOs) returns to FSN'S Best Damn Sports Show Period when he headlines the 'Best Damn Night of Olympians Period' on August 18 facing Robert Wiggins (20-4-1, 12KOs) at HP Pavillion in San Jose, California.  The bout is promoted by Goossen Tutor Promotions and will air live in America.
"Robert Wiggins is a tough opponent and my intention is simply to be the first man to stop him within the distance," said Harrison. "This fight is extremely important to my career as it will show people how and why I won an Olympic gold medal and show the rest of the world champions that I am the future of the heavyweight division.  You can expect fireworks."     
Wiggins, from East Providence, Rhode Island, has proven to be a very dangerous heavyweight and feels confident he will beat the up and coming Harrison.  "My experience and guts will overwhelm Audley Harrison," said Wiggins.  "He has yet to face anyone with my abilities and determination and the fight I plan to give him in the ring will be too much for him to handle."
Wiggins professional career includes his last fight—a 5th round TKO victory over formidable Courage Tshabalala.   Previously, he has fought top heavyweight contenders DaVarryl Williamson and Monte Barrett, wherein he suffered decision and split decision losses respectively.  However, in the Williamson fight, he broke Davarryl's jaw and with Barrett, he lost a close split decision with only four days notice that he was going to fight. 
Harrison's last bout was June 9th also on BDSSP when he registered a 7th round TKO over Robert Davis and a solid U.S. television rating.  The fight—his first one in over a year due to injury—gave Harrison the chance to build his increasing US fan base.  "The exposure and recognition I received in the States from just that one fight has been tremendous," said Harrison.  "Last time out I felt a bit rusty having been inactive for 12 months but this time I intend to display my full arsenal of talents."