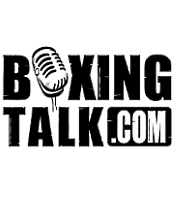 By Richard Vierling @ Ringside
Audley Harrison is looking for respect in America.  The 2000 gold
medal winner in the heavyweight division from Edmonton, England, Harrison faced Robert Davis at Pechanga Casino in Temecula, California.  Coming in undefeated, Harrison was looking to add another American fringe contender to his resume. Harrison fought the first four rounds in a measured way while Davis tried to open up with flurries but also waited for Harrison to bring the fight to him. Action picked up in the seventh as Harrison set down on his punches, landing solid, straight left hands from his southpaw stance. Davis had no answer for the attack and was staggered about midway through the round. Harrison followed Davis and finished matters with a series of rights and lefts to the head. Referee Raul Caiz halted things at 2:21 of the seventh. Harrison moves his record to 18-0 with 13 KOs while Davis falls to 31-7
with 19 KOs.
After the fight Harrison spoke about his victory. "I have a warriors' spirit. When I hit him I hurt him. He had to respect my left hand." Still, Harrison wasn't completely satisfied with his effort. "I still have a lot to show." In a division hurting for new young talent, Harrison still might be the ticket.
The co-main event featured heavyweight contender Kirk Johnson of Canada who met Yanqui Diaz (given neame: Yamplier Azcuy). Johnson started slowly but began to find a home for shots to the body which had Diaz backing up.  The fight was stopped in the fifth after a clash of heads led to a technical decision victory for Johnson who moves to 36-2-1 with 26 KOs while Diaz slides to 13-3 with 8 KOs.
The rest of the card featured four former Golden Gloves (amateur)
champions who all showed that  they have a solid future in the professional game. Heavyweight Malcolm Tann, 2002 Golden Gloves champion, fought very tough and durable Derek Bryant of Philadelphia. Tann was knocked down in the first but rose and fought hard on his way to a close but unanimous decision. Official scores were 76-75, 77-74 and 77-74. Tann now stands at 16-1 with 8 KOs and Bryant falls to 18-4 with 15 KOs.
Perhaps the most impressive heavyweight of the lot besides Harrison was 2003 Golden Gloves champion Travis Walker of Tallahassee, Florida. With a strong build and powerful right hands he dispatched Carlton Johnson of Portsmouth, Virginia in just forty-eight seconds on a referee's stoppage. Walker moves up to 11-0 with 9 KOs as Carlton Johnson falls to 15-12-2 with 10 KOs.
Rafael Butler of Rochester, Minnesota, the 2004 Golden Gloves champ won a fairly one-sided decision over Kerry Biles. Butler dominated and scored at will. Butler is now 11-1 with 8 KOs and Biles moves to 6-7-1 with 3 KOs.
The only non-heavyweight on the card was the very impressive Lorenzo Reynolds of Saginaw, Michigan who showed off some slick boxing skills as well as power. Reynolds, another National Golden Gloves champion dominated a game Carlos Barragan of Guaymas, Mexico to earn a points victory. Reynolds is now 6-0 with 3 KOs and Barragan is 3-15 with 1 KO.