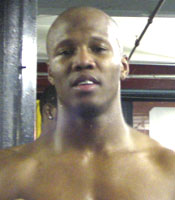 Big ups on the victory. With you bein the champ in that division now, and looking at challengers coming from 140 and 154, who do you look forward to fighting first?(and assume all the money was the same.) Nate
The Champ's Response: De La Hoya. I want to fight De La Hoya because I want the best for the most money and De La Hoya is the biggest and baddest man in boxing come fight night.
Congratualtions on capturing the Welterweight title. What is daily routine when in full-training for a bout? Can you give me a summary of your daily workouts and diet etc? Thank you for you time, Zab. All the best for the future! Mr Danny Doyle
The Champ's Response: Thanks for that. Up at four in the morning get running in get some grub, back to the gym at 12 or 1 do my boxing workout head back to the crib, chill and go back to condition at 8 at night. Go home rest and get ready to do it all over again the next day.
If you would have your ideal opponent without the issue of money just to further your legacy, who would it be? Who is your favorite fighter of all time? Paul Bedi
The Champ's Response: Joe Louis, Marvin Hagler and Pernell Whitaker and Mike Tyson. If I could have the ideal fight, I would always want to fight a guy like a Sugar Ray Leonard. At that time Leonard was flashy, on top of his game and I see him and me being a great fight regardless of the era. If I could have been in any era, it would be his era because there was a lot of talented fighters when Leonard was on top.
hey zab I just like to say congratulations on your win against cory spinks. I hear this rivera saying he going ko you all this but i dont think he last round with you. How do youi see the fight going your self?.What would be your next move if did win?? shot against de la hoya in september or showdown shane mosley. What promoter would you like to join if don king was'nt around maybe golden boy promotions or arum Jake
The Champ's Response: I see it going probably how you just said. I'm going to train hard as mofo for that one. I'm training like he's trying to steal my undisputed crown. I want De La Hoya more than anything else. A fight with Nosley doesn't intrigue me right now. Nosley's never gave me no shot so why should I give him one? But we should do a survey, I want to fight whoever the fans want to fight next. I'm the people's champion.
Wassup Zab, I'm from St.Louis and I was at your fight with Cory. It seemed like Cory started to tire in about the seventh round. He kept dropping his right hand and you started to drop bombs with your left. I thought it was because of all the pressure you put on him, but he says that he had to loose about 30 pounds for the fight, Was the weight a major factor? Peace, DUBBC
The Champ's Response: I knew they were going to bring that up after he got knocked out. But I don't look too far into that. The fact is he got knocked out for the first time in his career.
Yo Zab, Congrats on becoming the new undisputed champ. How do you see yourself matching up against Rivera what do you think you have to do to get past him to move on to the money fights in your division? Chris. El Paso TX
The Champ's Response: I just have to be Zab Judah and everything will work itself out. All he needs to do is show up and I got him.
Zab. Congrats on your big win. Stay focused in and out of the ring, and the rest will take care of itself. If you ever had the opportunity to fight Oscar *(the naturally bigger guy), what, other than speed would give you an edge over him???-Verbal
The Champ's Response: I don't want to say that I'm better than Oscar De La Hoya, but I think that I'm ready for that elite league right now. I think a fight with De La Hoya would be a challenge to me to prove that my skills and abilities do work against elite fighters.
Are you gonna be in next years fight night?-Magnum
The Champ's Response: YEAH. They definitely will be adding me. I missed the last one because they were sleeping on the kid.
Would you fight Mayorga? And what would be the result? I like his chances as he is naturally bigger than you and his style is awkward he is big at 147 and I think he could KO you. Will you fight him?PS Well done on KOing Spinks you are better to watch than him.-Piegon Puncher
The Champ's Response: I will fight anybody. I'll fight anybody in boxing you could put me against. Second of all, Mayorga will never fight me. He's too smart of a fighter for that. Besides, isn't he fighting at junior middleweight?
Congrats on the win man, you deserve all the love you've recieved lately. But we seen you sitting behind De La Hoya. What did you guys talk about and when is the date going to be set? Oscar has been willing to fight anybody in the past and this match-up makes sense for the both of you.
The Champ's Response: Well, you know, we're working a lot on that right now. De La Hoya isn't officially a welterweight yet. He needs some time to get back to the weight. Whenever there's something to talk about when it comes to De La Hoya, Boxingtalk will get it first so read what my boy Greg has to say.
Whats the higest in weight you would go to fight say a Trinidad?-Damien
The Champ's Response: I can't really speak on any other weight class right now because my mind is focused on 147 pounds, that's it.
Zab, are you going to avenge your loss to Kostya? Does the Winner of Margarito/Cintron interest you?-Iwatchboxing
The Champ's Response: I would to avenge the loss to Tszyu, I've been trying to do that for years. Margarito-Cintron? Of course that's a fight we'd consider. I'm already undisputed now but I wouldn't mind going to get that fourth title so I can be the super undisputed champion.
zab. how much did the bling in your teeth cost?-PitBull24
The Champ's Response: A lot. Like a small house in Beverly Hills.
Zab I bet you wont keep those belts for a year. You only have a chance against boxers that don't have a chin. Mosley will put you in diapers. DLH will make you go back down to 140. Those belts are on lease.-Toldyaw
The Champ's Response: Okay. Can I get a solidified bet with you? I'll take your bet. If you're going to talk it, just put your money where you mouth is.