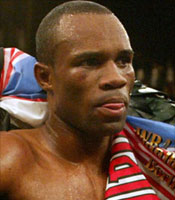 How stupid do you feel now for not taking the Hatton fight for the biggest purse of your career?-Lefthook
The Champ's Response: I don't feel stupid at all for it. I do not regret not taking the fight. I don't even want to hear about the Ricky Hatton fight, it's not possible now so let's move on. I don't think it would've happened anyway and the money wasn't coming to me. How stupid do you feel for wasting your question with a world champion with that nonsense?
Has Bob Arum finally made you an offer to fight Miguel Cotto? What did you think about Morales-Pacquiao? And who are you planning on fighting next and when? Peace, -Capone
The Champ's Response: That was a wonderful fight, Pacquiao has a lot of heart. Both he and Morales are willing to fight the best out there they're both two great champions. Bob Arum never made an offer to me at all. We're still waiting for Arum to make his first offer to me.
Congrats on two SOLID wins over a tough hombre in Oktay Urkal. I do think however that you made a huge mistake not taking the fight with Hatton, who I think Is tailor made for you to easily defeat. I think you would have made easy work work of him and done it on a big stage. Where else are you going to fight in front of 20,000 people and showtime at the same time? None of the money fighters have anything to gain by fighting a dangerous guy who could easily be a welterweight. Fight Junior Witter, and hold on to your title, right now it's bigger than you are (but that will chnge in the long run if you just keep winning.)
The Champ's Response: Definitely. Thank you. I don't have no regrets by not taking the fight. I think it was a business move. I would love to fight Witter and if that fight could be made I'll definitely do it. I'm only interested in fighting the best out there. I'm coming back to fight on TV America and pretty soon I'm going to be the one filling up the arena with 20,000 people.
Vivian, I was there live in Houston's Reliant Area when you TKO'ed Diosbelys, before that the beef started at the weigh in when you got in his face and punched him in the mouth. I was right next to ya when chair's started to fly! LOL...Anyhow I was there to see the local cats (Rocky & Juan) but came out wanting to see you fight more! You made me a believer then BUT would like to see you lace them up more often, three times since 10/02 Houston you've fought but with no T.V. shows in U.S. Seems like your starting to fade away in the public's eye kid! Punch your way back to the seen soon!
The Champ's Response: I'm definitely working on that. That's what I'm taking really short money to fight on the co-feature to Gatti-Mayweather. I'm taking the short money so my fans like you have the opportunity to see me fight on national TV in America.
Whassup Vivian, If you're in need of a fight why don't you call out Junior Witter cos like you he's calling everyone out but nobody wants to fight him. Trust me, this is want fight fans want so forget Mayweather, Hatton and Tszyu and take on Witter. He's now promoted by Golden Boy and I think there would be plenty of interest in the fight so there would be $$$ incentive too. You know these other guys don't want any part of you so why not fight Witter? Good luck.-Tim Austen UK
The Champ's Response: You're right the other guys don't want no parts of me. I'm definitely going to start calling him out but Witter is not a name like that sticks out in my mind. He's not a guy that I see on TV either and I'm not trying to disrespect him but his name doesn't ring bells like the other cats. But since the fans want to see that I'll definitely look forward to fighting him. If they came with better money for the June 25 date I'd definitely fight Witter on the undercard of Mayweather and Gatti.
I am a very big fan of yours, and I am  from Georgetown Guyana! I was just wondering where you were from in Guyana? And do you plan on moving up in weight if you cant get one of these scared asses to fight you? You look too big for them anyway! I think that's why they are scared! Vivienne Galasso-Alexander
The Champ's Response: That's why they don't want to fight me to. They're trying to get me to move up but I could make my weight easily. I'm from Georgetown, Guyana the south. I'm going to be staying right here at 140 because at some time they're going to have to fight me. Guys like Cotto will be forced to move up before I am.
Ihave 2 questions for Vivian:  1. When and where will he fight next on cable for everyone to see  2. If he cant get anyone to fight him at 140 would he consider moving to 147 and get in the Zab sweepstakes or against Mosely, DLH etc.
The Champ's Response: On June 25 I'll be fighting as the co-main to Gatti and Floyd and I'm hoping to get the winner of that. I would definitely consider it but right now I'm not a welterweight so I'm thinking about controlling 140. I'm only 26 years  old and I see myself being able to rule this division for a long time. Viv,
How does it feel to be sooooo good that fighters that claim to be pound for pound the best wont fight you even though you have a belt. I seriously believe that Floyd Mayweather sleeps well at night because he can use that lame excuse about not knowing who you are.
The Champ's Response: Hahaha, that's what I think too. I always knew I was going to be the world champion but I never knew the top of the division would be scared of me. It's a good feeling but it's a bad thing because I'm not making as much as I want to take care of my family. I'm just praying everyday that one day you the fans and the media make these guys have to fight me.
viv,  why did you look so scared when you challenged Tszyu on national TV at the Tszyu vs Mitchell 2 fight????  Or were you just camera shy???
The Champ's Response: I think I was camera shy, because I'm never scared. You must be a Kostya Tszyu fan, I'm calling  everyone out to fight me, I'm never scared I'm from Georgetown, Guyana and then coming to Brooklyn, NY just made me more ruthless. Why would I be scared, when I got gun-shots flying behind my head everyday.